In case you forgot that Braxton Miller was the most dynamic player in college football, he's here to help remind you. The Ohio State quarterback-turned-wide receiver already had one highlight play in the form of his first reception touchdown since switching positions, to which he added the insane spin move above.
Miller took a snap and ran to his left into a crowd of defenders, but managed to run around several defenders and made one guy miss by busting out the best spin move that you'll see this year in college or the NFL. From there, Miller was uncontested and waltzed 40 yards into the end zone untouched.
Here's a close-up shot of Miller embarrassing a couple of Virginia Tech's defenders: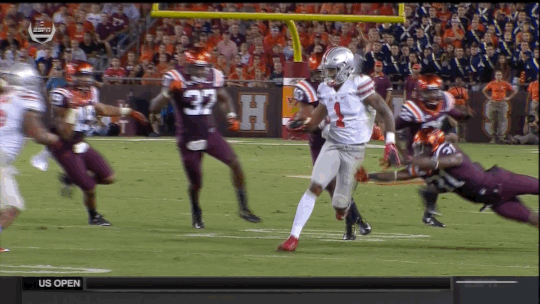 Miller had two touchdowns on the night and 140 all-purpose yards in Ohio State's 42-24 victory over the Hokies. Apparently it doesn't really matter where he lines up on the field; he's still a weapon.