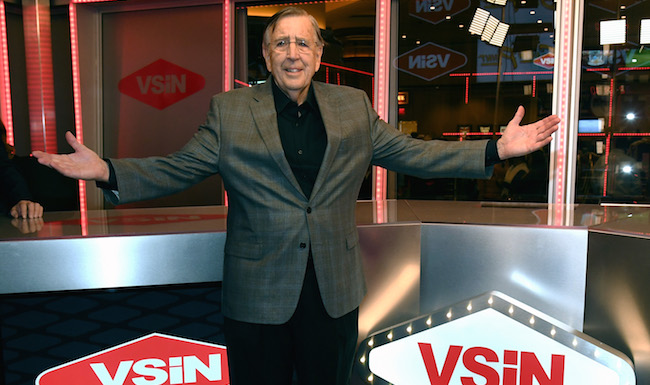 While the 2017 World Series was riveting for baseball fans, it was also quite intriguing in the world of Las Vegas handicapping. Crazy in-game swings lead to wild action in the desert and one story emerged during the stretch run that was both interesting and controversial.
RJ Bell of Pregame.com reported prior to the Dodgers' Game 6 victory that a mysterious bettor was a perfect 5-0 in the World Series and was letting all of his winnings ride on Game 6 with an $8 million wager on Los Angeles, and the industry was abuzz as a result.
Some questioned Bell's reporting on Twitter due to the sheer volume of the wager and the logistical mess it would provide but, on the flip side, it was a (very) fun story that made for great copy and it was largely harmless for the majority of people taking in the content. Then, Bell took things to another level prior to Game 7, insisting that South Point Casino in Las Vegas drastically altered a betting line on the simple sight of the mysterious handicapper setting foot on the casino floor.

This would be severely unethical, even by Vegas standards and folks around the industry (including Chris Andrews of South Point) were not pleased by the inference of impropriety. Beyond that, Vegas-based media network VSiN reported different numbers than the $8 million making the rounds originally. While there was plenty of discussion before, during and after Houston's Game 7 victory over Los Angeles, the biggest and most visible blow came from legendary broadcaster Brent Musburger.
Musburger, who is heavily involed in VSiN, pulled no punches in proclaiming that Bell was a "bullsh*tter" and included a reference to Deadspin in the process.

Bell's reaction was lengthy but it began with the inference that Musburger was "dragged" into defending VSiN for less than stellar reasons.
Then, Bell doubled down in suggesting that South Point "acted in a way that likely hurt normal bettors and the reputation of Vegas" and brought up the partial ownership in the company by South Point itself.

That led to Bell addressing the Deadspin angle, putting it back on South Point by suggesting why South Point would not be suing him for libel, presumably because he was defending his reporting as accurate.
The Deadspin article in question arrived in June 2016 and alleges Bell "turned a sucker's game into an industry" in the headline with various looks at business practices of tout handicappers. As noted by Bell, he is suing the website for $10 million as a result.
Finally, Bell got the last word in with Musburger, indicating that he felt the broadcaster was being "exploited" due to a lack of understanding.

A few hours later, Bell then put forth what he deemed as a "detailed recap" of his reporting surrounding the issue of the high-dollar World Series bettor that caused the ruckus in the first place.
This is a back and forth that likely won't evaporate immediately and, due to the nature of the industry, it is difficult to think that full clarity will be achieved. Still, Brent Musburger is one side, RJ Bell is on the other and many in Las Vegas have already weighed in on their feelings surrounding the issue.