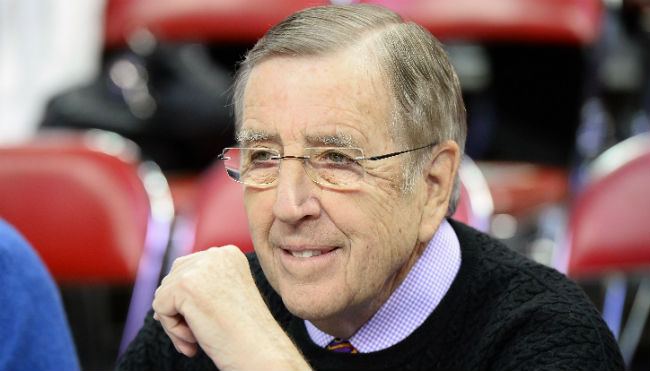 Brent Musburger is sharing more details about his Las Vegas venture because, well, it's time to promote a television show.
The 77-year-old broadcaster did his last game for ESPN recently when Kentucky basketball hosted Georgia. After he signed off, Musburger packed his bags for a new job in television in Las Vegas. Musburger shared more details to Sports Illustrated's Richard Deitsch.
"It's amazing how a new twist in the road comes and you decide, 'You know, I think I'd like to do that,'" Musburger told SI.com on Sunday. "It was as simple as that. As you know, I love the games, the action, the people, the fans, but it seems like the right time to do this."

His next act will be hosting a two-hour show, Thursday through Monday, for a new network called VSiN (Vegas Stats & Information Network). The company describes itself as the first multichannel network dedicated to sports gambling information, and will be available via web, live-streaming, radio, mobile and social. Musburger and other hosts—including the respected boxing announcer Al Bernstein—will broadcast from a custom-built studio in the Sports Book of the South Point Hotel Casino and Spa in Las Vegas. The new network includes oddsmakers Jimmy Vaccaro, Vinny Magliulo and Chris Andrews. Brian Musburger, Brent's nephew, is the founder and chairman of VSiN.

Musburger's new gambling venture is a unique one, for sure, but he stressed he won't become a guy on your local sports radio broadcast guaranteeing a winner on Monday Night Football.
"The real success of this is to provide real information for the person who is interested in sports gambling but also solid information to the person who wants to handicap the game for his or herself. I have always been interested in it. Sports gambling has come a long from the back rooms. It is so much more acceptable. The one thing I shy from is something like 'Dial 1-900-BRENT for winners.' To me, that is nonsense. First of all I am no better handicapper than anyone else. But the information that I think can be gleaned, not just for the bettor, but for the general public, is fascinating. I think people are fascinated about the movement of money and why bookmakers set certain odds, plus the anecdotes from sports gambling."
Musburger said there was "absolutely no connection" between his departure from ESPN and comments he made in the Sugar Bowl earlier this month in which he wished Joe Mixon well after he was arrested for a violent incident against a woman in 2014. Many were critical of his asking Mixon's critics for a "second chance" after graphic video of the attack was released, but Musburger said few mentioned his comments and subsequent rebuke of his critics during the live broadcast.
"The morning after the Sugar Bowl I had breakfast with [ESPN president] John Skipper and [senior vice president of event & studio production] Stephanie Druley, and they wanted to work out a plan to keep me at ESPN. There was not even a discussion about what had been said specifically about Mixon. In fact, the only person who mentioned it to me was a telephone call two days later from [Disney chairman] Bob Iger, who is an old friend, and he said, 'This too shall pass.' That was the only comment. There was no blowback. There is absolutely no connection.
The timing of it all does seem curious, but Musburger said he was approached by his nephew back in 2015 but the timing wasn't right. Now, at age 77, he's going all in on Vegas.