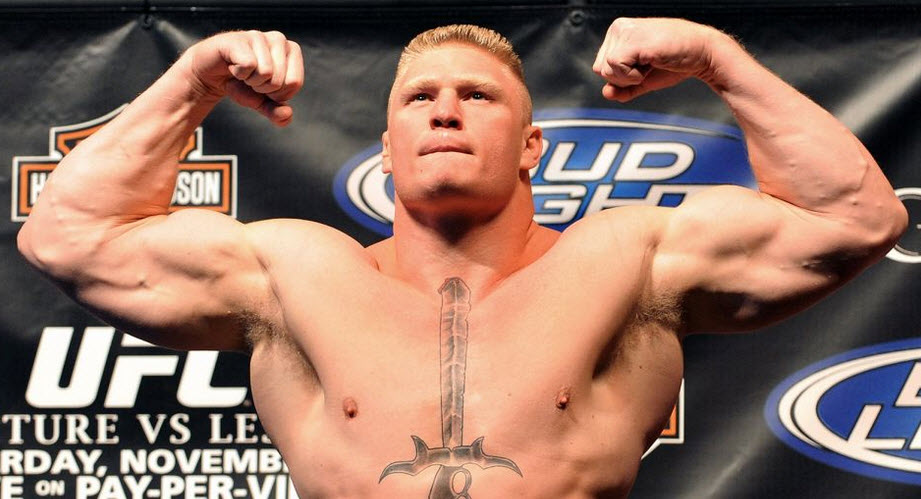 The Brock Lesnar un-retirement and announcement of his return at UFC 200 took nearly everyone in the MMA and pro wrestling games by surprise. But his road back into the octagon against Mark Hunt won't necessarily be as difficult as it might be for other fighters who have publicly retired and wish to return to the UFC.
UFC's Anti-Doping Policy (specifically paragraph 5.7.1) states that any fighter who has retired and wishes to fight again must submit written notice of their intent to compete. That fighter will then undergo four months of drug testing before they can compete again. This clause is in place to ensure a level playing field, so that a fighter cannot "retire," juice up, and then come back to action without having been part of the USADA's active fighter drug testing regimen.
However, the clause also includes the caveat that this four-month window can be waived "in exceptional circumstances or where the strict application of that rule would be manifestly unfair" to a fighter. Kevin Iole at Yahoo! Sports reports that in the case of Lesnar's return, UFC is indeed taking advantage of its ability to waive that policy. The UFC's statement, as given to Iole:
" … As part of the UFC Anti-Doping Policy, UFC may grant a former athlete an exemption to the four-month written notice rules in exceptional circumstances or where the strict application of that rule would be manifestly unfair to an athlete. Given Lesnar last competed in UFC on December 30, 2011, long before the UFC Anti-Doping Policy went into effect, for purposes of the Anti-Doping Policy, he is being treated similarly to a new athlete coming into the organization.

"While conversations with the heavyweight have been ongoing for some time, Lesnar required permission from WWE to compete in UFC 200 and only agreed to terms and signed a bout agreement last Friday. He was therefore unable to officially start the Anti-Doping Policy process any earlier. UFC, however, did notify Lesnar in the early stages of discussions that if he were to sign with the UFC, he would be subject to all of the anti-doping rules. Lesnar and his management have now been formally educated by USADA on the policy, procedures and expectations."
Essentially, UFC is treating Lesnar's status with the company as being "grandfathered in," given his last tenure in the company predates the mandatory four-month testing rule. If Lesnar's role at UFC 200 is truly a one-night-only affair, his match against Hunt could be viewed as a type of exhibition match. No one expects either Lesnar or Hunt to be back in the heavyweight title picture any time soon, so the "level playing field" argument doesn't really apply here.
It is worth noting that the mandatory-except-for-Brock-Lesnar four-month testing period for anyone who comes back from retirement is believed to be one of the reasons Conor McGregor released a statement clarifying that he was not retiring after he pulled out of his rematch with Nate Diaz at UFC 200.
(Via Yahoo! Sports)