There are few other career pages on Pro-Football-Reference.com more impressive than the one that belongs to Peyton Manning. It has columns simply covered in bold numbers in everything you would want your starting quarterback to lead the league, and you can further slice them any number of ways so as to appreciate the scope of his career in a deeper, more fulfilling context. (The fifth-best completion percentage coupled with the second-most pass attempts of all-time? Cripes, that's really good!)
But the ones that truly stand out to me are all the 16s under the column Games Started because you couldn't possibly start all of them. Except for this partial 2015 season, as well as 2011 (due to that pesky-yet-career-threatening neck injury), they're all 16s. Until yesterday, Manning had never missed an in-season game due to injury — an astounding 265-for-265, reliable as the sun rising and Chris Berman screaming football highlights at you through your TV.
On Sunday, though, it was Brock Osweiler's time to shine. Granted, we already kind of knew what was in store. After all, he'd made 14 appearances in relieving Manning over the past four seasons, even throwing a couple of TD passes along the way. Also, Osweiler is tall, listed at 6'7… so there's that. But a competent NFL quarterback? That would've gotten an unequivocal "eh, maybe" until he managed to orchestrate a 17-15 road win at Soldier Field against Chicago.
Let this be stipulated: Denver came perilously close to blowing all of this. Osweiler was blessed enough to benefit from some terrible Bears defense in the secondary, the kind that allowed for Demaryius Thomas to catch a simple 11-yard pass in the middle of the field and go 37 more yards through a porous collection of would-be tacklers. This was what Thomas had to deal with when he caught the ball already beyond the first-down line:
Impressive, suffocating coverage.
Jay Cutler was not great for the Bears — 235 yards passing, no touchdowns, two turnovers — but Denver could barely capitalize when they needed it most. Up 10-6 in the third and with a 4th and 1 from the 2-yard-line, Osweiler's foot clipped the foot of Ronnie Hillman, who had just taken the handoff, and he fell flat before getting the first down. And when Denver recovered a Cutler fumble with 2:23 left to play to seemingly seal the victory beyond all doubt, Osweiler let himself get sacked on 3rd and 7 on the ensuing drive. That play happened with 2:07 on the clock. Sure, Chicago had all three of its timeouts to use, but Osweiler (a) couldn't even force positive yards gained and (b) couldn't let more than 16 seconds of game clock elapse.
So, when the Bears took the punt and then went 65 yards in one minute, 25 seconds to score on a Jeremy Langford two-yard run and set up the potential tying two-point conversion, it felt inevitable that the Broncos would surely find a way to blow this game-long lead in the waning seconds. But Chicago ended running the same play — Langford following the right guard — and it was a busted play.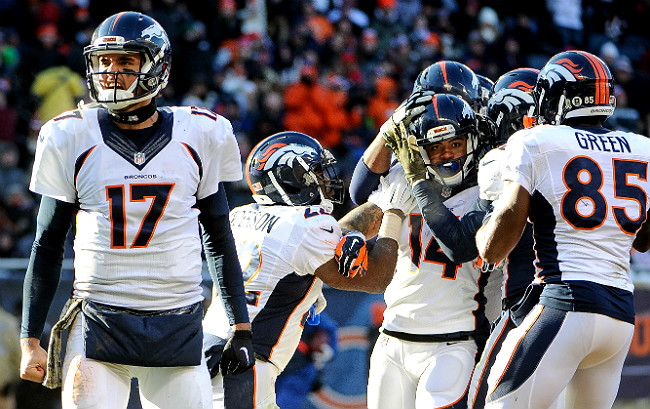 This is what the Broncos have been this year with Manning under center — a team that is defense-first and close-your-eyes-pass-and-pray-second — but with Osweiler managing the game, there was a flow that had been missing in recent outings. He was efficient (20-for-27) if conservative to a fault, but the running attack, which only racks up less than 95 yards a game, was more on point in Chicago. Ronnie Hillman had a meager-but-team-leading 426 yards coming in, but churned out 102 yards on 21 carries, the kind of confident yards that gain first downs with regularity and keep the chains moving and don't let a young, inexperienced quarterback think that he has to lead the whole team to victory by himself the way You Know Who has done almost nonstop since 1998.
There was so much in this game that Osweiler could've done better, little individual moments of decision that you know Manning would've exploited to Denver's advantage. This game should not have come down to a befuddled Bears offense scrambling for two points, and the rational side of our brains tell us that Osweiler will make less mistakes each time he goes out, that he's at least not going to put up a 5-for-20 with four picks stat line that makes Broncos coaches wake up in cold sweats. If he can stay above that floor, that's something head coach Gary Kubiak can work with.
The Broncos are now 8-3 and a full three games up in the AFC West over Kansas City. Even though they host New England next weekend, they shouldn't rush back Manning from injury, despite all earthly pressures that will exist to do so. And that's because no one is catching New England for the No. 1 seed in the AFC, not Denver and not the 8-2 Bengals, who suddenly look frighteningly mortal after two dispiriting losses to Houston and Arizona. The Broncos host Cincy in Week 16 and that will most likely determine who gets the No. 2 seed. With their defense still dominating, Kubiak can afford to let Manning fully heal and then he can decide, with all the knowledge available to him, what course is best for the Broncos' offense.
Until then, just let Brock play. He's earned his chance for the coaches and fans to see what he can do, and to see what a Denver offense looks like in his hands. Osweiler might be the future in Denver or he might not be, but this is as good a chance as the Broncos are going to have in the hopes of ever answering that question.
Even without Manning, this season is far from lost and Denver's defense keeps it competitive every week. And with more time and seasoning, Osweiler may even become the reason Denver starts winning some games and not just another obstacle for them to overcome.