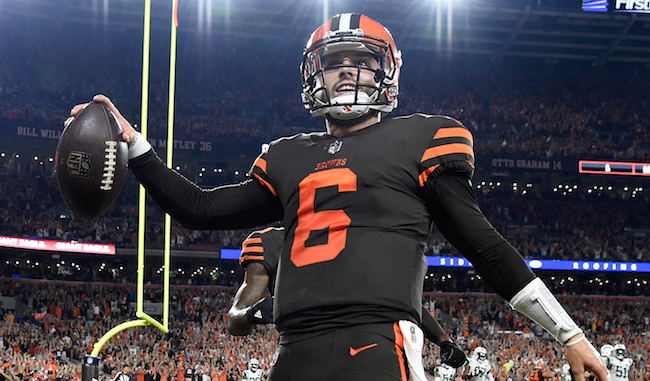 The Cleveland Browns came into Thursday night's game against the New York Jets as three-point favorites, a rarity for a team that hasn't won a football game since Dec. 24, 2016.
Through most of two quarters, that looked like a mistake, as the same old Browns arrived on the field in Cleveland, falling behind 14-0 midway through the second quarter with little-to-no offensive movement. Tyrod Taylor was, once again, struggling, as he was 4-for-14 for 19 yards before getting knocked out with a concussion late in the second quarter.
At that point, Cleveland was forced to turn things over to the No. 1 overall pick Baker Mayfield, who gave the Browns a noticeable spark the moment he came into the game. Mayfield led the Browns to a field goal on his first drive, their first points of the game, firing a few darts and creating a rare buzz as the teams went to halftime with New York up 14-3.
In the second half, Mayfield took some time to get into a full rhythm, but once he did, the Browns offense looked like a real, live NFL offense, something we haven't seen in Cleveland in years. While much of his success came from inside the pocket, he showed off his incredible play-making ability on the run a few times, most notably on this scramble and pass to Duke Johnson Jr. for a first down.

The best throw of the night from Mayfield set up the Browns first touchdown of the game, as he fired a dime into pretty good coverage, allowing Jarvis Landry to go up and make an incredible catch to set them up just outside the goal line.
After Carlos Hyde punched it in for his first of two touchdowns of the game, Mayfield was on the receiving end of the two-point conversion on some trickery that saw Landry throw him the ball.

Mayfield finished the game 17-for-23 for 201 yards, and while he didn't throw a touchdown, he delivered some dimes down the field that set up both of Hyde's rushing touchdowns. In general, his decision-making was significantly quicker than that of Taylor and the offense clearly had more life and energy than it has all season with Mayfield in. Hopefully Taylor will be able to recover fully from his concussion, but it would be shocking to see him on the field again for the Browns this season, provided Mayfield remains healthy.
It's only one game and it is against the Jets, but this was everything Browns fans could have hoped to see out of Mayfield. There's hope in Cleveland that this won't just be a one-off performance and win, but a sign of positive things to come for the Browns.