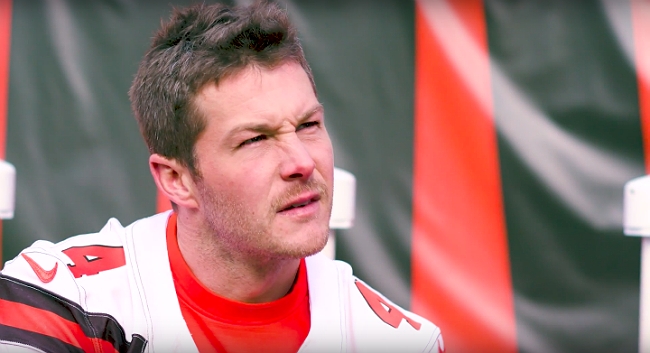 There aren't many great things about living in this timeline. It's a universe filled with poverty and war and climate change and a lot of things online that will make you mad. But one of the good things about this thread of the existence is that, once upon a time, Old Spice let Tim Heidecker and Eric Wareheim direct some commercials with a shirtless, pec-flexing Terry Crews.
There was really nothing like it in advertising before, but it signaled a very new, very weird brand of commercials from a lot of different companies trying to lure millennials into buying their wares. That impact has ripped even into small-time local commercials for energy companies that feature professional punters.
Cleveland Browns punter Britton Colquitt embraces the oddness in this local commercial that made the rounds on Twitter this week. It's completely insane, and has a twist even I didn't see coming. Let's enjoy it together, shall we?
The plot of the commercial is as follows: Colquitt is hanging out in an otherwise empty Browns stadium on the bench and notices two people in the middle of the field flossing — you know, like the dance. He runs up to them and asks what the hell is going on, then gets jealous that his current energy solution for his home does not make him want to dance.
Presumably, he signs up with this company because the next thing we know, the Browns punter is attempting to floss on his own.
[protected-iframe id="075878f94e9ba710fe91b10d21622a0d-60970621-76566046″ info="https://giphy.com/embed/ctoz5C083Qtug6yeJc" width="480″ height="270″ frameborder="0″ class="giphy-embed" allowfullscreen=""]
This is far from the oddest moment of the commercial. Oh, no. We are just getting started here. Colquitt says converting to solar energy is the best thing he's ever done. Then, he punts a ball from near the end zone that appears to fly right out of the stadium. Seriously, he booted the ball so hard that the lights in the stadium appear to flicker and explode like in The Natural or Monsters Inc. or something.
[protected-iframe id="ad5aa8beb689ed9f72b7fc40fdffd757-60970621-76566046″ info="https://giphy.com/embed/POIJWmzbpNu21OrRql" width="480″ height="270″ frameborder="0″ class="giphy-embed" allowfullscreen=""]
I didn't make a GIF of what happens next because it's completely inexplicable and maybe the best narrative jump in the history of television commercials. A dog, sitting in the passenger seat of a lime green automobile, begins to speak about the benefits of solar energy.
Yes, there's a talking dog that just starts blabbing about going green and booting footballs right out of stadiums. Here is a screenshot, I'm not going to ruin this for you any further because you really have to just see it happen to truly experience it.
I knew the talking dog was coming and I still burst into laughter when I actually saw the video. It's glorious, and something Tim and Eric would be proud of. Bless Solar Dog and the Browns for all they've given us here today. Maybe this universe isn't so bad after all.