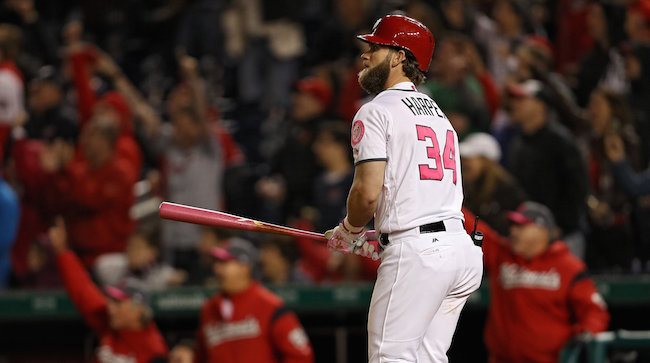 It was a great 25 or so hours for D.C. sports as both the Washington Wizards and Washington Nationals got dramatic late-game heroics from their two biggest stars. On Friday night, it was John Wall burying a game-winning three in the closing seconds to force a Game 7 with the Celtics back in Boston. On Saturday night, Bryce Harper was the one delivering the goods with a bomb to center field to walk-off with a win against the Phillies.
After his walk-off winner, Harper gave a shoutout to his fellow Washington sports star for offering him a little inspiration for the moment.

"I tried to go John Wall," Harper said. "Walk 'em off a little bit. I know nobody wanted to play extras with a doubleheader ahead of us tomorrow. So, a huge win tonight."
John Wall caught wind of Harper's shoutout on Twitter and returned the love as he and the Wizards get ready for Game 7 in Boston on Monday night.
For a sports city not steeped in great tradition — especially in baseball and basketball — Washington D.C. has found itself with two of the best in their respective sports. Wall has become one of the league's best point guards, capable of controlling and taking over a game as he did in the second half of Game 6, and Harper is the 2015 NL MVP and is one of the five best players in baseball, regardless of position.