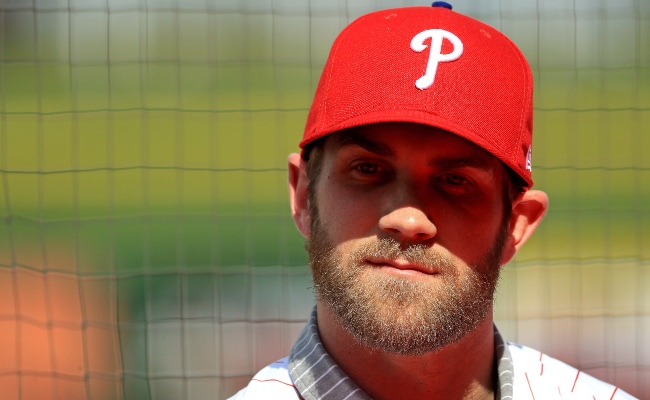 The Philadelphia Phillies picked up the most expensive free agent in baseball history when Bryce Harper decided to move within the National League East earlier this week. Harper, formerly of the Washington Nationals, agreed to an astounding 13-year deal with the Phillies worth $330 million, topping the former record deal signed by Giancarlo Stanton with the Miami Marlins.
It marked the end of one of the wildest free agent sagas in recent memory. A number of teams were linked to Harper at one time or another, and while Philadelphia was always in the mix to acquire his services, it was never clear where he was going to end up. Now, he's in the City of Brotherly Love, giving Philly one of the most dangerous hitters in all of baseball.
Harper was introduced on Saturday afternoon at a news conference in Clearwater, Fla. While meeting with those in attendance, Harper revealed that he's going to wear the number 3 instead of the number he wore in high school and with the Nationals, 34, to honor the late Roy Halladay.
https://twitter.com/CBSSportsHQ/status/1101928424807882753/video/1

"Of course I wore 34, but I thought Roy Halladay should be the last one to wear it," Harper said. "He's somebody in this game is greater than a lot of guys that have ever played it, a Hall of Famer, somebody that played the game the right way, was a great person, and was one of the nicest people I've ever met."
This is a really great sentiment by Harper, and is undoubtedly a way to make fans throughout the city super excited. Of course, his new number has some significance in the city, too, as it was worn by one of the greatest Sixers ever, Allen Iverson. As it turns out, Iverson is beyond excited that another All-Star in Philly will rock his number, going onto proclaim Harper will be that last player to ever wear it for the Phillies.
Harper and Philadelphia are slated to spend the next decade and a half tied to one another, and time will tell how that marriage works out. If you believe in the importance of first impressions, though, it's safe to say Harper knocked this out of the park.