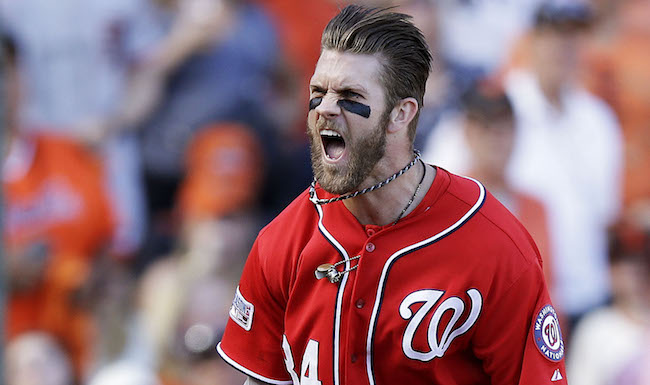 Bryce Harper doesn't have time for your unwritten rules, baseball.
The Washington Nationals star is the subject of a feature in the latest edition of ESPN the Magazine and, like most things Bryce Harper does, it's very entertaining. Speaking to the author of the piece, Tim Keown, Harper doesn't hold back.
Not only does the 23-year-old suggest that he's currently the best player in the game today — "I will never say anybody's better than me…I don't think those words will ever come out of my mouth" — but he also demolished baseball's lame "code" and unwritten rules like a hanging breaking ball left over the plate.
"Baseball's tired," he says. "It's a tired sport, because you can't express yourself. You can't do what people in other sports do. I'm not saying baseball is, you know, boring or anything like that, but it's the excitement of the young guys who are coming into the game now who have flair. If that's Matt Harvey or Jacob deGrom or Manny Machado or Joc Pederson or Andrew McCutchen or Yasiel Puig — there's so many guys in the game now who are so much fun.

…"If a guy pumps his fist at me on the mound, I'm going to go, 'Yeah, you got me. Good for you. Hopefully I get you next time.' That's what makes the game fun. You want kids to play the game, right? What are kids playing these days? Football, basketball. Look at those players — Steph Curry, LeBron James. It's exciting to see those players in those sports. Cam Newton — I love the way Cam goes about it. He smiles, he laughs. It's that flair. The dramatic."
Oh no…time to pen those open letters, folks!
But, in all seriousness, baseball needs more guys like Harper. Sick skill set aside, he's a dude who plays with fire and attitude, two things that baseball often lacks. He doesn't care whether you like him or not, and those guys are always the most intriguing to watch because they're so unpredictable.
Baseball is so hung up on preserving its history and tradition (which includes gambling, racism and rampant cheating, by the way) that it has arguably let itself get stale and fall behind other sports that provide more freedom of expression to a younger generation. Traditionalists and the "respect the game" crowd love to stress the importance of "the code," but I'm sorry…"the code" sucks.
Baseball needs more bat flips, celebrations, stare-downs, and trash talk, because it creates intensity on the diamond and lets players create a strong personal brand for themselves. The sport has too many boring, unmarketable characters. Harper isn't one of them.
As a hero or a villain, Harper's a can't-miss attraction. Love him or love to hate him, there's no denying that he carries a certain bravado and ferociousness (sometimes even with his own teammates) that ensures a stronger emotional investment in the game.
Plus, he provides us with anecdotes like this one:
In Game 4 of the 2014 division series against the Giants, he stood on deck in the seventh inning with the (Giants leading 2-1. A fan in the sunken seats about 10 feet away, holding a glass of red wine, berated Harper with an intensity that couldn't be ignored.

"Hey, buddy," Harper said. "How's that glass of wine?"

Harper remembers that the fan sputtered before saying, "You're going to strike out."

"You know I love playing here, don't you, buddy?"

Seconds later, Harper drove a fastball into San Francisco Bay. As he touched home plate and turned for the dugout, Harper fixed his eyes on the fan, holding his stare a step or two longer than necessary.

"He was just devastated about life," Harper says.
God bless you, Bryce Harper.
(Via ESPN)