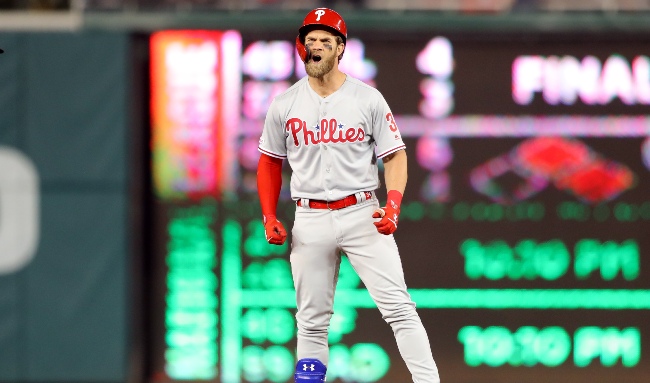 Bryce Harper enjoyed his first weekend in a new uniform, as the Philadelphia Phillies throttled the Atlanta Braves to the tune of a three-game sweep. With that in mind, Harper hasn't encountered much resistance since signing a gargantuan, 13-year deal in Philadelphia but, on Tuesday evening, the former Washington Nationals outfielder made his return to the nation's capital, where he wasn't met with the warmest reception.
As you may expect when a superstar moves from one team to another within a division, Harper was greeted with some fierce hostility, even if it wasn't always executed to perfection.
Harper was roundly booed when he made his first trip to the plate and, fittingly, the plate appearance came against Nationals ace Max Scherzer.

Harper lost the first battle, providing all kinds of enjoyment to the hometown faithful.
The fans then let the All-Star outfielder have it as he trotted to his defensive position.
Harper did heat up, however, avenging two strikeouts with a double in the fifth inning.
He continued to progress in positive fashion with an RBI single in the sixth inning and, along the way, showed a bit more emotion than in a typical circumstance.
Finally, Harper struck the biggest blow in the eighth inning, blasting a home run to get the last laugh against his former employer with one wicked bat flip.
All told, Harper finished the evening 3-for-5 with a double and a home run, driving in three en route to an 8-2 Phillies victory. While some of the memories from his first foray in Washington, D.C. since his departure may center on the fan reaction locally but Harper is, of course, handsomely compensated in his new home and put on quite a show in helping his team to a decisive victory.