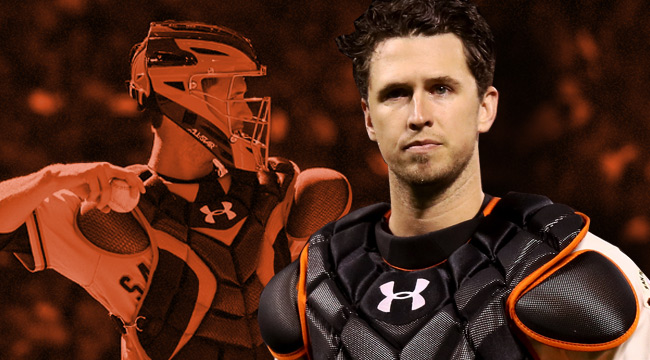 Buster Posey has just begun his eighth season in Major League Baseball, and he's pretty much done everything a position player can accomplish. He's won three World Series titles with the San Francisco Giants, taken home Rookie of the Year and MVP awards, won a batting title, a Gold Glove, three Silver Slugger awards, and has been a four-time All-Star. If that weren't enough, just last month, he helped Team USA win their first-ever World Baseball Classic championship.
He's also caught a perfect game and two other no-hitters, and has given out a lot of hugs for a lot of different reasons. His role as cornerstone of the offense, in addition to catching the lauded pitching staff fronted by Madison Bumgarner, has earned him a very deserved reputation as a level-headed mentor, despite having just turned 30 years old.
That reputation is now extending beyond the baseball diamond, as Esurance has tapped Posey to be their spokesperson, putting him front and center in a series of ads where he delivers sage advice in the form of impromptu daily-life pep talks. It's clear we could all use a presence as solid as Buster Posey in our lives, although we need pitchers to stop hitting Buster in the head with baseballs first.
We were lucky enough to get a chance to talk to Posey about the ads, and about how he handles, well, just being Buster Posey, really.

UPROXX: So these Esurance ads are about you giving people pep talks and I really like the ads. I want to know: what's the best pep talk that you have ever received in your life?
Buster Posey: Oh man. Yeah, the pep talks were a lot of fun. We shot a lot of those really quickly and, for me being a dad, I can definitely relate to installing a car seat and the frustration of getting those in. So that one stood out for me, but as far as personally a pep talk for me? I don't know. I always go back, so related to baseball.
I was in college and I was playing shortstop in my freshman year and I'd made an error – a couple of errors – at short and came in the dugout really frustrated. My head coach in college, Mike Martin, who has been there forever, pulled me aside and gave me a big-boy talk and put things in perspective. I think sometimes we all need that to get us realigned and on track so we can get on with the game.
Now as far as pep talks go, you did receive some pretty great pep talks from Hunter Pence back in 2012, and I just wanted to know, 2010, 2012, 2014, you guys have obviously heard the even year saying, which of course was disproved last year, but when 2016 came around and you all found yourself back in the postseason again, was there any sort of thought from anyone of like, "Hey maybe there is something to this?"
Well, obviously we feel like we have to go out and play and ultimately that's what's gonna decide the outcome, but it's hard to ignore when I think after we won in '14, that being the third one on the even years. I think it, more than anything else it's something fun to talk about, something for the fans to grab onto. And it was a good run, but we're hoping to start resetting the clock here.

Well, when we're talking about the fans latching onto the even year thing, are you familiar at all with any of the memes that go around on the internet about you in particular? The Buster hugs meme or "I ain't having it." Are you familiar with any of these that the fans pass around during games?
A little bit, I think.
Do you appreciate those at all or does it make you feel weird? How do you react to stuff like that?
Well during the game obviously I don't go on the internet. But, no I think they're fun. I think it's a fun way for the fans to be connected and I think hopefully it only improves the connection the fans have with me and the rest of the players.
And how excited is the team that Barry Bonds is now officially back in the fold as part of the Giants organization?
Well he's obviously an historic player and somebody that has a ton of knowledge and I think any time that you have those types of resources, it's nice to have that on your side.

Just how unfair is Madison Bumgarner that he's not only one of the best pitchers but also one of the best hitters in the game?
I tell you what, he makes it look really easy when he's hitting, and he's definitely a perfectionist when it comes to pitching, but this guy works. He's constantly working. You can see him always looking at mechanics, trying to find different ways to get better, and when he's hitting, he's taking it very seriously and it's not that. He's putting the work in and I think that's something we can all appreciate for somebody that obviously is such a physical talent, but also takes the time to get better at his craft, all the time.
I don't know if this is another thing that you're aware of, but a lot of the Giants fans, especially online, for years ever since you came up in 2010, we've occasionally been referring to you as Captain America. So how did it feel to bring the World Baseball Classic title to America for the first time ever?
That was definitely a special two and a half weeks. I didn't know what to expect of the experience going into it and came away with it being one of my favorite baseball experiences that I ever had. My family traveled with me the whole time and it's just a different feel to have the fans, no matter where. We're in L.A. and I'm getting cheered, which is odd for me. To hear the "USA" chant when the game's getting close to being closed off, gives you goosebumps.
And when you represent and you have "USA" across your chest, it's hard not to think about all the men and women that have sacrificed and continue to sacrifice for us so that we can have our freedoms and liberties that we enjoy every day.