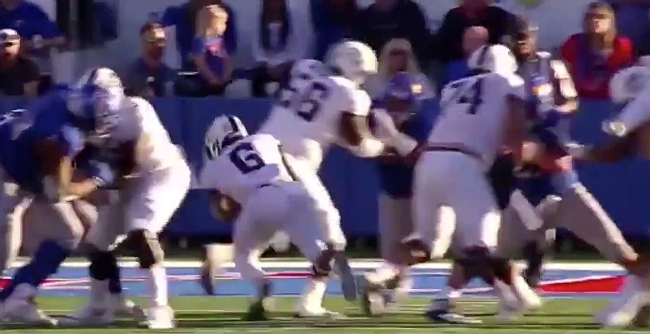 The Butt Fumble is one of the most legendary football plays of the Twitter era. Thanksgiving night, 2012. New York Jets quarterback Mark Sanchez runs into the backside of his own player and the football flies out of his hands. It's the perfect play for the Jets, Sanchez, and degenerates who were watching a blowout and reacting on Twitter instead of spending time with their families after a nice meal.
Let's see it one more again, for old time's sake.
College football had a butt-induced fumble in 2017 when Tennessee's center snapped a ball off his taint to cause a fumble against Georgia. But we were wrong in describing that as a butt fumble! Technically that's a fumble, yes, but there was no gluteus maximus that forced a loss of possession. It was a sequel to the butt fumble, but not a buff fumble that college football could call its own.
Thankfully, TCU and Kansas have finally gifted us a true butt fumble. And, amazingly enough, it led the Jayhawks to a win.

Look at it in all its glory. With 6:13 left in the fourth quarter and TCU trailing 27-24, Darius Anderson ran up the middle for two yards. But that's because Horned Frogs guard Ian Burnette had advanced two yards beyond the line of scrimmage. Namely his butt, which Anderson ran into and then promptly fumbled. Kansas' KeyShaun Simmons recovered and gave the ball to Kansas at its own seven.
The butt fumble essentially erased what would have been sure points for TCU, but they got two back when Kansas killed clock and ended its drive by intentionally running the clock out and taking a safety.
That makes this butt fumble far more important than the one Sanchez had six years ago, as the game was over. This was a game-deciding butt fumble. My goodness. We are all so blessed.