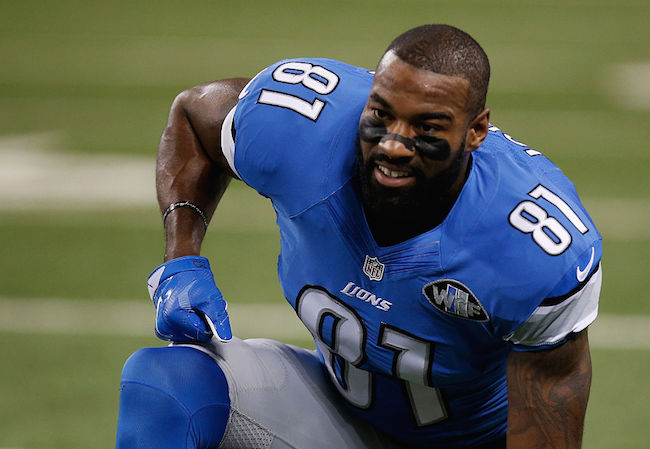 Calvin Johnson retired from the NFL this spring at the young age of 30. Megatron still had plenty of prime years left in him, but the former Detroit Lions player moved on in order to protect his ailing body. Johnson is the latest and most high-profile NFL player to cut his career short for precautionary reasons. The vicious cycle of both body and head injuries, combined with the rigorous rehabilitation process, simply became too much for Megatron to endure. In an interview with ESPN's E:60, Johnson provided a look behind the curtain on a troublesome aspect of rehab for NFL players: painkillers.
"If you were hurting, then you could get 'em, you know. It was nothing. I mean, if you needed Vicodin, call out, 'My ankle hurt,' you know. 'I need, I need it. I can't, I can't play without it,' or something like that. It was simple. That's how easy it was to get 'em, you know. So if you were dependent on 'em, they were readily available."
Painkiller addiction is not something to be taken lightly, but it's a stark reality within the NFL. There's an enormous amount of pressure for players to be on the field on game day, regardless of their injuries. Team doctors are supposed to work as a system of checks and balances for player safety, but as Johnson astutely points out, doctors are still team employees.
"The team doctor, the team trainers, they work for the team. And I love 'em, you know," he said. "They're some good people, you know. They want to see you do good. But at the same time, they work for the team, you know. They're trying to do whatever they can to get you back on the field and make your team look good. So if it's not gonna make the team look good, or if you're not gonna be on the field, then they're tryin' to do whatever they can to make that happen."
It isn't easy to extricate yourself from a gladiator culture in the NFL that can be particularly intoxicating for players. Hopefully Johnson leads a long healthy life because of his proactive decision.
(ESPN)