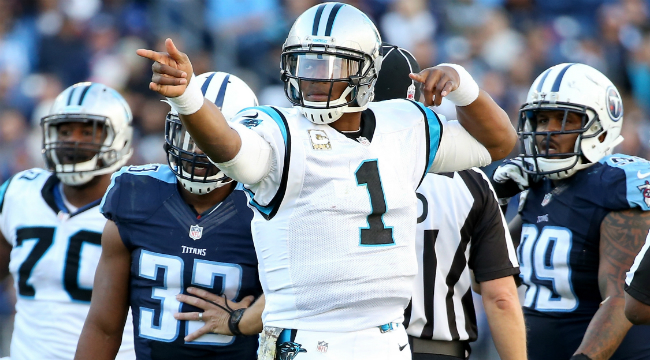 It's perhaps the universal question of protective parents, confronted by a harsh world around them: What am I supposed to tell my children? You hear the refrain in FCC complaints, town-hall meetings, and of course, letters to the editor. One such letter was sent by a concerned mother in Tennessee who took her daughter to see the Titans' loss to the Carolina Panthers, during which Cam Newton unleashed a celebratory touchdown dance, complete with dabbing.
Newton's antics resulted in some serious pearl-clutching by this Titans fan mother on behalf of her daughter. Allow her to explain her discomfort.
Because of where we sat, we had a close up view of your conduct in the fourth quarter. The chest puffs. The pelvic thrusts. The arrogant struts and the 'in your face' taunting of both the Titans' players and fans. We saw it all.

I refuse to believe you don't realize you are a role model. You are paid millions of dollars every week to play hard and be a leader. In the off-season you're expected to make appearances, support charities, and inspire young kids to pursue your sport and all sports. With everything the NFL has gone through in recent years, I'm confident they have advised that you are, by virtue of your position and career choice, a role model.

And because you are a role model, your behavior brought out like behavior in the stands… My daughter sensed the change immediately – and started asking questions. Won't he get in trouble for doing that? Is he trying to make people mad? Do you think he knows he looks like a spoiled brat?
Let's take this mother at her word and believe that this 9-year-old girl did say those stuffy things about Cam's celebration. She's within her rights to say whatever she wants; after all, she's 9 and that man just scored on her favorite team. But they're also at a football stadium, a repository for drunkenness and shenanigans. What am I supposed to tell my child? Maybe, I don't know, "This is what happens at football games. People taunt other people, some of them inappropriately." Or something like that.
That's not how she responded though. Instead, she chose a different tack:
I didn't have great answers for her, and honestly, in an effort to minimize your negative impact and what was otherwise a really fun day, I redirected her attention to the cheerleaders and mascot.
Oh, these cheerleaders?
We're not here to say that cheerleaders are bad role models for children because they dance suggestively. But dancing suggestively is exactly what pissed you off about Cam in the first place! Where is the consistency?
Twitter was very disappointed in this mother for her letter:
I think the internet is behind me when I say: You don't need to protect your kid from Cam Newton's dancing. Football stadiums in general, now those you may want to avoid.
(Via Charlotte Observer)