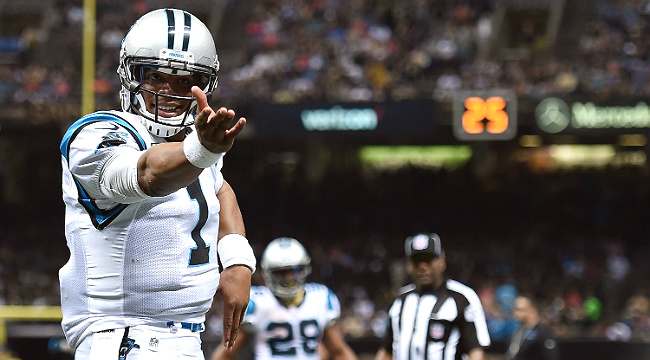 When you've played nearly 75 percent of your season schedule and you still haven't lost, only two things are bound to happen. One is you keep winning. The other is that someone beats you through a series of fluky and unfortunate events. You just aren't going to get beat handily, not with an 11-0 record. It's going to require some logic-defying circumstances to go against you for that first loss to happen. Them's the rules.
So, when Stephone Anthony, a rookie linebacker for New Orleans, recovered a blocked extra point attempt and returned it all the way for a Saints two-point conversion — the first of its kind in NFL history — it felt like maybe this was how it had to be for Carolina. In the Superdome, against Drew Brees, and with some bizarre moments all leading up to the inevitable conclusion. If the Panthers lost, who could blame them? It was a 14-0 Saints lead after one, 16-13 at the half, and all signs pointed to the Panthers geauxing down in defeat.
Except this ending wasn't quite so inevitable. It was dramatic, but, by the end, also downright predictable. We should've seen this coming. What's the knock on Cam Newton? He's not accurate enough and doesn't throw enough touchdowns? Well, five TD passes on the road, including the game-winner with 1:05 left to play, should quell that talk for a bit. And with 175 net rushing yards on the day, the Panthers' ground game pummeled the Saints on their home turf and left no doubt as to who was the undisputed class of the NFC. Carolina clinched the NFC South for the third-straight year before the game even kicked off thanks to the Bucs taking down the Falcons, but with the 41-38 comeback win, the Panthers showed they have no interest in coasting into the playoffs.
Carolina is now not only four wins away from a perfect 16-0 mark, which would be only the third perfect NFL regular season since the merger, but Newton is closing in on what should amount to his first career Most Valuable Player award, a vote which would likely be unanimous if it were held today. On Sunday in New Orleans, Newton gave everything he had. He overcame multiple deep-ball drops from Ted Ginn Jr. which, if caught, could've put the game away a lot sooner. He kept the offense in rhythm despite a defense (especially in the secondary) that looked uncharacteristically porous at times against Brees. He played tough and made big plays that saved his team, like the contorting, across-his-body, 16-yard pass to Greg Olsen (nine catches for 129 yards) on 4th-and-4 just before the two-minute warning. Newton elevated the offense to a higher plane and the Panthers scored just enough to win. This is what championship teams do with regularity, with expectations bearing down at all times. For the last few years, Newton and the Panthers have been learning how to win. Now, they're learning how to be great at winning.
The Panthers are a full two games ahead of every other team in the NFC and four games better than any team not named the Arizona Cardinals. They are running away with the No. 1 seed and it's nearly a foregone conclusion that the road to the Super Bowl will run through Charlotte. That's an astounding thought for a team that finished with a losing record last year and lost its most talented wide receiver for the season back in training camp.
Credit to head coach Ron Rivera for heading off what could've become a volatile, underachieving season before it came to pass. Credit to the defense — especially Thomas Davis and Luke Kuechly — which has played at an elite level all season and got the stops when they needed them against New Orleans. Credit to Jonathan Stewart, who is playing like the No. 1 back (914 rushing yards) the team always envisioned. But most credit to Newton, without whom this franchise would be utterly lost.
Now, here is what stands between Carolina and NFL history:
Week 14: vs. Atlanta (6-6)
Week 15: at Giants (5-7)
Week 16: at Atlanta (6-6)
Week 17: vs. Tampa Bay (6-6)
It's a short list and a tantalizingly winnable stretch of games. But is it? The Falcons were, at one point this season, a pretty good football team, but they've now lost five in a row and are in complete freefall. Regardless, this is a team with talented skill players and defeating them twice in three weeks won't be the easiest task. The Giants are genetically incapable of holding a lead in the fourth quarter, so that's a win. And Tampa Bay in the last game of the season may be harder than people think. Rivera will undoubtedly rest his key players for some parts of that game, assuming they've secured home-field advantage by then. And Jameis Winston has not been terrible in his first NFL season. The Bucs are a thoroughly mediocre team, but also in the playoff hunt as so many other mediocre teams are this season, which is a big improvement from the woeful team they've been the last five seasons.
So, as things stand, the Panthers have a little better than a 25 percent shot to finish undefeated. One in four odds to win all four remaining games. That's maybe a tall order, given all the potential obstacles discussed, but as Carolina proved on Sunday, perfection doesn't have to look so perfect. And with Newton under center, the Panthers will keep pounding toward a 16-0 season until they can't any longer.