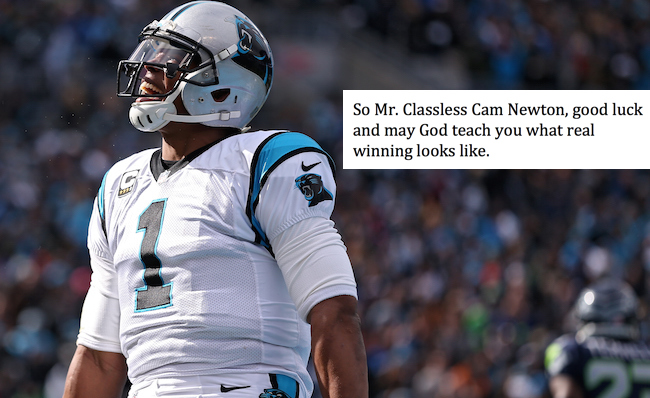 Cam Newton's dominance on the field and the Carolina Panthers' success this season have seemingly multiplied the haters who complain about Newton's showmanship and swagger, all the while he keeps racking up wins and awards.
On Tuesday, as the Panthers quarterback readies to face the Arizona Cardinals in the NFC Championship game this weekend, he was honored with the Ed Block Courage Award, which is given to an individual on each NFL team for "courage on and off the field."
The honor comes just one day after a Seattle Seahawks fan penned an open letter to Newton complaining about "classless" he is after he grabbed a "12th Man" flag from a 'Hawks fan in attendance and threw it to the ground.

These kind of complaints aren't anything new for Newton, who sometimes rubs people the wrong way with his celebrations and antics, but the outrage is pretty ridiculous. In addition to Newton's stellar play — in all likelihood, he'll be named this season's MVP — he's also continued to be incredibly generous both on and off the field.
After each touchdown this season, Newton has made a point to give a game ball to kids in the stands, and — with 45 total touchdowns to his credit so far this year — that's a lot of days made for young children. By the way, he's also done incredible charity work away from the gridiron.
Off the field, Newton is committed to making a positive impact in youth education, physical fitness, and health throughout the Charlotte and Atlanta communities through the Cam Newton Foundation. Since 2012, his foundation has donated more than $400,000 to public school systems, impacted more than 4,500 student-athletes through positive programming and has fed or provided help for more than 5,000 children and adults during the holiday seasons.
So, you can keep bitching about Newton and how "classless" he is while ignoring the positives and pretending like you're not just bitter he beat your favorite team. Or, you know, you can just grow up and acknowledge the fact that, in all likelihood, he's a really good person who's just having as much fun as he can while playing a game, and maybe it's just you who needs to take a good, long look at yourself. It's your call, really…but, soon enough, Cam's gonna have enough trophies to drink all those tears out of.
(Via CBS Sports)
Now Watch: Is This the Craziest College Football Play in History?