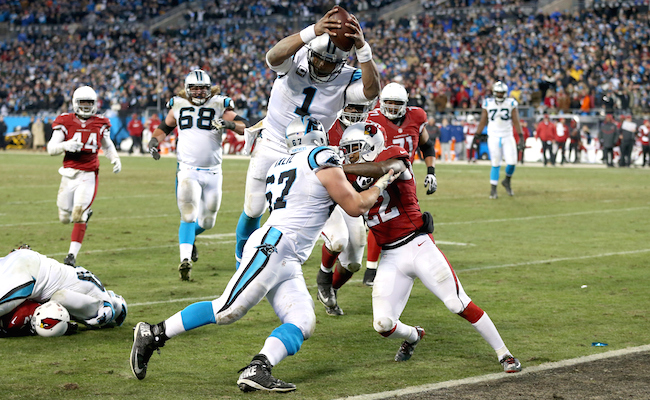 The Carolina Panthers steamrolled their way to an NFC Championship victory on Sunday night and, not shockingly, Cam Newton was out there ballin' and leading his squad to a Super Bowl berth. The Panthers QB and (likely) eventual NFL MVP showed up to work with the typical swag and collected confidence we've come to expect from him, and he put on one heck of a show.
Since it's going to be a few weeks until we get a meaningful football game, we have to savor the entertaining moments that Newton gave us this weekend. Thankfully, that's where the GIF recap comes in.
The focus was apparent from the start.
An early lead got the juices flowing, and he never looked back.
Jumpman, Jumpman, Jumpman, them boys up to something.

He went up and over for a rushing TD on the goal line.
Then he did it again. Probably could have just went around the blocker this time, but there's no fun in that.
Stay hyped.

It's also important to stay limber.
And of course he had to dab.
A lot.
It's gonna be a fun Super Bowl, y'all.