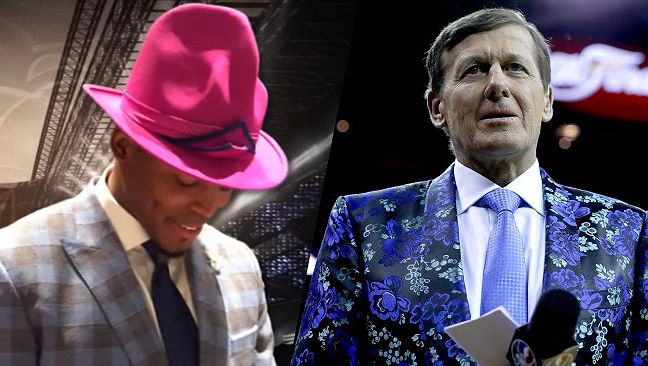 Cam Newton and the late Craig Sager both shared a love of wearing absurd but wonderful clothing. Newton apparently recognized this, and before Monday night's game between the Panthers and the Redskins, the Carolina quarterback wore this amazing outfit that he said paid tribute to Sager.
Newton wore this on the plane the day before the game…
… and he showed up to the game wearing a slight variation of that outfit, but with the same wonderful hat:
As the game was winding down, ESPN's Lisa Salters told viewers that Newton said, "I wanted to wear something in honor of Craig this weekend that was going to be bold just like Craig was." The suit wasn't quite as eye-catching as some of Sager's best threads, but Newton more than made up for that with his gargantuan pink hat, which almost definitely turned heads.
Newton even wore the get-up after the game during his media availability, where he again talked about his outfit paid homage to Sager.
Sager's sense of fashion has been one of the many talking points that we've heard in the days since he passed away. When you think about it, Newton dressing up in a wild suit to honor Sager made all the sense in the world, and it's awesome that the Panthers QB delivered. If we didn't know any better, we'd think this outfit was just Cam being Cam, so it's really cool that he specified he was doing this for Sager.