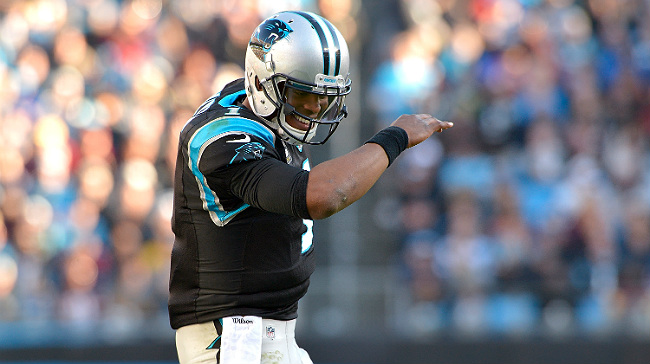 So long, Cam Newton's dabbing. We hardly knew ye.
The reigning NFL MVP announced to the world he will no longer celebrate by dabbing, much to the joy of old people everywhere who write letters to the editor about how a man dancing on television could harm their children. It feels like it is leaving us too soon, but fear not, as Newton says he's working on something new that will surely upset the same demographic of offended letter writers.
So what will Newton's new touchdown celebration be? He didn't say.

"I have until September to find out," he said.
To me, this says Newton hasn't a clue what he will do next season and would like to hear suggestions for his new celebration. Allow me to offer my advice as a highly trained dancer and exceptional athlete.
The Bartman
[protected-iframe id="3dee6f3622b9adb645df9efba166d170-60970621-11449981″ info="https://player.vimeo.com/video/159063171″ width="640″ height="360″ frameborder="0″ webkitallowfullscreen="" mozallowfullscreen="" allowfullscreen=""]
Newton does his own thing. Bart Simpson does his own thing. This could be the perfect marriage. This dance upsets Homer, who can represent the letter writers that get upset about Cam.
Patrick Dempsey's dance from Can't Buy Me Love
You'll probably want a little bit of context on this, but Dempsey plays some nerd that wants to be cool, so he learns a dance on TV to impress a girl, and this is what he does. Cam can score a touchdown, hold his hands up next to his head, and twitch for a few seconds. It's sexual enough that some of the pearl clutchers may have to use euphemisms in their letters like "the devil's mambo" and "loin thrusting," so it could be worth it.
Ralph Kramden and Ed Norton dance to the Hucklebuck
This is about as dated a reference as you will see on this website, but there is some genuinely funny dancing here. Norton and Kramden can move. Newton can sample a small portion of it for a first down and go longer on touchdowns.
The lift scene from Dirty Dancing
Newton is 6-foot-5, 255 pounds. He is much stronger than his wide receivers, who are much lighter than their quarterback. If Newton doesn't do this after a touchdown pass, why even have a National Football League?
The Pulp Fiction Vincent Vega/Mia Wallace dance 
Just imagine if after Newton scores a touchdown, he takes off his sneakers and spends 20 seconds doing the John Travolta side of this dance. If that's not worth 15 yards, what is?
So Cam, please consider these viable options. Heck, you'll score more than five touchdowns next season. Do them all!
(ESPN)