LOS ANGELES — On Monday night, less than 24 hours before a press conference to officially kick off the hype for Canelo-GGG II, Golden Boy Promotions and Hennessy held a banquet dinner in honor of Canelo Alvarez. The boxer and Golden Boy (and almost assuredly Gennady Golovkin's promoters at K2) are already amped for the rematch, as their instant classic first bout ended in a controversial draw.
Alvarez spoke to us through a translator while autographing dozens of bottles of Hennessy, which is in part a testament to his rapidly-increasing public profile in the United States and other English-speaking (or at least, non-Spanish-speaking) countries. The life of a superstar boxer these days is very tied up in promotion and public appearances for partnerships and sponsorships. While these appearances and commitments help to raise a fighter's visibility and cultural cachet, they can also threaten to take away from the training and focus needed to retain an athlete's top-flight skills and preparedness.
This is a tricky needle to thread, and Alvarez understands that, too. "There's time for everything," he says. "And with time, and I have gained the experience that prior to the fight, I take care of all my responsibilities, for instance now, with my partners at Hennessy. And then I go off to camp. Once I go off to camp to train, to prepare for the fight, then I'm dedicated just for the strategy, for the condition of the fight itself."

And Alvarez also understands how vital the appearances are to increase his star power. "Partnerships like this, they help us mutually. Maybe some people are very familiar with, in this case, Hennessy. They don't know me, so it helps elevate those followers. But vice versa it could be, that some people that are not familiar with Hennessy, that know myself, then get to [become familiar with] Hennessy."
One of Alvarez's many partnerships is one with the Charros de Jalisco of the Mexican Pacific baseball league, which resulted in a phenomenally cool hat in the Canelo web store. Alvarez laughed when I brought it up, and talked about the friendships he's made in MLB. "Adrián González and [Yasiel] Puig, [those are the players] I'm the closest [to] in baseball that I've met and had a relationship with," he told us. "A couple years ago when I fought in Houston, I met [Jose] Altuve who obviously went out to win the World Series that year. I've followed baseball primarily because my trainers, they love it, that's a passion of theirs."
Canelo's passions pretty much stay close to the boxing world, of course. He's not a fan of lucha libre or pro wrestling, and he wouldn't consider any future career in another fighting art like that. After all, he's already where the money is. Smiling — and in English — he said, "That's why I'm here."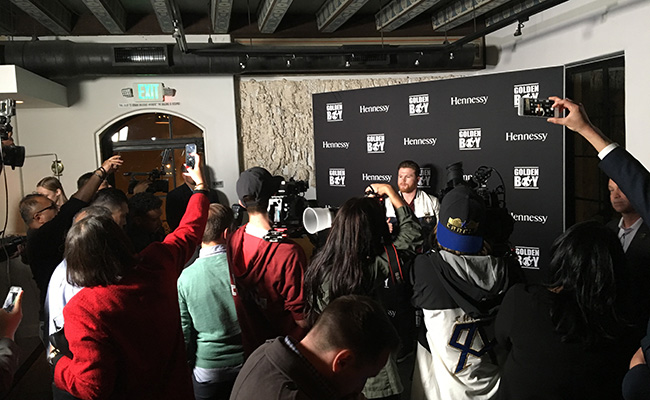 We also talked to him about that first bout with Golovkin, which he has insisted all along he won. We wondered if he is looking for any particular path to victory, or if he'll be mixing up his strategy at all going into the rematch. He may not be changing his strategy per se, but he will be augmenting it.
"We have to add to the strategy, which was a great strategy," he said. "We have to add more aggressiveness, throw more punches. That's what we're gonna do, that's what we're gonna work on to make sure that gets done, so we can walk away with the victory."
That's a wise plan, as many that felt Golovkin won the fight pointed to him being the more active fighter as evidence that he was controlling and winning the fight. For Alvarez, matching that activity while still leaning on the things he had success with in the first bout could be the key to unlocking a victory in the rematch.
As for whether the rivalry eventually ends up being a trilogy, regardless of the outcome of the second fight, Alvarez insists that's in up to the fans to decide. "We're gonna do everything we have to in order to leave no doubt in this next fight who the better fighter is," he stressed, but he also knows as a professional that you can never say never. "But of course, if it's still again another close fight, and the fans wanna see another good fight, I'm into that as well, because I've always said, I'm here to give the fans the best fights, and what they want."