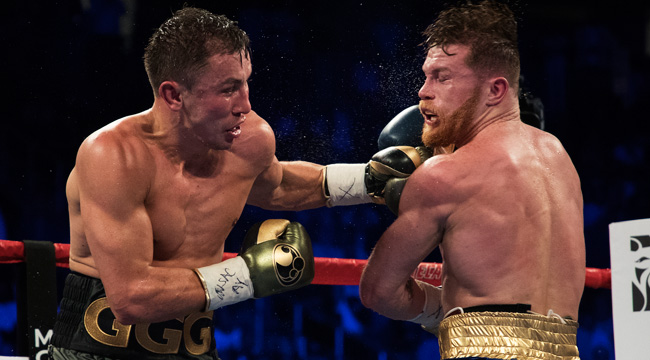 Canelo Alvarez and Gennady Golovkin's first fight back in September was the biggest boxing event of the year, and while the two fighters produced a great fight the result left a bad taste in the mouths of many that watched. The controversial draw that featured one of the worst cards in recent memory in favor of Canelo frustrated fans, as no one likes to see a draw in boxing even if the fight was much closer than some Golovkin fans would like to admit.
As expected, the two superstars will meet again in a rematch to determine a winner and crown a true, undisputed champion of the middleweight division and they will do so on one of boxing's most hallowed dates: May 5 on HBO PPV. The Cinco de Mayo weekend date has long been a big boxing day, with Floyd Mayweather adopting it as his official annual fight date for years, and Mexican superstar Canelo Alvarez has now taken that mantle.
That date has been rumored as the targeted rematch date since before the first fight even happened, and after the draw there was never a doubt the two would get back in the ring to settle things. Golden Boy Promotions and HBO Boxing made the official announcement Monday afternoon with what will assuredly be the first of many hype videos.

As of now, Golovkin enters the bout as a fairly robust favorite over Alvarez, which comes as little surprise considering the public generally considers him to be the one that should have won.
While the venue remains unknown, all signs point to the bout returning to Las Vegas and the T-Mobile Arena.
There were whispers going into the first bout that it could be at AT&T Stadium in Dallas, where Alvarez has fought before, and that will undoubtedly be rumored again, but Las Vegas remains the frontrunner because of the overall revenue streams that are afforded to the promotions as part of the package of fighting there.
If the fight is anything like the first one, it will be a must-watch event once again and maybe this one will feature a stoppage that leaves no doubt who the victor is. If it's another close decision, a trilogy would almost certainly be in order.