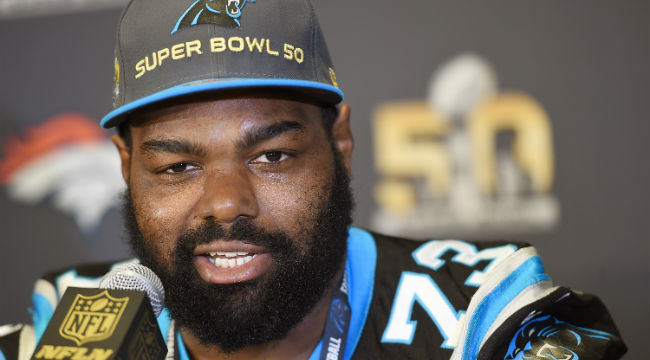 To a handful of people, Michael Oher is a solid offensive lineman who has played for Baltimore, Tennessee, and Carolina during his NFL career. To way more people, he is Big Mike, a dude who was taken in by an affluent family and eventually earned a football scholarship at Ole Miss en route to the NFL.
If you fall into that second group, it's because you saw "The Blind Side", a 2009 film starring Sandra Bullock based on the book The Blind Side: Evolution of a Game by Michael Lewis. Seeing as how the movie brought in a whole lot of money, that second group is huge. So huge that when Oher signed a new three-year deal with the Panthers on Friday worth $21.6 million, a handful of his teammates celebrated by tweeting out GIFs from the movie.
Mike Remmers and Ryan Kalil inadvertently had a conversation to really drive home the point that Oher wants to stay in Carolina.
Meanwhile, Trai Turner just tweeted out a GIF of Oher (well, Quinton Aaron playing Oher) fist bumping Miss Sue (his tutor who was played by Kathy Bates).
In response to all of this, both Oher and Leigh Anne Tuohy – the woman whose family took Oher in – tweeted out their approval.
Were all of these jokes kind of easy and obvious? Of course, but it's still really cool that so many teammates are excited to see Oher back.
(via SB Nation)