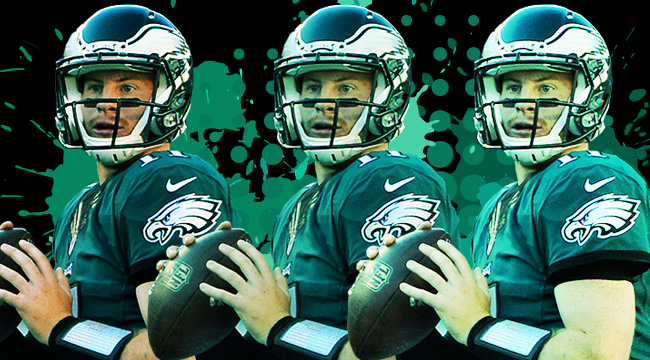 In which we pick the one player (or coach, or equipment manager, or mascot, or drunk fan) who made the biggest impact on NFL Sunday — the one who gets people talking the most, in a good way.
Going into this season, North Dakota State's Carson Wentz was considered a prospect too raw to start right away, even if he was talented enough to be worth the second overall pick (and a king's ransom from Philadelphia to trade up for it). That's why Sam Bradford was told to stick around, to absorb starts as a lame duck until Wentz was deemed ready. Well, that went out the window when the Vikings got desperate enough to give up a first-rounder for Bradford, and all of a sudden it was Wentz's show. (Bradford's doing fine, by the way.)
As it turns out, Wentz has been anything but raw. He's now led the Eagles to a 3-0 record at the top of the NFC East, and their most recent victory wasn't against a cupcake like the Bears or Browns. The Pittsburgh Steelers' defense had been stout through the first two weeks, and Wentz shredded them for 301 yards on 9.7 yards per attempt and two touchdowns. He's now thrown five touchdown passes without an interception through his first three games, the first time in NFL history a rookie has made it through his first 100 attempts without a pick.
Wentz hasn't just been impressive for a rookie, he's been one of the very best quarterbacks in the game so far. Sure, the Eagles offensive line has been excellent, and though the Steelers' defense has been good, it's also not an elite pass rushing unit, but Wentz is doing more than just standing in a clean pocket and picking out his throws. Look at his ability to throw on the move, with touch and vision, to Darren Sproles on what would become a long touchdown pass:
That's a throw you'd expect from noted scramblers Aaron Rodgers, Ben Roethlisberger or Tony Romo, and Wentz is out here in Week 3 — after a preseason that all but didn't exist thanks to a rib injury — looking like he belongs. This was supposed to be a rebuilding year for the Eagles, waiting on Wentz to develop before reloading and attacking the NFC East, but with every other team in the division still deeply flawed and Philly's defense looking a match for its surprisingly good offense, this division is Wentz's for the taking.
Of course, even guys like Rodgers and Roethlisberger had growing pains. Wentz will throw picks eventually, and he might even be bad for stretches this season. Heck, there's even a chance that this is all a mirage and Wentz will eventually become a bust. But it's far more likely that when he does struggle, it will simply be a bump on the road to being at least a very good quarterback for years to come.
Other Week 3 Winners
Cowboys QB Dak Prescott and RB Ezekiel Elliott

The Cowboys rookies had flashed talent in their previous two weeks, but in fits and starts in two close games against teams of questionable quality. The Bears are also of questionable quality, but Dak and Zeke both broke out in big ways on Sunday night, with the former throwing for over 10 yards per attempt and the latter rushing for 140 yards. Dak has been impressive, but not on the same level as Wentz — he looks far more like a rookie out there, if a very good one. His future remains murky, but Zeke looks, for now, like he was deserving of the lofty draft pick at which he was selected. Even if they may not be great, the 'Boys will be a fun team this year.
Vikings DE Everson Griffen

The Vikings are maybe the second most surprising undefeated team through three weeks to the Eagles, and while Bradford has certainly contributed to that, it's really the defense that is setting the tone up in Minnesota. They battered Cam Newton and the Panthers to the tune of eight sacks, three of which came from Griffen. The 28-year-old physical freak of a defensive end has recorded double-digit sacks each of the last two full seasons, and with young star Anthony Barr at linebacker behind him and monster tackle Linval Joseph beside him, Griffen is difficult to double team — but even more difficult to block one-on-one. Griffen could challenge for the sack title this season.
Bills CB Stephon Gilmore

The Buffalo Bills looked like a sinking ship helmed by doomed captain Rex Ryan after the first two weeks, in which they've put up some dismal defensive performances and fired their offensive coordinator(?). Well, whatever happened behind the scenes must have worked for at least one week, because the Bills made the Cardinals' Carson Palmer look like the Raiders' Carson Palmer with four interceptions on the way to an upset victory. Gilmore had two of those picks, along with a healthy four passes defended. He was eighth in the NFL in the latter stat last year with 18, and if the Bills' pass rush continues to be the pieced-together affair it has been so far (though they did land five sacks on Palmer), their defense's strength has to come from its secondary, led by Gilmore and safety Corey Graham.