Chael Sonnen has been an outspoken critic of Jon Jones since news broke that Jones was off UFC 200 due to an unspecified USADA drug violation. When first asked by ESPN what he thought of the situation, he said, "If there's one thing about us, we know our own." Sonnen tested positive for a cocktail of performance enhancing drugs in 2014 that prompted his sudden retirement from the sport.
On Monday, Sonnen appeared on the Joe Rogan Experience podcast and had more to say about Jones' recent trouble. First, he made public what Jones and his team refused to comment on: the kind of drug Jon tested positive for. "He tested positive for some estrogen blockers, they don't really have anything to do with anything, they don't help, they're silly," Sonnen claimed. "He tested positive for two estrogen blockers."
Later in the show, Joe asked Chael about the old rumor that Jon had once hidden under the cage at his gym to hide from a drug test.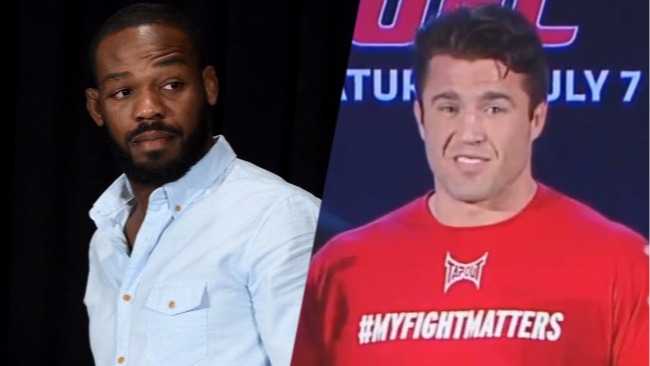 "I wasn't there but let's tell the story," Chael said. "USADA came in — this is just 'the story' — but this is from some of his teammates, UFC fighters that claim they were there, and that doesn't make it true. But all the disclaimers aside, let's get down to the entertainment side of this."

"So USADA rolls into Jackson's gym to do a test on Jon Jones and there was only some coaches in there and like five people at the time. So he can see them coming, where they parked they can see him coming, so they don't know what to do with him so they hide him under the cage. Jon Jones hides under the cage. They tell them 'Jon, we don't know where he is.'"

"So anyways he hides under the ring, they say 'Well where is he, this is his gym.' They say 'How would I know where he is?' So instead of leaving like they thought they would do, they took a seat. Well, there's like eight hours left in the business day, they don't ever leave. However long, a six or eight hour time frame, Jon's under the cage the entire time. So people are coming and going, the whole thing. Finally they close the lights and lock the door and now Jon can finally come out."