The Chicago Bears had 10 offensive possessions on Sunday afternoon against the Seahawks, and they punted on all 10 of them. Now, it looks like they may be punting the rest of the season, too. With 13 games still remaining on the schedule, the team already appears to be looking ahead to next year and beyond.
On Monday, GM Ryan Pace began what looks like the early-makings of a complete roster overhaul after he traded away former All-Pro DE/OLB Jared Allen to the Carolina Panthers, as well as third-year LB Jon Bostic to the New England Patriots, both for future sixth-round draft picks.
The moves were not surprising for anyone who has watched the Bears play so far this year. After losing their first three games, and only at times looking even slightly competitive while doing so, Pace must have figured that there's no point in waiting until later in the season to start shedding some of the assets who clearly do not have a future with the team.
For Allen, 33, the writing was on the wall during the offseason when new head coach John Fox and his staff were brought in, and the team switched from their traditional 4-3 defense to a 3-4 base. This meant a position-change for the veteran pass-rusher to outside linebacker, a position he has never been familiar with since entering the league in 2004. Through three games, Allen was making the change work, and he was certainly not the reason the Bears remain winless, but for a team going nowhere, it made sense for them to part ways and allow him to join a contender.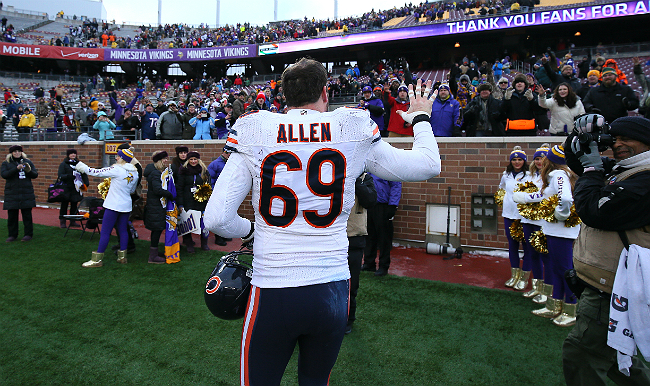 As for Bostic, he came into the league with high hopes after being drafted in the second round in 2013, and Bears fans envisioned him as the next in line behind Brian Urlacher in the team's long-standing tradition of great inside linebackers. However, it wasn't meant to be as health issues, an inability to shed blocks, and his overall lack of understanding on how to make the correct reads lead to him being knocked down the organizational depth chart. Bostic will now have a chance to resurrect his career in New England under Bill Belichick, where he'll also have an added advantage of potentially knowing what plays are coming ahead of time. Zing!
With the trade floodgates seemingly open, one wonders if this is just the beginning and if further moves are on the way. For a team that go so bad so quickly, it's fun to speculate where they go from here?
To start the season, the Bears have been out-played in all three phases, in all three games. That's a rare thing because it's not often that a team will appear to be out-manned at offense, defense, and special teams all at the same time. Coming into last Sunday's game against the Seahawks, oddsmakers had the Bears as 14-point underdogs, despite the fact that Seattle was also coming into the game with an 0-2 record. So, clearly, people have taken notice at how bad this team could potentially be.
But how did it happen so fast? After all, it was only two seasons ago that they had the second-best offense in the NFL, and were one broken defensive assignment away from beating the Packers in Week 17 that would have sent them to the playoffs.
Well, the checklist to avoid the NFL doldrums is the same for every team, but it essentially boils down to a team's ability to draft well, and their ability to avoid handing out cap-killing contracts to overpriced veterans. Unfortunately, the Bears have failed on both counts in recent years.
Bad recent drafts? Check.
Former GM Phil Emery, who held the position from 2012 through 2014, was the man in charge of three recent drafts for the Bears. The jury is still out on 2014, but of the 20 players he selected total in those three years, only Alshon Jeffery in 2012 and Kyle Long in 2013 have turned out to be anything more than a rotation player up to this point. Also, only four players who were selected by Emery in both the 2012 and 2013 NFL Drafts are still a part of this year's team. For comparison's sake, their division rivals in Green Bay and Minnesota have 11 and 13, respectively. In a salary-cap league, failing to hit on inexpensive, cost-controlled draft picks is the easiest way for a team to go bad quickly.
Lucrative, cap-killing contracts to marginal players? Check.
I'm not one to pile on Jay Cutler. However, the fact remains that he continues to be one of the highest-paid players in the league, despite rarely being considered among the top-rated quarterbacks, and his contract remains virtually untradable. The sad part for Bears fans is that the last week and a half has proven once again just how valuable he is to the team. In Week 2, the Bears traded touchdowns with the Arizona Cardinals for two quarters until Cutler went down with a hamstring injury late in the first half, at which point, Jimmy Clausen came in and looked like he had never played football before; the team promptly lost by 25. Then last Sunday against Seattle, Clausen got the start again, but the team never even threatened to score, instead punting on 10-straight possessions. Quick aside: I didn't even know that was possible. I mean, sure, hypothetically, punting on every possession was always possible. I'm just saying it's never even occurred to me that it's a thing an NFL team could do. It was the single-most damning example in recent memory of a team doing everything in their power to simply avoid being blown out.
Which, in a way, is a strong indication that it wasn't Monday's trades of Allen and Bostic that started the Bears on their path to seemingly giving up on the season, but rather the previous afternoon when their coaching staff appeared to stop trying to win a single game once their opponent had built an insurmountable 6-point halftime lead.
So, at this point, where does that leave the team for the rest of the season? Could a Matt Forte trade be forthcoming? Or, Jeffery, perhaps? Some people think it'd be the prudent move for the franchise at this point. With both players being free agents at the end of this season, you can assume the team is listening for offers. And who knows, maybe one of them could snag a draft pick that's not a sixth-rounder.