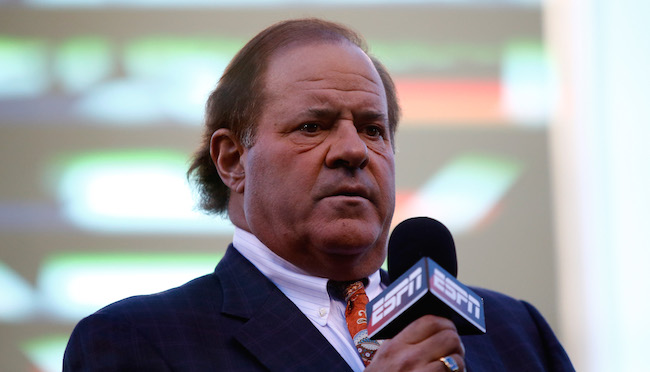 Katherine Berman, wife of long-time ESPN personality Chris Berman, was killed in a two-car crash in Connecticut on Tuesday at the age of 67.
The Hartford Courant received details of the fatal crash from the Connecticut state police.
According to the state police, the 2003 Lexus SC 430 driven by Berman and 2003 Ford Escape X driven by Bertulis were headed east on Sherman Hill Road, about a mile and a half from the Quassy Amusement Park in Middlebury, at the time of the crash. The Lexus — owned by Chris Berman — rear-ended Bertulis' Ford and continued traveling east, veering off the road to the right.

The Lexus went down a small embankment and overturned in a small body of water, state police said. The Ford also went off the road, striking a utility pole and landing in the middle of the road on its roof.
The police said they are investigating whether Bertulis had a medical emergency just prior to the accident.

Berman is one of the few personalities that has been with ESPN from the beginning, and just recently he had taken a smaller role at ESPN, moving into semi-retirement as Samantha Ponder will take over his duties on Sunday NFL Countdown and Trey Wingo assumed the role as NFL Draft coverage host. Berman was reportedly notified of his wife's tragic death on Tuesday evening by while at Citi Field watching the Giants play the Mets.
ESPN president John Skipper released a statement following the news.
"This is a devastating tragedy and difficult to comprehend," Skipper said. "Chris is beloved by all his ESPN colleagues and for good reason: he has a huge heart and has given so much to so many over the years. We know how much his family means to him and all we can do at a moment like this is to give him the love and support he will surely need at this hour. Our thoughts and prayers are with Chris, Meredith, Doug and the entire family."