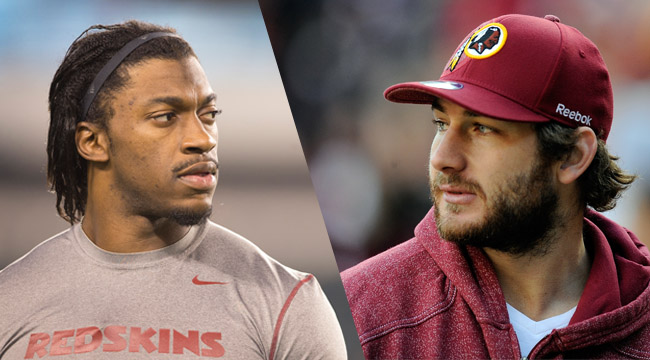 Robert Griffin III was released by the Washington Redskins on Monday, officially ending his complicated and painful tenure with the team. It was a move everyone knew was coming months ago, but the formality had to wait until the NFL's rules could allow. Now that he's officially off the team, former Redskin (and current D.C. radio host) Chris Cooley let loose on an absolutely scathing radio segment transcribed by the Washington Post's Dan Steinberg. In it, Cooley put on the record what rumors had suggested for years now.
"The offensive line did not like Robert Griffin," Cooley said. "A lot of the receivers did not like Robert Griffin."
Cooley went in great detail about the strained relationship between Griffin and Kirk Cousins, who was picked in the fourth round of the same draft in which RGIII went second overall. According to Cooley, who cited several unnamed current Redskins players, Griffin harbored resentment that Cousins was there and a constant threat to his job security. And when Cousins did eventually overtake him, the tension remained.
"There was not a friendship there," Cooley said. "Now again, I don't know if it's even relevant, but I just think it's so interesting, and I just think it plays into so much of how much Robert disliked anyone ever challenging what he was. And when people started to challenge that Kirk might be the guy, it became even worse. It became even more awkward. Let me stop with that."
Steinberg's piece is filled with more good quotes (including Cooley hoisting the b-word), but it's important to remember that this isn't just one former player mouthing off. Cooley works for ESPN 980, which is owned by Dan Snyder. Snyder's ownership of the Skins and his media properties are tightly intertwined — it's why so many leaks about the Cousins/Griffin situation got out in the first place. Cooley's position in Snyder's organization — which has a habit of swiftly casting out those who don't toe the company line — means that when he says things like this on his radio show, Redskins leadership doesn't mind the comments all that much. Cooley's been critical of RGIII for years now, but this sort of comprehensive takedown so soon after Griffin's release has to raise eyebrows.
(Via Washington Post)
Now Watch: What Does Calvin Johnson's Retirement Mean For The Future Of The NFL?