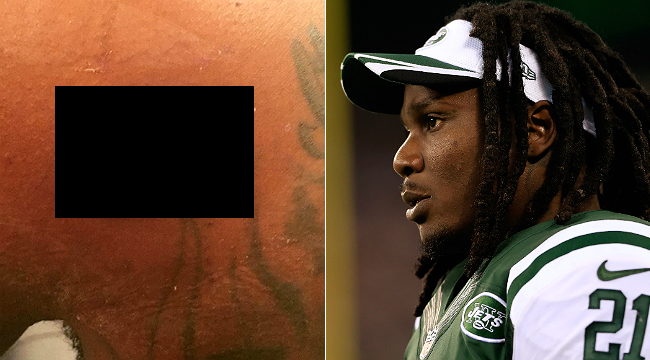 Free agent running back Chris Johnson is reportedly close to signing a deal with the Arizona Cardinals, but Johnson is fortunate to be able to play anywhere in 2015 after being shot in a drive-by  back in March.
Johnson was one of three men shot at a red light in Orlando.  One, 28 year-old Dreekius Oricko Johnson, was killed.
Since being shot, the former all-star running back has been recovering from his injury and trying to earn his place in the NFL after the Jets chose not to renew his option this offseason.
For the first time on Saturday, we finally got a glimpse of just how tragic it could have been for Johnson, as he shared a graphic image on Instagram of the bullet wound he suffered in his upper-arm. The image may be unsettling, depending on how you feel about bullet wounds so you have been warned.
Along with the picture of the wound, Johnson also shared how being shot changed his perspective with this caption:
Me getting shot made me think different. No weapon that is formed against thee shall prosper ; and every tongue that shall rise against thee in judgement thou shalt condemn. This is the heritage of the servants of the lord and their righteousness is of me, saith the lord"
Johnson ran for a career low 663 yards and one touchdown with the Jets last season. If he does indeed sign with the Cardinals, he will compete for carries with Andre Ellington and rookie David Johnson.