At this point, Christian McCaffrey is the rare college athlete who needs no introduction to a general audience. As far as his chances of winning the Heisman Trophy go, that's a blessing and a curse. If you've paid any attention at all to Stanford or Pac-12 football over the past year, you know that McCaffrey is enormously blessed, both with pure, natural-born talent and with an offense that (paleolithic reputation notwithstanding) has exploited his skills to maximum effect.
McCaffrey's a bona fide star.
On the other hand, if you're the kind of fan who's less inclined to keep close tabs on West Coast games — evidence suggests that's a lot of you — and if your exposure to McCaffrey is largely second-hand, well, why tune in now? Short of defying gravity in the first known instance of non-assisted human flight, there's not much McCaffrey can do on a football field to win over new converts that he hasn't already done.
Judging from last weekend's TV ratings, maybe upending the laws of science is what it's going to take.
On a busy night for college football, McCaffrey's electric performance in Stanford's 27-10 win over USC was seen by fewer than 2.9 million people — not bad for, say, a prestige cable drama in its first season. For an above-the-fold college football game on ABC, not so much. That number was dwarfed in its own time slot by the audiences who watched Ohio State crush Oklahoma (5.8 million) and Notre Dame go down in flames against Michigan State (4.99 million).
Earlier in the day, more three times as many people tuned in for Alabama's wild, come-from-behind win over Ole Miss (8.2 million), and more than twice as many saw Lamar Jackson's coming out party against Florida State (6.2 million). Coincidentally, who's your undisputed Heisman frontrunner in this week's straw polls? I'll give you a hint. It's not Christian McCaffrey.
Usually, hand-wringing over the lack of eyeballs for Pac-12 games stems from the fact that they often air so late that the only people still awake in the country's two largest time zones are obsessives and insomniacs. But Stanford-USC was not a late-night kickoff on basic cable that ended at 2 a.m. ET. It was primetime, on network television, pitting the defending conference champ (and odds-on favorite to repeat) against one of the true brand-name, blue-chip powers in the sport. (For more comparison, USC's opening-night flop against Alabama led a blockbuster weekend for college football with 7.9 million viewers — five million more than watched the Trojans' loss to Stanford — in the same time slot, on the same network. Although, admittedly, it's hard to blame anyone who watched USC-Bama for avoiding the Trojans for the foreseeable future.)
Stanford may rival Oregon as the dominant West Coast outfit this decade, but it still struggles to move the needle among average viewers like the sport's traditional heavy hitters or, apparently, its most hair-raising phenoms. And while you may not give a damn about TV ratings, unless you're an executive or an advertiser, they do reflect a certain reality.
McCaffrey may be the best player in America, but unless he's playing in the Rose Bowl, much of America still doesn't regard him as a main attraction.
In a way, McCaffrey's candidacy feels a little like that prestige drama — critically acclaimed, beloved by almost everyone who's seen it, and still waiting to break out of its niche before its star leaves to cash in on a more mainstream project. Somehow, the target audience keeps forgetting to watch. And they're not in a rush to DVR it either.
Mass appeal aside, McCaffrey's Heisman bid already faces an inherent, possibly insurmountable hurdle: McCaffrey's own stat line. The statistical curve he set in 2015 en route to not winning the Heisman was so steep it threatens to wreck his chances this year simply by existing as a point of reference. Congratulations, you just accounted for more all-purpose yards in a single season than any other player in FBS history, and that was only good for second place in the final voting. Now what, is he supposed to break the record again? He finished with 1,227 yards more than any other player. Where do you go from there?
On paper, there's nowhere to go but down. Let's assume McCaffrey stays healthy, and continues to touch the ball 30-plus times per game, and finds ways to remain productive against defenses designed specifically to keep him check. Even if everything goes more or less according to plan over the course of a 12- or 13-game schedule, those numbers will be virtually impossible to reproduce in back-to-back seasons.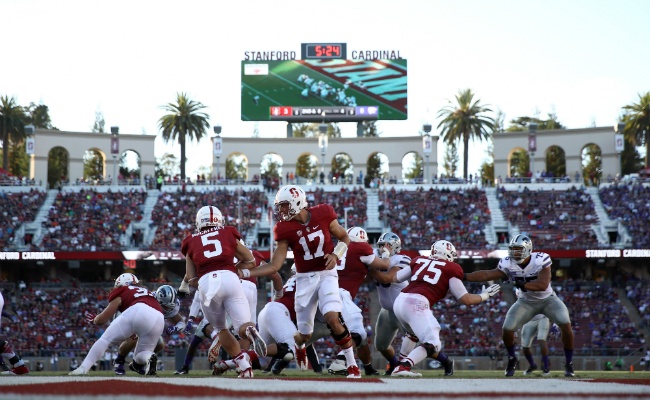 Consider Stanford's first two games this year, in which McCaffrey accounted for 210 all-purpose yards against Kansas State and 260 against USC. Those are sensational numbers. Averaged together, 235 yards per game once again leads the nation, and would have in most seasons since the turn of the century. But that's still a far cry from last year, when McCaffrey averaged an insane 276 yards per game.
Even if he keeps up his current pace throughout the regular season and (hypothetically) the Pac-12 title game, it will leave him more than 800 yards shy of last year's cumulative mark, which didn't really gain traction itself among casual fans — some of whom have Heisman votes — until headlines trumpeted that it had surpassed Barry Sanders' 37-year-old FBS standard.
This time around, there almost certainly aren't going to be any records falling or reports of undeniable superlatives. It's just going to be McCaffrey being McCaffrey, week after week, for whoever happens to be watching.
In the absence of any larger narrative surrounding his campaign, it's a fair question to wonder just how many people that'll be. Not that Stanford football post-Harbaugh is some kind of backwater unaccustomed to the national spotlight: On the contrary, the Cardinal have finished in a major bowl game in five of the past six seasons and claimed a conference championship in three of the past four. Nor do Heisman voters necessarily have a blind spot for The Farm. Before McCaffrey's second-place finish last year, Cardinal stars had also finished as runners-up in 2009 (Toby Gerhart), 2010 (Andrew Luck), and 2011 (Luck again).
"East Coast bias" didn't stop Oregon's Marcus Mariota from running away with the trophy in 2014, snapping a 44-year Heisman drought for West Coast players who play for a school other than USC.
But Mariota was a quarterback for a playoff team, at a program that had played for a national championship (and come within a field goal of winning) in recent memory, and was on its way to playing for another. For all its success in the Pac-12, Stanford has yet to break through with a serious, sustained run at a national crown into late November, which has loomed for years now as the next step in the Cardinal's climb toward becoming the kind of outfit that can command widespread attention and Heisman attention as a matter of course. Like all individual contenders, McCaffrey's fate is inextricably linked with his team's.
So goes Stanford, so goes its star.
If the 2016 Cardinal have the legs for a playoff push, the next month is the most important stretch, beginning with this Saturday's trip to UCLA. Beyond that, they'll also be on the road for arguably their toughest game of the year (at Washington on Sept. 30) and their most high-profile when they play at Notre Dame on Oct. 15. November brings road trips to Arizona, Oregon, and Cal, as well as zero margin for error.
After Washington, no other opponent on the schedule is ranked in the current AP or Coaches Polls, meaning a potential loss in Seattle (or anywhere else) will be that much tougher to overcome.
To have any shot in December, McCaffrey needs to produce at a torrid pace just to keep up with his 2015 output and to keep the attention of the voter. But it will also help a lot if they know his team is still going to be relevant in January. Whether East Coast Bias is real or not, Christian McCaffrey deserves our attention. He won't be here at the college level for long, and we're sure going to miss him when he's gone.