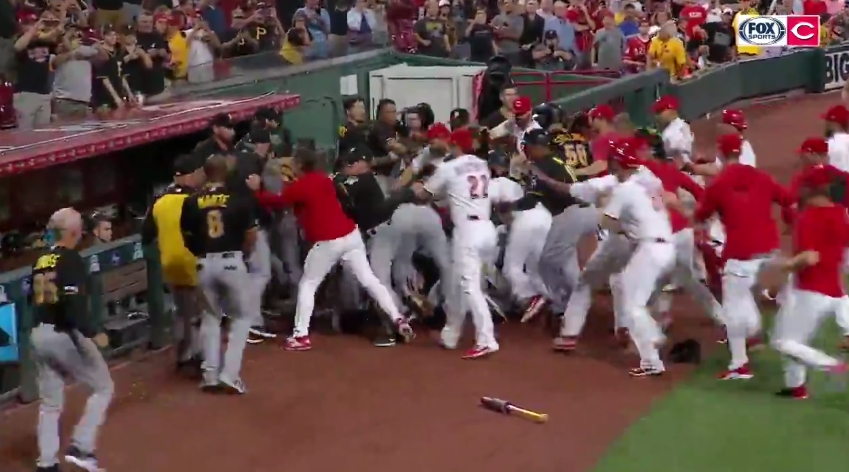 The 2019 MLB trade deadline is looming on Wednesday afternoon and, as Tuesday evening progressed, dominoes began to fall around the league. The biggest transaction of the day involved the Cleveland Indians sending Trevor Bauer to the Cincinnati Reds as part of a three-team transaction and, for their trouble, the Indians acquired a package headlined by dynamic outfielder Yasiel Puig.
News of that trade broke during a game between the Reds and the Pittsburgh Pirates but, in short order, the deal wasn't easily the biggest news in the baseball world.
That shift occurred as a result of a five-minute fight during the ninth inning, as Reds reliever Amir Garrett charged at the Pirates dugout and ignited quite a fracas.

The full video is absolutely worth a watch, as it was heated from beginning to end and likely stemmed from the lopsided nature of the scoreboard at the time of the altercation. Garrett's decision to plow into a cavalcade of Pirates players was not an ideal one and, later, Puig left his mark on the situation by flying around in memorable fashion. Making things crazier was the simple reality that Puig was already traded (!) before the fight actually occurred, and he was ejected in what is scheduled to be his final game with the Reds.
MLB punishment will almost certainly arrive for multiple players involved here but, with less than 24 hours until the trade deadline, an on-field incident grabbed the spotlight and it was a wild scene in Cincinnati.