ATLANTA – Dabo Swinney delivered close to five minutes of an opening statement from Georgia Tech's weight room following Clemson's 26-7 win on Thursday night. Before even taking a question, he used the word "proud" close to half a dozen times to describe his guys. If he's disappointed in how the Tigers have started 2016, he's not showing it.
"We didn't win the division tonight," Swinney said. "But we got off to a good start."
That good start, well, started with defense. Clemson beat Georgia Tech in Atlanta for the first time in 13 years in large part by holding the Yellow Jackets to 124 total yards. The Tigers allowed -1 yards in the first quarter, and 23 yards at the half.
If Deshaun Watson's star hasn't shined quite as brightly as Lamar Jackson's this season, that's because it hasn't had to. Not yet anyway.
That's the situation Clemson finds itself in heading into Saturday's huge game against Louisville in Death Valley. Last year Clemson's job was to knock off the ACC Champs. Florida State had run the Atlantic Division (and as a result, the conference as a whole) in recent memory, and a game in Clemson ended up being the difference maker. Behind defense first, and some inspired drives by Watson, the Tigers held off the 'Noles and went on to win the ACC.
You know the rest.
Watson became the presumed No. 1 pick in the 2017 NFL Draft. Clemson made it to the College Football Playoff and lost in the Championship to Alabama. And preseason predictions indicated the Tigers would (and should) win the ACC again.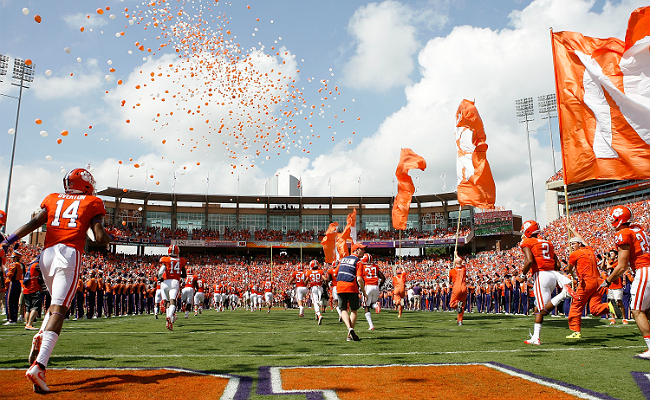 After a slow start and the rise of the Cardinals, it'd be understandable if you tore up those predictions and started over. There's a certain satisfaction in the sound of a piece of paper ripping. (I'm ripping a piece of paper right now. It's delightful.) Jackson's otherworldly performances through the first third of the season should excite and dazzle you. The play of Louisville's defense, especially in that impressive win over Florida State, has been a pleasant surprise. This is a complete football team that Bobby Petrino has put together.
But then again, so is Clemson.
So why does it feel like everybody's forgetting about them?
"Last year we had everybody behind us going into the Playoff and the National Championship," redshirt junior wide receiver Mike Williams said on Thursday. "This year they're kind of doubting us and stuff like that. We just have to come together as a team and block out all the noise."
That's the cycle of the sport. Do enough to get there, and people love you. Then everyone wants you to stay there. If you don't play to the level they're expecting you to as quickly as they would like, you're the problem.
The first two weeks of the season, Clemson won games against Auburn (on the road) and Troy by a combined 12 points. Counter that to Louisville, which smoked Charlotte and Syracuse by a total of 90 points through the first two weeks (and has averaged 63.5 points per game in its first four), and the Tigers are a bit lacking by comparison. Deshaun Watson hasn't yet had his signature Deshaun Watson game, and the Tigers get it done on the other side of the ball with the nation's top-ranked defense according to S&P+ numbers.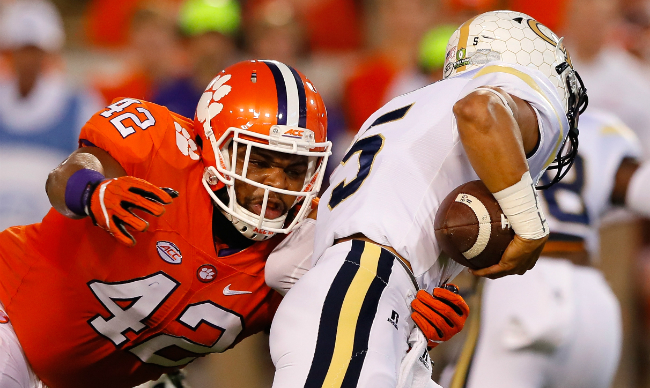 If anything, defensive coordinator Brent Venables seems to prefer it that way. Clemson's defense was on the field for around 11 minutes of the third quarter against the Yellow Jackets, and the offense ran just seven plays. Although he admitted it was a bit agonizing to be out there that long, Venables took it as a point of pride to force Georgia Tech to chew clock and keep the offense rested.
It won't be easy against Louisville to do so. The Cardinals strike fast and have a guy in Jackson who Venables admits can blow a scheme in an instant.
"He's just a very dynamic player," Venables said. "You can have everything right and then he can get himself out of tough situations."
Playing back recordings from Thursday night, it's hard not to laugh because in the background of every interview, it's possible to hear other players and coaches being asked about Lamar Jackson. That's all anyone wanted to discuss. And for good reason. The sophomore sensation had the September Heisman in the bag, and he looks to be in the conversation all year.
When asked by ESPN's Marty Smith on Monday morning about Jackson, Swinney called him, "Michael Vick, right-handed."
In a lot of ways, this is exactly what Clemson wants. The Tigers beat off that Clemsoning narrative a long time ago and they've won 10 or more games in each of the past five seasons. The Tigers are happy to sit back and let everyone discuss the other guy.
"The first couple games we didn't start out right and we had a lot of critics doubting us," senior defensive tackle Carlos Watkins said Thursday night. "Hopefully we can carry that through the season. I'm going to let the media do the talking. I just sit back, steady defend, and do my job."
That's not to say Louisville can't – or won't – get it done on Saturday in enemy territory. They're certainly capable with a talented defense to go along with Jackson and Petrino's creative offense. It's just odd rolling into October with Clemson undefeated, as expected, and getting little to no talk about a repeat College Football Playoff appearance.
But that's just college football. Clemson can write its own story in 2016, just as Louisville can. And we're free to change our minds again after the fact.