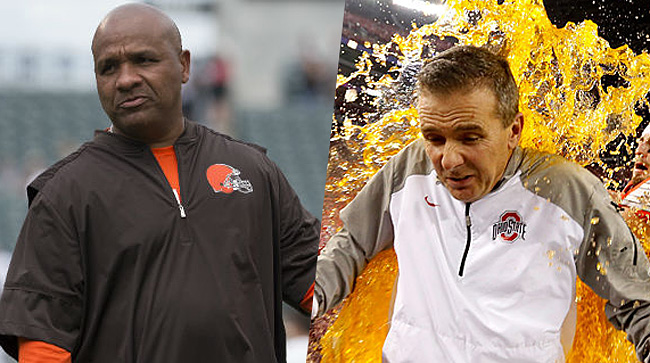 Oh, good, a debate over whether a college team would be a professional team. This is always fun!
The Cleveland Browns, despite what Terrelle Pryor thinks, are not a good football team. In fact, many people would go as far as say the Browns are the worst team in the NFL. This isn't anything too shocking, but considering that the best college football team in America may be in Ohio, it leads to people having this debate.
Ohio State has steamrolled every team it has played this year and few, if any, college football teams have a better argument for being the No. 1 team in the nation. The Buckeyes have spent all year mowing through opponents, which has helped them earn the top spot in the country based on S&P+. They are young, they are talented, and with Urban Meyer at the helm, they may be the most well-coached team in all of college football.
For voters in Ohio, the Buckeyes' talent combined with the fact that the Browns are really bad is enough to make a majority of them think that Ohio State would beat Cleveland. And this isn't something that voters apparently struggle with – a whopping 62 percent of voters take the Buckeyes, while only 23 percent of voters take the Browns, according to Public Policy Polling.
So not only is this crazy because a college team almost certainly would never beat a pro team, but this has the added layer of craziness that stems from the fact that this isn't especially close. Then again, the Buckeyes have mauled teams all year, so it's not unusual to see them up by 39 points on other teams.