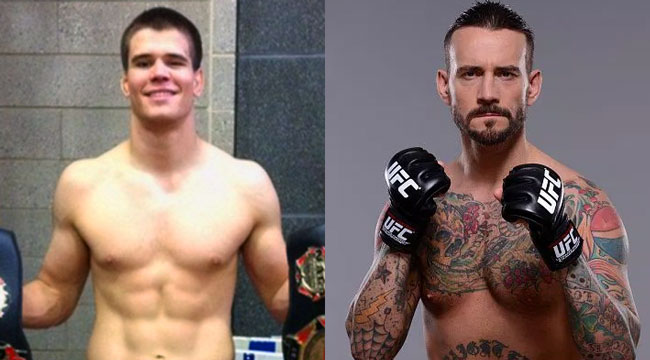 There are two big questions we've had for CM Punk since he announced his signing with the UFC: When will he debut and who is he gonna fight? An appropriate opponent for the former wrestling superstar was always going to be a challenge for the UFC to fight. Who on their roster of battle-hardened veterans would be appropriate to face the 0-0 Punk?
The answer is nobody. Instead, the UFC is currently looking outside their organization for the guy who will face CM Punk in his first fight. UFC president Dana White has a new show debuting on YouTube next week called Looking for a Fight, and part of the show's plot is a search for Punk's opponent. But the filming of the show went down earlier in 2015, and several prospects from it have already been revealed.
There's Sage Northcutt, the 19-year-old MMA phenom from Texas who was signed by Dana on the spot after they met. Since then, he's already fought in the UFC twice, winning fights in October and December. And then there's Mickey Gall, who MMA insiders believe is the current frontrunner to be CM Punk's first opponent.
"I found out [that White and company would be in attendance] a little bit less than a month before the fight," Gall told MMAFighting.com "Frankie Perez, who owns that series, called me, and I was like, 'Dude, listen.' I already had an opponent fall through, so I was like, 'Oh, s–t. What is it? What?' He goes, 'Listen, big news. Dana White's going to be there.' And my heart kind of, I got excited but also nervous as heck right away. I was like, 'Alright, man, cool.' He said, 'This is a big opportunity, blah, blah, blah.'

"Then he gets on the phone with me, and I'm like, 'Oh. I'm going to call out CM Punk for sure.' It was so obvious to me. That's the only guy in the UFC for me right now, you know? They needed to find a light record. He couldn't fight some 9-1 guy. So I go in there, I got a win. He's 0-0. I'm 1-0. That's a light record. The commission will approve that. I can fight that dude and make the most of that opportunity."

While White did not make a definitive decision on the spot, he did speak positively about the prospect of a Gall vs. Punk showdown, saying he was "interested" in the New Jersey product.
Gall is currently 1-0 professionally with a 2-0 amateur record and is active in the competitive grappling scene. He trains out of some serious gyms including Gracie New Jersey, American Top Team Allentown, and Miller Brothers MMA, which is run by UFC vets Jim and Dan Miller. He's far from being a can for CM Punk to crush, but also not so experienced that Punk doesn't stand a chance. But at 23 years old versus CM Punk's 37, it will be interesting to see how Punk deals with this kid's youth and vigor.
It may be that the UFC goes another direction, perhaps finds someone a little closer to Punk's age that's just starting, as well. Until we actually see CM Punk perform, it's hard to know how far down the competitive ladder the UFC needs to go to give him a chance. One thing is for sure, though: There are no easy fights in the UFC, and he's going to have his hands full regardless of who ends up being his opponent.