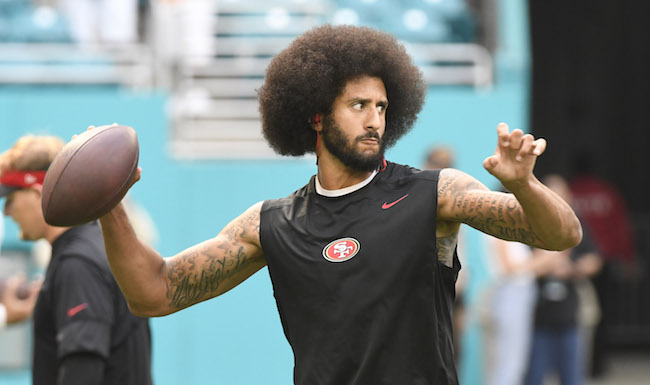 The Bengals offense has been a disaster so far through two games of the 2017 NFL season. Cincinnati has yet to score a touchdown on offense this season, and the team is averaging under 260 offensive yards per game.
As a result, the Bengals fired offensive coordinator Ken Zampese after their dismal showing against the Texans on Thursday night, but if some players had their way, there would be some more changes coming. According to Pro Football Talk's Mike Florio, there are some players in the Bengals locker room that are fed up with quarterback Andy Dalton's play and would like a change.
Dalton has thrown four interceptions already this season and is completing 54 percent of his passes for a lowly six yards per attempt average. With star receiver A.J. Green on the outside, it's hard to understand how the Bengals' passing attack has struggled so mightily. The Bengals' backup quarterback is A.J. McCarron, the former Alabama star, but some in Cincinnati would reportedly like them to look elsewhere and try bringing in Colin Kaepernick.

Florio reported on Sunday evening that there may be a short leash for Dalton if the offense doesn't turn things around with the new offensive coordinator, and some players would like Kap to get the call over McCarron.
This means that A.J. McCarron would take over, if Dalton is indeed benched. But there's a feeling among some of the players that the Bengals should go off the board and consider bringing in Colin Kaepernick.

Yes, Colin Kaepernick. Though there's no indication that the team would consider making such a move, zero touchdowns and nine points in two full games can cause a team to start turning over stones in search of answer.
As Florio notes, this is simply the feelings of some players and not the organization, and it should come as little surprise that there would be some pushing for Kaepernick considering the growing number of players that have been vocal in support of him as he continues to be a free agent. For the Bengals, it would be a significant change to bring in Kaepernick compared to Dalton, but maybe a major shakeup is what the offense is in need of, because what they're doing now isn't working.