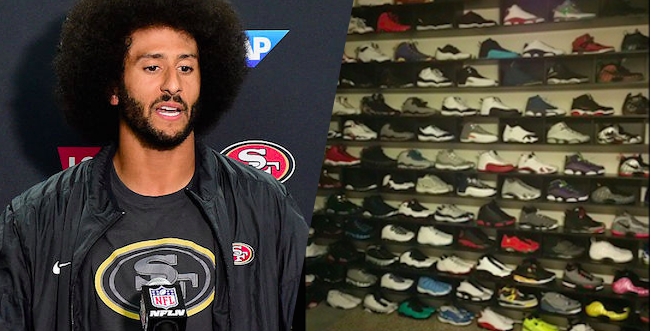 After a tumultuous season that saw Colin Kaepernick go from sitting on the bench to under center for the 2-14 San Francisco 49ers, he started his offseason making good on his promise to make a positive impact in the Bay Area.
Kaepernick made a massive donation to homeless shelters in San Francisco this week. According to social media accounts, Kaepernick had a van filled with shoes and clothes and stopped at various shelters and orphanages in the Bay Area, making deliveries and talking to workers there.
The donation apparently included his incredible collection of Nikes. Kaepernick famously had so many shoes he had to convert his garage into a shoe closet. We don't know just how much of his collection he's giving away, but he did curiously delete the photos of his collection he posted on his Instagram. This is now a dead link:
Either way, it's good to see he's following through on his protest by doing good deeds in the community. He may not have voted, but Kaep donated $1 million to the San Francisco community, something the 49ers did as well. The quarterback may not have been able to help San Francisco win on the field, but he's determined to make a difference in San Francisco where it really counts: with its people.
(via Mic)