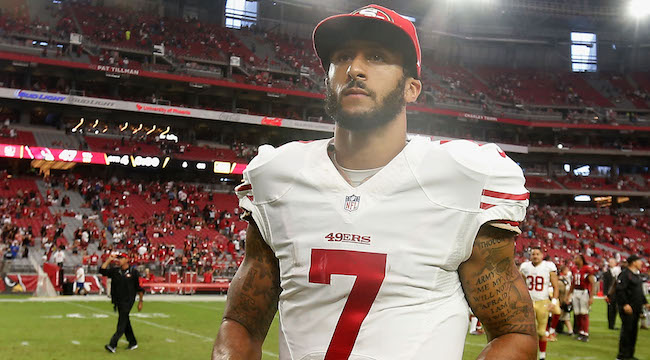 Colin Kaepernick is ready to take on the NFL's owners. A report on Sunday afternoon indicated that Kaepernick was hiring a legal team with the hopes of filing a grievance of collusion under the NFL's collective bargaining agreement, a serious claim that has an entire section of the CBA dedicated to trying to stop it.
There's no word on how Kaepernick plans on proving that collusion is happening — pointing to some of the guys on NFL rosters probably won't hold up in front of whoever hears this case — but according to a statement released by his legal team, we now know why he's filing this grievance.
Charles Robinson of Yahoo Sports got his hands on the grievance, which includes an explosive allegation. Kaepernick's team argued that the "Executive Branch of the United States government" coerced the league's owners into colluding against him.
https://twitter.com/CharlesRobinson/status/919716548700450816
This might be a little easier to prove than anything else, as Donald Trump has commented time and time again about Kaepernick. Additionally, plenty of owners have donated money to Trump, while Cowboys owner Jerry Jones has not been shy about discussing his conversations with the president about other topics that have popped up at the intersection of sports and politics.
The NFLPA also released a statement about the case, saying that while they were not aware of the grievance until after it was reported on by the media, they plan on talking to Kaepernick's team this week and will support him.
This was going to be a big story regardless, but saying the President of the United States encouraged collusion against your client brings things to another level. Legal experts can speak more eloquently about how legitimate this grievance is, but everyone can agree that it's certainly ambitious.