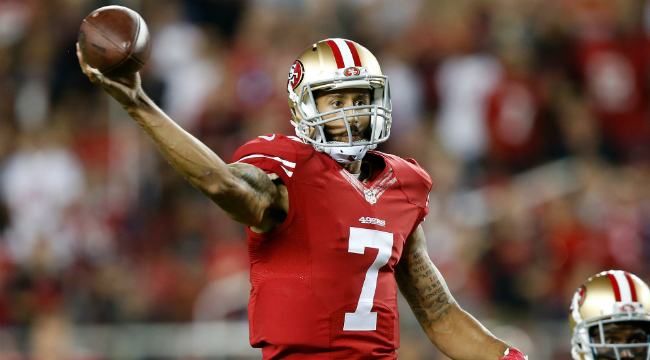 Of all the NFL teams struggling and undergoing internal turmoil, the 2-5 San Francisco 49ers are probably the least surprising. After Jim Harbaugh was pushed out the door, the team lost the majority of the core that had made it to three-straight conference championships. With a rookie head coach and a gutted roster, the going assumption was that this team was headed for a fall, and it's turned out to be 100 percent true.
That doesn't make it any easier for the players, however. During a team meeting after the Niners lost to the Packers on October 4, Vernon Davis reportedly called out Colin Kaepernick, the quarterback with loads of talent, but a seeming inability to put it all together on a consistent basis. Joe Staley is in his ninth season as a 49ers offensive tackle, and he did what any veteran lineman would do: He defended his quarterback. CSN Bay Area reports that the two had a heated confrontation that "may have even gotten physical."
All three reportedly hashed it out over the coming days, and CSN's article has quotes from Torrey Smith and Kaepernick insisting that the team isn't divided, and there's no reason not to believe them. There are still veterans on the team who had gotten used to winning consistently, and losing has to weigh on them. One would expect tensions to run high at points, just as one would expect vets like Davis and Staley to be able to move past it and keep fighting. And the 49ers aren't playing like a team that has given up, just one that doesn't have the horses to contend for a championship anymore.
(Via CSN Bay Area)