For years, back before college football came to its senses and adopted an honest-to-god bracket to determine its champion, skeptics used to dismiss the possibility of a playoff by arguing every week is a playoff!, a refrain that was all the more maddening for being kind of true.
On one hand, obviously, no, every weekend was not a playoff. But it frequently felt like one: More than any other sport, college football has always been deeply in tune with weekly fluctuations in the perceived pecking order and the seismic possibilities of every result — after all, with only 12 of them per team, any game could be the one that winds up separating a championship season from a deflating trip to the [Insert Obscure Corporate Name] Bowl. Accordingly, it's also the sport most prone to dramatic overreaction.
Which, let's face it, is a big part of the fun as long as the shock waves aren't hitting your team. For the sport as a whole, Week 1 of the 2016 season was a ton of fun, thoroughly living up to its advance billing as the best opening weekend anyone can remember. The reason? Casualties: Barely 48 hours into the new season, three Top-10 teams (No. 3 Oklahoma, No. 5 LSU, and No. 10 Notre Dame) already found themselves hanging on to their seasons by their fingernails, victims of high-profile upsets whose aftershocks will continue to register in the polls for the rest of the year. The opening-day losses sent the Sooners, Tigers, and Irish plummeting at least eight spots apiece in the AP Top 25 and at least 10 spots in the Coaches' poll, temporarily relegating them to afterthoughts in the playoff conversation before the conversation has really even begun.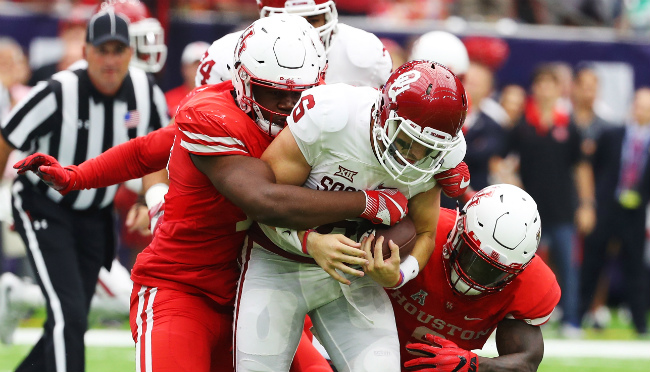 Further down the rankings, three more teams that opened in the Top 20 (No. 11 Ole Miss, No. 16 UCLA, and No. 20 USC) also lost, effectively snuffing out their nascent bids for national relevance; the Bruins and Trojans were bounced from the polls entirely, out of sight, out of mind for the foreseeable future. Such is life when the margin for error is razor-thin and Every. Game. Matters.
For teams harboring serious championship ambitions, the fear is real: One loss is a blow to those hopes, and a second will almost certainly be fatal. Still, in the long run, some games matter more than others, and none matter more than the most recent. Panic is natural. But if you're going to lose a game — which you almost certainly are — the first week of September is the best time to do it.
Because odds are that at least a couple of teams that find themselves in desperate straits this week, or in the next few weeks, are going to be among the last teams standing in January. Six of the eight teams that have made the playoff cut the past two years arrived with a blemish on their résumés, including both of the teams that went on to take the crown. The 2014 champ, Ohio State, was left for dead following an early home loss to an unranked underdog, Virginia Tech, climbing from as low as No. 23 in the AP poll to make the final four on the strength of a 10-game winning streak.
Oregon (in 2014), Michigan State (in 2015), and Alabama (in 2014 and '15) all survived jaw-dropping upsets to win their respective conferences and make the final four without controversy. In the final year of the BCS, Auburn wound up in the championship game — and very nearly won it — despite beginning the 2013 season unranked, dropping an early conference game at LSU, and only cracking the Top 10 in November.
That's par for the course: Of the 32 teams that played for the title in the BCS era, 13 got there with at least one loss, including the eventual champs in 2003, 2006, 2007, 2008, 2011, and 2012. The expansion of the championship field from two teams to four has only expanded those odds.
Okay, sure: Teams come together, rebound, improve. No great revelation. Our first impressions are frequently wrong, often hilariously so. (Just look back to Week 2 last year, for example, when Auburn was solidly a top-10 team and Stanford was unranked following an opening-day flop against Northwestern; from there, the Tigers went on to finish in last place in their own division while Stanford won 12 of its next 13 en route to the Pac-12 title and a blowout win in the Rose Bowl.) This time of year, though, the immediate setback comes with heavier implications than it might if it came later on, after a would-be contender has made some progress toward the long-term goal and proven it has the basic capacity to reach it. At 0-1, the question isn't whether the goal is still attainable, but whether the team actually has that capacity to begin with. The real fear isn't that it's impossible to overcome an early loss: It's that the loss has exposed a fatal flaw that ensures there will be others.
Oklahoma, for example, has more than enough opportunities to earn its way back into the pollsters' good graces with a three-game stretch on deck against Ohio State, TCU, and Texas, as well as November dates with Baylor and Oklahoma State; all five of those opponents are ranked in the current AP poll, and three of them have to visit Norman. But what hope do the Sooners have of emerging unscathed until they fix the inconsistent ground game and vulnerable secondary that cost them in their loss to Houston?
LSU faces the usual SEC West gauntlet and gets Alabama in Baton Rouge. But to survive and advance to the SEC Championship Game (and subsequently to the final four), the Tigers will need a vastly improved performance from their quarterback, Brandon Harris, a recurring theme that has consistently limited their ceiling throughout Les Miles' tenure as head coach.
Notre Dame has plenty of time left to make up ground in the rankings with games still to come against Michigan State, Stanford, Miami, Virginia Tech, and USC. But even if the Irish have settled on Deshone Kizer as their full-time quarterback — Kizer split time with Malik Zaire in the opener — do they have answers for a defense that yielded 50 points, 517 total yards, and innumerable big plays to a rebuilding Texas offense?
Ole Miss can vault right back onto the short list of viable contenders in two weeks, when Alabama comes to Oxford; the Rebels have made their national rep largely on the strength of their upsets over Bama each of the past two years. But how does a team that watched its offensive line collapse in a heap in the second half of Monday night's loss to Florida State expect to have a prayer of blocking the Crimson Tide, arguably the most dominant front seven in recent memory?
The list goes on (can UCLA protect Josh Rosen long enough for his golden arm to fulfill its potential?), and will only expand as more teams run into ostensibly season-killing walls with each passing week. For most teams wavering on the tightrope that leads to playoff-caliber success, the question marks will eventually win out. For a small handful, though, answers will emerge. And just because a team has endured a wobbly first step doesn't mean it can't be one of the few that goes on to find them.