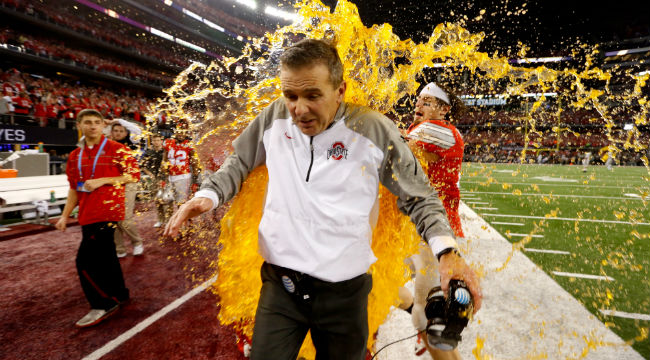 It's official: Ohio State is the greatest college football program of all-time.
Well, let's backtrack a bit. Ohio State isn't necessarily the best program in the history of the sport, but according to the Associated Press, no school has had as much success as the Buckeyes in the 80 years that the organization has ranked college football teams.
The AP ranked its top-100 teams according to its poll dating back to 1936, the first year that it started ranking squads. Teams earned points in this mega ranking by getting one point for an appearance in the AP Top-25, two points for a No. 1 ranking, and 10 points for an AP championship. You can check out the entire list right here, but this is what the top-25 looked like:
Ohio State
Oklahoma
Notre Dame
Alabama
USC
Nebraska
Michigan
Texas
Florida State
Florida
LSU
Penn State
Miami
Tennessee
Georgia
Auburn
UCLA
Texas A&M
Michigan State
Washington
Arkansas
Clemson
Pitt
Wisconsin
Iowa
The top five shouldn't come as a huge surprise to anyone, because save for the occasional down year, those five schools have been the five premier programs in the sport over the last 80 years. Additionally, all of these schools have won at least five national championships according to the AP. Alabama leads all schools in this metric with 10, including last year's national title.
As for the bottom of the list, four teams came in a tie for last: Columbia, William & Mary, Nevada, and Bowling Green. While they have a long way to go, college football is a crazy sport, so maybe one day we'll see them make a big move up this list.