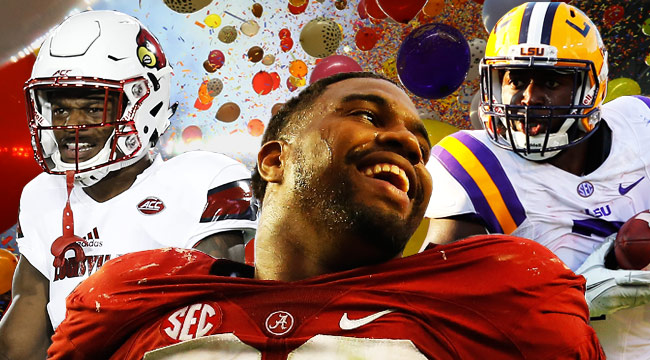 It's finally time. We got our tiny, brief reprieve from the college football madness with a little taster thanks to the spectacular Army-Navy game, and we're plowing into bowl season. Now starts the triumphant victory lap of this year's ups and downs, with 41 bowls vying for our attention around the holidays. (If you watch all of them, you get an extra 20 percent off coupon at Bed Bath and Beyond).
We like to take the approach that bowls are to be celebrated. They don't really mean much in the grand scheme of things, they aren't an indicator of how good or bad a program is, or really any sort of indictment on a coach if they lose. They're for the players. To celebrate careers, great seasons, mascots, and hilarious bowl sponsor ads.
That said, it's tough to make it through all of them. We're talking about bowls on bowls from Dec. 17 all the way through New Year's Day. It'd be insane to expect you to find a TV between wrapping presents, spending time with family, traveling, and well, being a human. We've made it easy. Here's a guide to each and every bowl game – with a Watchability number from No. 1 (being most watchable) to No. 41 so you know how important it'll be. Who says we never do anything for you? (All times are in Eastern.)
Saturday, Dec. 17, 2016
AFR Celebration Bowl
NC Central vs. Grambling State (Georgia Dome in Atlanta)
Noon on ABC
Watchability: 11
You'll notice we have the Celebration Bowl really high. For good reason. Last year's inaugural game was one of the most fun of the entire bowl season, and it was doubly exciting because it was THE VERY FIRST BOWL GAME. This year the committee has had a full year to prep and two super exciting teams in NC Central and Grambling State. There's reason to celebrate, and if you missed out on the HBCU fun this year, you can catch up in a big way with bands, talented players, and lots of Atlanta. – Martin Rickman
Gildan New Mexico Bowl
New Mexico vs. UTSA (University Stadium in Albuquerque)
2pm on ESPN
Watchability: 40
Commonly assumed to be the opening game of Bowl Season, the Gildan New Mexico Bowl is actually the second since the Celebration Bowl began last year. And with that claim to be first gone, well, so is its panache. Because really, this is a game between a team that lost to Rutgers (New Mexico) and a UT San Antonio team that at 6-6 just barely qualified for their first bowl game in school history. – Colin Hettinger
Las Vegas Bowl
Houston vs. San Diego State (Sam Boyd Stadium in Las Vegas)
3:30pm on ABC
Watchability: 10
How will Houston respond to losing Tom Herman? Odds are they won't have to do much – OC Major Applewhite is now the head coach and DC Todd Orlando is still here – but it's still something to watch. Also, we may see FBS history in this one, as San Diego State's Donnel Pumphrey can pass Ron Dayne for the most rushing yards ever if picks up more than 108 yards on the ground. – Bill DiFilippo
Raycom Media Camellia Bowl
Appalachian State vs. Toledo (Cramton Bowl in Montgomery)
5:30pm on ESPN
Watchability: 31
This could be the most evenly-matched bowl game of the year. Appalachian State's defense is nasty, while Toledo's passing offense has been on fire this year. Watch for Rockets QB Logan Woodside – who completed 69.1 percent of his passes for 3,882 yards, 43 touchdowns, and nine interceptions this year – against an excellent Mountaineers back seven. – Bill DiFilippo
AutoNation Cure Bowl
UCF vs. Arkansas State (Camping World Stadium in Orlando)
5:30pm on CBS Sports Network
Watchability: 41
UCF has had an incredible turnaround under head coach Scott Frost in his first year. After going 0-12 last year even just reaching bowl eligibility is a big improvement, and the chance to finish above .500 in a bowl game at home? Unimaginable a year ago. Watch to say you knew Scott Frost way back when… — Colin Hettinger
R+L Carriers New Orleans Bowl
Southern Miss vs. UL Lafayette (Mercedes-Benz Superdome in New Orleans)
9pm on ESPN
Watchability: 39
The New Orleans Bowl has been won by a team from Louisiana in five straight seasons and there is another candidate this season. That hometown atmosphere is fun but, more importantly, this is the nightcap of the first Saturday of bowl season. Time slot matters, and that is a good one, even if the game itself could use a bit more punch. (Don't sleep on that Southern Miss offense though.) – Brad Rowland
Monday, Dec. 19, 2016
Miami Beach Bowl
Central Michigan vs. Tulsa (Marlins Park in Miami)
2:30pm on ESPN
Watchability: 37
The inaugural edition of this bowl game ended in a massive brawl, and that sets the stage for what is always a wild scene. More than anything, though, this is a football game taking place in Miami in the middle of a Monday on one of the last days you probably have to work before your office closes for Christmas, and nothing says 'bowl season' more than that. – Brad Rowland
Tuesday, Dec. 20, 2016


Boca Raton Bowl
Memphis vs. Western Kentucky (FAU Stadium in Boca Raton)
7pm on ESPN
Watchability: 35
Hi, do you like games between two teams that throw the ball all over the place and try to out-score one another? Well then, watch the Boca Bowl! Of all the early bowl games, this is the one with the most potential to be absolutely insane. Don't be the guy at the bar watching highlights of this game wondering why you decided to go to the gym once to make yourself feel better about all the cookies you're about to eat instead of watching this one. – Bill DiFilippo
Wednesday, Dec. 21, 2016
San Diego County Credit Union Poinsettia Bowl
BYU vs. Wyoming (Qualcomm Stadium in San Diego)
9pm on ESPN
Watchability: 25
This is a game between two teams you constantly saw on the TV guide late Saturday night this season and momentarily considered watching before turning it off and going to bed. Make up for your terrible decisions now and enjoy this game between two strong offenses and relative rivals out west. (Whispers into the wind: Craig Bohl) – Colin Hettinger
Thursday, Dec. 22, 2016
Famous Idaho Potato Bowl
Idaho vs. Colorado State (Albertson's Stadium in Boise)
7pm on ESPN
Watchability: 36
Idaho made it into the Famous Idaho Potato Bowl. That's far out, man. It's actually the third time the Vandals have appeared in the bowl, though the first time since 2009. They're undefeated in the Famous Idaho Potato Bowl, which is a bowl sponsored by vegetable played at a stadium named after a grocery store. This is the only bowl game on today, and it's three days before Christmas. You'll be doing holiday things and flipping the channels and happen across two college football teams playing on a blue field. You will be intrigued, but not for long. There will be something like this though, so be prepared:
— Ryan Nagelhout
Friday, Dec. 23, 2016
Popeyes Bahamas Bowl
Eastern Michigan vs. Old Dominion (Thomas Robinson Stadium in Nassau)
1pm on ESPN
Watchability: 34
Sure, it's 1pm, but you know you'll be checked out of work if you're even at work. Enjoy a long lunch of whatever local fried chicken you can find and contemplate the incredible luck that these two football teams, one of whom (Old Dominion) didn't even have a team a decade ago, fell into arguably the best bowl a group of 18-22 year-olds could possibly attend. If you live in the north, get your vitamin D fill from the shots of the beach going into and out of every commercial break. (If you've noticed this ignored the actual football value of this game, know that is not a mistake.) — Colin Hettinger
Lockheed Martin Armed Forces Bowl
Louisiana Tech vs. Navy (Amon G. Carter Stadium in Fort Worth)
4:30pm on ESPN
Watchability: 30
Forget the brand synergy of Lockheed Martin sponsoring a bowl game for a military team and let's think about what's really important in football: everyone supposed to play in this game is hurt. Navy is down to their third string quarterback and just lost to Army for the first time since 2001. WIll Worth and Toneo Gulley are both out for the Midshipmen. Louisiana Tech, meanwhile, just gave up 58 points to Western Kentucky in the Conference USA title game and are thin on defense. But Ryan Higgins threw for 37 touchdowns and has a pair of 1,000 yard receivers to chuck it to. Given just how injured each team is, this one might feature a ton of points on both sides. –Ryan Nagelhout
Dollar General Bowl
Ohio vs. Troy (Ladd-Peebles Stadium in Mobile)
8pm on ESPN
Watchability: 33
This is a classic matchup of a stiff defense and a compelling offense. Who blinks first is anybody's guess. Ohio's best game might be a 9-3 win over Akron. Senior lineman Tarell Basham is the MAC defensive player of the year and has 10 sacks and 14.5 tackles on the year. He'll try to limit a Troy offense led by quarterback Brandon Silvers, who completed 64.2 percent of his passes for 2,945 yards and 22 touchdowns this year. This is an inexperienced Troy team that was ranked for the first time in school history this season. Might be a fun little showcase for what's clearly the best college football team in Alabama. (Okay, just kidding.) – Ryan Nagelhaut
Saturday, Dec. 24, 2016


Hawai'i Bowl
Hawaii vs. Middle Tennessee (Aloha Stadium in Honolulu)
8pm on ESPN
Watchability: 32
Remember Colt Brennan? Man, that mid-2000's Hawaii team was a blast to watch. They even made the Sugar Bowl!
This is not that Hawaii team, who've fallen on hard times as a program since that success. It's their first Bowl game in six years and they don't even get to have the fun of traveling for it, but at least that means a home crowd and money saved in the athletic department. It's also currently a pick 'em as far as spread, so if Middle Tennessee can avoid just seeing it as a free trip to Hawaii, it should be exciting. In fact, seeing as how it's on Christmas Eve and nobody will be watching, you can bet it'll somehow be the best game of the year. — Colin Hettinger
Monday, Dec. 26, 2016
St. Petersburg Bowl
Miami, OH vs. Mississippi State (Tropicana Field in St. Petersburg)
11am on ESPN
Watchability: 29
Ignore the fact that Mississippi State is 5-7 and in a bowl game. That's not important (although that Egg Bowl performance sure was fun). What's important is that Miami of Ohio is in a bowl game again for the first time since 2011. This is the same Miami team that won five total games the past three seasons combined before this year's 6-6 campaign. The same Miami team that started this season 0-6 before winning the final six games to become bowl eligible. This is a huge, impressive feat. Chuck Martin talked a big game after he took the job. It looks like he was able to back it up. – Martin Rickman
Quick Lane Bowl
Maryland vs. Boston College (Ford Field in Detroit)
2:30pm on ESPN
Watchability: 27
Boston College managed to win six games despite boasting the 125th-ranked offense in the country (by S&P+) and that makes this game even more intriguing for the masochists among us. Personally, I enjoy BC's playing style quite a bit and, um, Maryland isn't much more entertaining. This should be a tremendous blood bath. – Brad Rowland
Camping World Independence Bowl
North Carolina State vs. Vanderbilt (Independence Stadium in Shreveport)
5pm on ESPN2
Watchability: 26
Here is a game between two perfectly fine football teams that will play a perfectly fine game that will likely turn on one player doing something big. For NC State, that will be the team's fantastic running back, Matthew Dayes, who we've written about before. For Vanderbilt, that will be its brilliant linebacker, Zach Cunningham. Whoever makes the big play wins. Buckle up. – Bill DiFilippo
Tuesday, Dec. 27, 2016
Zaxby's Heart of Dallas Bowl
Army vs. North Texas (Cotton Bowl Stadium in Dallas)
Noon on ESPN
Watchability: 22
Army got to sing second last weekend, and they're rewarded with a trip to the Cotton Bowl! Well, the stadium, at least. These two teams have already played one another this season, with the Mean Green winning 35-18. That game featured a whopping seven turnovers from the Black Knights, while North Texas running back Jeffery Wilson scored three touchdowns and rushed for 160 yards on 15 carries. Despite the prior history, Army comes into this one in much better shape. North Texas quarterback Mason Fine is not so fine and is battling an arm injury, but he should play. North Texas also lost four of its last five games to close out the season. Might be another big win for Army to close out an improbable and amazing 2016. – Ryan Nagelhout
Military Bowl
Temple vs. Wake Forest (Navy-Marine Corps. Stadium in Annapolis)
3:30pm on ESPN
Watchability: 19
Tell me you're not going to watch this bowl game to hear more about the completely absurd Coen Brothers movie plot that is the #Wakeyleaks scandal at Wake Forest. A former assistant coach turned team radio host was acting as a mole and providing game plans to Wake opponents the past two seasons. Three schools already have been implicated, among them Louisville (who doesn't want to be distracted from their creative process or something by this). That takes away from the job Dave Clawson has done this year with the Demon Deacons. Injuries at the quarterback position caused instability, and the offense hasn't been consistent at all, but the defense is one of the best in the ACC. This is a big day for folks in Winston-Salem, who have seen a lot of losses since a lackluster Music City Bowl performance in 2011. – Martin Rickman
National Funding Holiday Bowl
Minnesota vs. Washington State (Qualcomm Stadium in San Diego)
7pm on ESPN
Watchability: 20
It is always fun when bowl games feature sharp contrasts, and this fits that bill. Washington State has a high-powered Mike Leach offense with a future NFL QB in Luke Falk. Minnesota plays smash-mouth football, and head coach Tracy Claeys would have it no other way (although there's that whole massive suspensions and boycott thing). This isn't your older brother's Holiday Bowl but it'll be fun anyway. – Brad Rowland
Motel 6 Cactus Bowl
Boise State vs. Baylor (Chase Field in Phoenix)
10:15pm on ESPN
Watchability: 24
Yeah, Baylor got a Bowl invite. Theirs is a tale of two seasons, starting out at 6-0 before a frankly incredibly-hard-to-achieve collapse to lose their last six and wind up at .500. Watch this to hope Boise State puts a hurt on them and buries this season out in the desert where it belongs. – Colin Hettinger
Wednesday, Dec. 28, 2016
New Era Pinstripe Bowl
Pittsburgh vs. Northwestern (Yankee Stadium in New York City)
2pm on ESPN
Watchability: 23
Football at 2:00 pm ET on a Wednesday is always enough to get me to the television. Throw in James Conner and a dynamic Pittsburgh offense playing in Yankee Stadium on a field that almost certainly won't be in that great of shape? Sure. I'm in. Oh, and Northwestern is playing football that day as well. – Brad Rowland
Russell Athletic Bowl
West Virginia vs. Miami, FL (Camping World Stadium in Orlando)
5:30pm on ESPN
Watchability: 16
Here's the thing: this game could be fun. It could be bad. I have no idea (I'm leaning towards "fun" because West Virginia and Miami are both fun teams). But what I do know is that a recruit is going to decide where he goes to school based on the result of this game, which is awesome. Go that kid. Also, the Russell Athletic Bowl twitter account is good. – Bill DiFilippo
Foster Farms Bowl
Indiana vs. Utah (Levi's Stadium in Santa Clara)
8:30pm on FOX
Watchability: 15
Indiana is #CHAOSTEAM for a reason, and their mere presence adds intrigue here. Would anything surprise you with the Hoosiers? If it would, you haven't watched them enough. Utah is also more fun than you might think and running back Joe Williams blasting through an overmatched Indiana front will be worth the price of admission. – Brad Rowland
AdvoCare V100 Texas Bowl
Texas A&M vs. Kansas State (NRG Stadium in Houston)
9pm on ESPN
Watchability: 17
Bill Snyder is a saint and I won't hear otherwise. Kansas State is a team meant for college football die-hards and they certainly won't be a trendy pick against Texas A&M. The Aggies are capable of big things offensively when it's cooking and Myles Garrett might be the best player in the country, but this one is about the Kansas State head coach for me. That's a weird statement. – Brad Rowland
Thursday, Dec. 29, 2016
Birmingham Bowl
USF vs. South Carolina (Legion Field in Birmingham)
2pm on ESPN
Watchability: 21
USF will be missing their recently departed head coach Willie Taggart, who's the new guy at Oregon. But they've still got the dual-threat QB Taggart recruited, Quinton Flowers, and he's a ton of fun to watch. — Colin Hettinger
Belk Bowl
Arkansas vs. Virginia Tech (Bank of America Stadium in Charlotte)
5:30pm / ESPN
Watchability: 8
BELK BELK BELK BELK BELK BELK BELK BELK BELK BELK BELK BELK BELK BELK BELK BELK BELK BELK BELK BELK BELK BELK BELK BELK BELK BELK BELK BELK BELK BELK BELK BELK BELK BELK BELK BELK BELK BELK BELK BELK BELK BELK BELK BELK BELK BELK BELK BELK BELK BELK BELK BELK BELK BELK BELK BELK BELK BELK BELK BELK BELK BELK BELK BELK BELK BELK BELK BELK BELK BELK BELK BELK BELK BELK BELK BELK BELK BELK BELK BELK BELK BELK BELK BELK BELK BELK BELK BELK BELK BELK BELK
Valero Alamo Bowl
Oklahoma State vs. Colorado (Alamodome in San Antonio)
9pm on ESPN
Watchability: 5
Mason Rudolph vs. Sefo Liufau is quietly one of the best quarterback matchups in the country. Watching Rudolph cook against the Buffaloes' defense – which has been great this year but got shredded by Washington in its last game – will be worth your time. – Bill DiFilippo
Friday, Dec. 30, 2016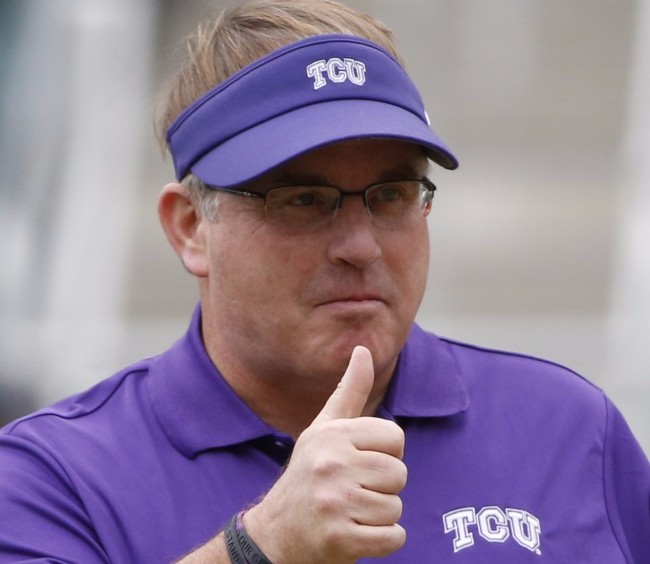 AutoZone Liberty Bowl
Georgia vs. TCU (Liberty Bowl in Memphis)
Noon on ESPN
Watchability: 18
"Hey," you'll say, "I know these schools! This game should be great!" And you might be right! It's two major programs who had disappointing years. But TCU has regularly been in the conversation for winning the Big 12 and Georgia is still Georgia, underachieving as they may be. Point is, even if these are less skilled teams than what you've come to expect from each program, they know how to play good football. That's a heck of a draw for the Liberty Bowl. – Colin Hettinger
Hyundai Sun Bowl
(Stanford vs. North Carolina (Sun Bowl Stadium in El Paso)
2pm on CBS
Watchability: 13
Thank you, football gods, for giving us Christian McCaffrey (in what will be his final college game) against a North Carolina defense that is outside the top-60 in defensive passing and rushing S&P+. And also thank you for giving us Mitch Trubisky. Just in general. (Although he might be exiled to the Browns after this.) – Bill DiFilippo
Franklin American Mortgage Music City Bowl
Nebraska vs. Tennessee (Nissan Stadium in Nashville)
3:30pm on ESPN
Watchability: 12
In a game of conference also-rans who were once keeping pace with the champions, you can flip it on to see two decent quarterbacks in Josh Dobbs and Tommy Armstrong (if the Cornhuskers' QB can overcome a hamstring injury that's been hanging around). And hey, win or lose Tennessee, there's always this:
– Colin Hettinger
NOVA Home Loans Arizona Bowl
South Alabama vs. Air Force (Arizona Stadium in Tucson)
5:30pm on ASN/CI
Watchability: 38
Not gonna lie — this one doesn't really interest me at all. And good luck finding it on TV. Sure, South Alabama has been a weirdly compelling team this year. They beat Mississippi State and knocked off San Diego State, who went on to win the Mountain West over the same Air Force team they play a few days before 2016 mercifully ends. And Air Force is playing well, winning their last five. They might run all over South Alabama and be fun to watch. Look at me getting optimistic about this one suddenly. Last year's Home Loans Bowl between Nevada and Colorado State was actually a good one. Maybe the second incarnation of this online broadcast will be just as exciting. – Ryan Nagelhout
Capital One Orange Bowl
Michigan vs. Florida State (Hard Rock Stadium in Miami)
8pm on ESPN
Watchability: 7
Michigan vs. Florida State just sounds big. And it is! The Wolverines were one yard away from the CFB Playoff (just ask Michigan Men everywhere) and Florida State looks like a juggernaut recently. Combine those two paths with the fact that their jerseys match up perfectly and both head coaches are wildly entertaining … this is a phenomenal spot. – Brad Rowland
Saturday, Dec. 31, 2016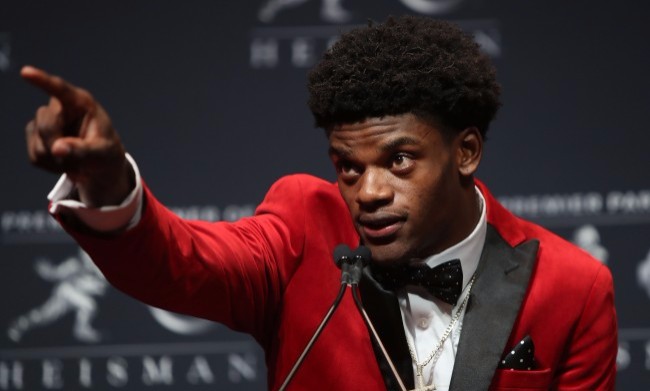 Buffalo Wild Wings Citrus Bowl
LSU vs. Louisville (Camping World Stadium in Orlando)
11am on ABC
Watchability: 6
There are many things to do on New Year's Eve. None of them are fun to do before, like, 2 p.m. So why not sleep until 11, wake up, and watch Lamar Jackson and Leonard Fournette throw haymakers at one another? – Bill DiFilippo
TaxSlayer Bowl
Georgia Tech vs. Kentucky (EverBank Field in Jacksonville)
11am on ESPN
Watchability: 28
11:00 am ET kick-offs are the best and this is a game worthy of that distinction. Georgia Tech's offense is a thing of beauty when it's running well and, against Kentucky, that seems to be a likely outcome. The Wildcats are also quite a bit of fun and tend to play very weird football, so you can wake up to this one on a sleepy Saturday and find joy. – Brad Rowland
Chick-fil-A Peach Bowl
Washington vs. Alabama (Georgia Dome in Atlanta)
3pm on ESPN
Watchability: 2
I mean, you're watching this anyway, right? Right. Alabama's favored by 16, which sounds about right for a team that faced no trouble the entire year. If there's one thing to hang your hope on, Washington fans, it's that nobody dials up the trick plays that can flip a game like Chris Peterse—
Oh. Oh, ok, never mind then.
Look, Washington has the feel of that 2014 FSU team that looked like they might have no business being in the playoff but took care of their conference and earned a shot. Let's just hope they show a bit better than those 'Noles did against Oregon that year. They've certainly got the offensive skill players to keep it close, if the Huskies' offensive line can keep the 'Bama defensive line off their QB. – Colin Hettinger
PlayStation Fiesta Bowl
Ohio State vs. Clemson (University of Phoenix Stadium in Glendale)
7pm on ESPN
Watchability: 1
Both of these teams have been interesting during the 2016 season in that they're both great, but it also feels like neither has fully lived up to the standard that were set for them at the beginning of the season. It's weird, but if you've watched either Ohio State or Clemson this year, there's been the sense that neither of them really turned it on.
It's far more likely that both teams are what they are, but what if the Buckeyes and the Tigers have just been waiting until the Playoff to really turn it up to 11? What if J.T. Barrett and Deshaun Watson use this stage to give us the quarterback duel of the year? What if both teams, so loaded with talent on both sides of the ball, spend 60 minutes just beating the hell out of one another, and at the end, we see a battle-tested squad become a fully formed football Voltron that is ready to take on Alabama (or Washington, but probably Alabama)?
This game is going to be so, so good. Either Watson, Clemson's skill dudes, and the hellacious Tigers defense or Barrett, Urban Meyer, and the young but ultra-talented Buckeyes squad are going to make a statement in this one. I don't know who wins. I do know that I am going to be locked into it from the second it kicks off, though. – Bill DiFilippo
Monday, Jan. 2, 2017
Outback Bowl
Florida vs. Iowa (Raymond James Stadium in Tampa)
1pm on ABC
Watchability: 14
The game opposite this one (Western Michigan vs. Wisconsin) has more classic appeal, but this is the degenerate's paradise. Iowa kept Michigan from the CFB Playoff with Ferentz ball, quality punting and a decent defense. Florida's defense is actually quite good, but the entire college football world saw what their offense was capable of against Alabama. The over/under should probably be 30.5 points and every punting enthusiast will enjoy this slugfest. – Brad Rowland
Goodyear Cotton Bowl
Western Michigan vs. Wisconsin (AT&T Stadium in Arlington)
1pm on ESPN
Watchability: 4
I am so jacked up for this game. Western Michigan kind of got hosed by running the table and not even sniffing the top-10. Plus P.J. Fleck is still here, so they're going to come fired up and ready to lay waste to Wisconsin. However, the Badgers are still probably stinging after giving up a 28-7 lead in the Big Ten Championship Game. Can the Broncos handle Wisconsin's physicality? Can the Badgers' secondary, which got carved up in their last game, bounce back against one of the best passing attacks in America? – Bill DiFilippo
Rose Bowl Game
USC vs. Penn State Rose Bowl
5pm on ESPN
Watchability: 3
Penn State is good again! Right? Twitter keeps telling me as much so it must be true. And hey, USC won eight straight and is back in the Rose Bowl. What year is it? This game kicks off right around when your New Year's hangover begins to dissipate, so you can actually focus on what's happening here. – Brad Rowland
Allstate Sugar Bowl
Auburn vs. Oklahoma (Mercedes-Benz Superdome in New Orleans)
8:30pm on ESPN
Watchability: 9
Oklahoma and Auburn have both had weird seasons, and often when two weird teams meet you get a fun, if a bit messy, bowl game. The Sooners have won nine in a row because Baker Mayfield and Dede Westbrook emerged as Heisman finalists during this stretch. Mayfield, Westbrook, and Co. will likely cook in this game, so sign me up. Auburn, meanwhile, lost to Clemson, TAMU, Georgia, and Alabama this season. They also crushed Ole Miss and Arkansas and knocked off LSU. SEC baby! A banged up Kamryn Pettway struggled against the Alabama defense in the Iron Bowl but should be more fun to watch against an Oklahoma D that gave up about 100 more yards per game than the Tide this year. — Ryan Nagelhout