College football is back! The 2016 season kicked off in earnest Thursday night as part of a blockbuster, five-day opening weekend. If you're just catching up, consider this your last-minute cram session for the most important themes, teams, and players in the upcoming campaign.
ALABAMA'S GOING TO WIN IT ALL AGAIN, AREN'T THEY?
Probably, yeah. At least if you believe the consensus: Bama's the default favorite to repeat in the polls, in the magazines, and of course in Vegas, where it's been tabbed as the favorite in 95 of its last 96 games dating back to 2009. A decade into his tenure, the Nick Saban Death Star is so entrenched at the top of the sport that the usual cycle of attrition and rebuilding that dictate expectations for every other program don't even apply — the roster is so loaded with next-level talent that the departure of the starting quarterback, the Heisman Trophy winner, and most of the starting defense from last year's championship run barely registered. Anywhere else that would've marked a historic exodus. For Bama, it's business as usual.
All that said, though, despite their remarkable longevity among the national elite, the Crimson Tide are not and have never been invulnerable: We're six full years removed from Saban's only undefeated season as a head coach, a span that's included four losses while ranked No. 1, a pair of postseason lapses in 2013-14, and back-to-back upsets at the hands of Ole Miss. And unlike his previous trips to the podium, last year's crowning triumph over Clemson felt less like an inevitable coronation than an artful escape; although the Tigers lost even more to the draft, everyone who watched that game understands that a healthy Deshaun Watson would be every bit the equal of the vaunted Bama defense in a rematch.
Closer to home, LSU could be peaking at the right time to topple the Tide from the top of the SEC West. Tennessee's resurrection seems more or less complete in the East. Or maybe after years of defying gravity, it's simply time for the Death Star to begin its descent to Earth. What goes up must eventually come down. But there's no particular reason to bet on eventually arriving anytime soon.
LSU? REALLY?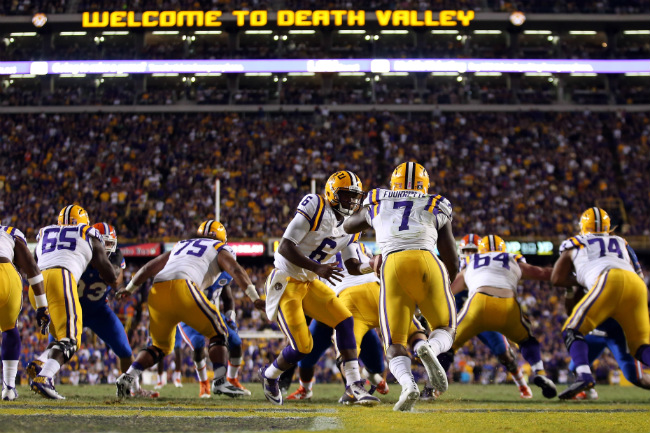 True, the Tigers are nearly five years removed from their last top-10 finish, in 2011, or their last win over Saban, which feels like a long time for a program that judges itself against the standard set by its former coach. But when current coach Les Miles was spared from the career guillotine last winter, at least part of the reason was that the 2016 team – as athletic as ever, anchored by Leonard Fournette in his prime and a veteran, senior-heavy defense — was simply too good to put through the turbulence of a coaching change. LSU gets Alabama in Baton Rouge and will export a massive draft class in 2017. If not now, when?