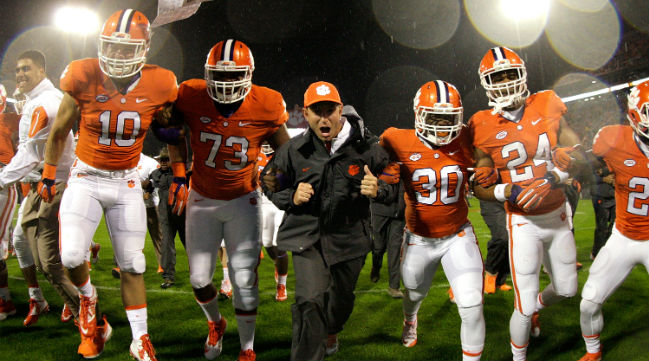 Tuesday night was big for college football fans. The College Football Playoff committee released this season's inaugural playoff foursome rankings, consisting of top-ranked Clemson, No. 2 LSU, No. 3 Ohio State, and No. 4 Alabama. Right on the outside looking in are the fifth and sixth-ranked teams, Baylor and Notre Dame.
The group of teams was released on ESPN, along with the rest of the committee's top-25. Here's how the entire top-25 looks:
25. Houston
24. Toledo
23. UCLA
22. Temple
21. Northwestern
20. Mississippi State
19. Texas A&M
18. Ole Miss
17. Michigan
16. Florida State
15. Oklahoma
14. Oklahoma State
13. Memphis
12. Utah
11. Stanford
10. Florida
9. Iowa
8. TCU
7. Michigan State
6. Notre Dame
5. Baylor
4. Alabama
3. Ohio State
2. LSU
1. Clemson
If last year is any indication, the group of four teams that make it to the playoff will look nothing like this top-4. The 2015 playoff teams consisted of Alabama, Oregon, Florida State, and eventual champions Ohio State, which looked nothing like the first top-4: Mississippi State, Florida State, Auburn and Ole Miss.
Right now, it's hard to argue that these aren't the four best teams in college football, but with 11 undefeated teams remaining, it would be a shock if this foursome holds up at the end of the regular season.