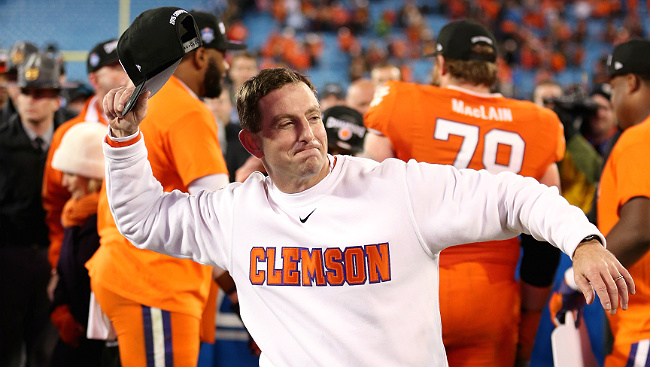 CHARLOTTE, N.C. – In a sea of orange, John Swofford somehow found himself all alone. With his hands in his pockets and a couple pieces of stray confetti stuck to his long, dark jacket, he surveyed the field at Bank of America Stadium. Clemson had just won the ACC Championship and was all but guaranteed a spot in the College Football Playoff, and the ACC commissioner had avoided a potential chaotic situation which could have seen his league left out of the Top 4 had North Carolina completed its comeback.
With the Tigers and their fans still celebrating a 45-37 win, the attention quickly turned online to what has now been described as a phantom offsides call on an attempted – and recovered – onside kick attempt by the Tar Heels. Screengrabs, articles, conspiracy theories and floods of tweets spilled into the collective Internet consciousness.
"They were wrong," UNC coach Larry Fedora said at the podium during postgame. "When you watch the replay, I'm not sure what exactly he saw," Tar Heels wide receiver Ryan Switzer offered. "I have no idea," Clemson coach Dabo Swinney countered. "Y'all watched it on TV. I don't know."
If North Carolina fans were peeved, Clemson faithful were relieved. But no one was shrugging and exhaling more forcefully than the College Football Playoff committee, which had pretty much wrapped up its Top 4 before Dabo hit the Heisman in his on-field interview.
"I assume the committee's work was done pretty quickly on Saturday night and Sunday morning," Fox Sports senior sports columnist Stewart Mandel told Uproxx Sports on Monday. "Had North Carolina beaten Clemson, it's a different story. It would've been a mess. If I'm the committee, I'm very thankful it didn't work out that way."
Mandel literally wrote the book on the new Playoff world. The Thinking Fan's Guide to the College Football Playoff came out in the summer of 2014, just in time for Year 1 of the new era. And he knows as much about that system and the one that came before it, the BCS, as anyone. As part of his research, Mandel broke down a Top 4 for every year of the BCS system, and he says there was never a clean four teams to select. In the first two years of the Playoff, things have been pretty clear.
"In the BCS, every year, there was so much angst," Mandel said. "Everybody just hated the BCS so much. There were congressional investigations and lobbyists. It was unbelievable. You're not hearing that at all with this. Yes, there's people who don't like the selection committee idea, but at the end of the day, it's here, and we have our field set. At least so far, there's a lot of acceptance now."
As with anything else, the natural proclivity is to assume what we have is never good enough. Before the first Playoff had even been played, people were clamoring to expand to eight teams. That swell is still vocal, if not the overwhelming majority.
Sports Illustrated's Andy Staples wrote on Sunday that he is still advocating for an eight team model, but that this year's four teams represent the "peak" of the Playoff as currently constructed.
If this really is the peak, then it would suggest we have nowhere to go but down – after just two years of our current system. It's entirely possible Staples ends up being right; he's right a lot more than he's wrong. Still, I'm inclined to believe we need a little bit more data before we pack up and move onto the next Playoff system as quickly as we upgrade our phones.
The biggest gripe about the Playoff coming in from those defending the BCS was that the regular season wouldn't matter. This year shattered that argument all together.
"The only thing we had to do was worry about was us winning," Clemson cornerback Cordrea Tankersley said on Saturday night. "If you go out and win, you don't have to worry about anybody losing, or anybody winning, or anything. We just go out and play, and it's in our hands."
The last few weeks of the 2015 season felt like a playoff for the playoff. It was impossible not to get sucked in as critical regular season match-ups naturally knocked some teams out and elevated others. The Big 12's rock paper scissors game ended up with Oklahoma standing alone. Clemson faced its three big challengers over the course of a couple months, beating Notre Dame, Florida State and North Carolina, to earn a spot. Alabama managed to move past an early-season loss to Ole Miss to win out and capture another SEC crown. And Michigan State used a nine-minute, 22-play drive to outlast Iowa in what basically was its own playoff game on Championship Saturday.
In the old days, that Big Ten game would've been for a Rose Bowl spot and nothing else. Now? It was for a chance to play two more games and hoist a National Championship trophy. But sure, go ahead and try and say the regular season doesn't matter anymore.
If you go to eight teams, you run the risk of actually diluting the regular season in a manner the BCS defenders were arguing against. Look at the committee's final Top 8 for this year:
Clemson
Alabama
Michigan State
Oklahoma
Iowa
Stanford
Ohio State
Notre Dame
You'd be including four teams which all equally had chances to control their own destiny at any given time throughout the season. Iowa would come off a Michigan State loss and still fall into the field. Ohio State, who couldn't beat Michigan State in Ohio Stadium with the Spartans playing a backup quarterback, would have the same right Sparty earned after beating the Buckeyes (and Hawkeyes) and winning the Big Ten. Notre Dame – which lost that memorable Clemson game, and missed a shot to convince the committee after failing to close out Stanford – would suddenly get an extra life and be gifted a Super Mario 3 warp whistle right into the Playoff. And Stanford, which lost twice over the course of the year, would be given the same honor as all those one-loss teams by nature of winning the Pac-12.
So, my question for the eight-team advocates is, why is this so much better than the system we have now? I would have no desire to watch Notre Dame get another shot at either Clemson or Stanford, or allow Ohio State and Iowa to potentially play Michigan State again. Had North Carolina hypothetically beaten Clemson, it's a good bet both of those two teams would have made the Top 8, rendering that exciting (and controversial) ACC Championship a waste of everyone's time.
It's not perfect (and eventually, sure, a Power Five + 1 model with byes for the top two seeds could make a lot of sense), but not only is this year's field better than what we ever had before in the BCS, it's better than the potential upgrade people continue to bang the drum for.
This thing already worked itself out. The regular season mattered, and we got the four best teams in the field. I'm calling it a win, at least for this year, and even college officials would have to agree there's conclusive video evidence.