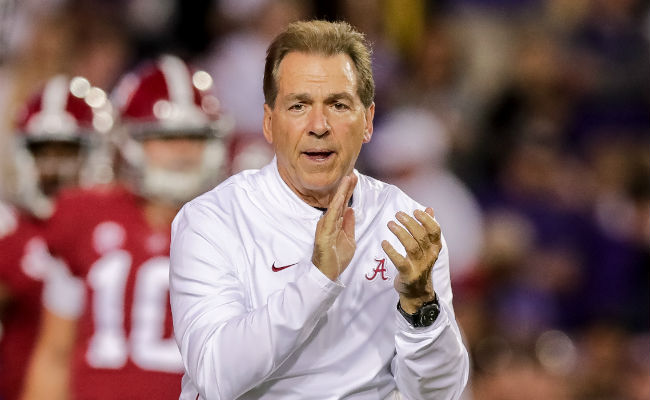 November is here and only three weeks remain in the 2018 college football season. As always, the sport has provided insanity along the way but, for the most part, it has been a campaign fueled by traditional powerhouses succeeding at the highest level.
In fact, the current Associated Press features a top-six of Alabama, Clemson, Notre Dame, Michigan, Georgia and Oklahoma. While other programs have conceivable paths to the College Football Playoff, it would be fair to say that brand names are sitting at the top of everyone's mind.
For the most part, that is probably a good thing for the sport from an interest and ratings perspective but, in some ways, the lack of a "darkhorse" could limit the overall drama associated with the race to the top four. With that said, there is a potential disaster scenario awaiting the committee if things break a certain way and, in early November, it doesn't seem all that implausible.
The path
Here's what we need to happen to set things up.
Clemson wins out and claims the ACC title in the process
Notre Dame completes an undefeated season
Michigan wins out and claims the Big Ten title in the process
None of this seems crazy, as ESPN's Football Power Index now gives Clemson a 76 percent chance to finish unbeaten, with a 45.6 percent chance at 13-1 for Michigan and a 45.5 percent chance at perfection for Notre Dame.

Now, there's another crucial domino.
1-loss Georgia beats undefeated Alabama in the SEC Championship Game
Before you laugh at the prospect of this juggernaut Crimson Tide team actually losing, it's not impossible by any means. First, we need Georgia to finish with one loss, meaning the Bulldogs knock off Auburn and Georgia Tech (both at home in Athens) to set things up first. From there, Alabama must take care of business against Mississippi State and Auburn (both at home in Tuscaloosa), which shouldn't be difficult.
Then, well, we need Georgia to pull off the upset. The Bulldogs will be a double-digit underdog, even on a neutral field, but Georgia played Alabama close a year ago and the best version of Kirby Smart's team is pretty terrifying in its own right. It would be helpful from a chaos perspective if the game was close, as well, which is (by far) the most likely outcome if Georgia actually wins.
What about the Big 12 and the Pac-12?
Neither conference is dead with regard to the playoff at this point and that has to be noted. Oklahoma and West Virginia have a chance to crash the party if the Big 12 can produce a one-loss champion and, in theory, Washington State has the same opportunity if they run the table. However, if our above scenario actually transpires, it would be (very) difficult to argue on behalf of Oklahoma, West Virginia or Washington State ahead of five candidates with better overall resumes.
The Clemson factor
At this juncture, a coherent argument can be made that Clemson is the most likely team to reach the College Football Playoff. That might seem insane given the dominance of Alabama but the Tigers have a much clearer path from a schedule perspective. Clemson won't have the most impressive resume of any unbeaten conference champion but, in short, it seems utterly implausible that the committee would leave Dabo Swinney's team out at 13-0, particularly after placing the Tigers at No. 2 in the opening playoff rankings.
For our purposes, we're going to assume that Clemson (if unbeaten, as laid out above) is in.
The cases
If we assume Clemson is in, that leaves four incredibly qualified CFP candidates… for three spots. The fan bases are already yelling about why their program would be a lock for inclusion but let's examine what each side (in alphabetical order) would be claiming at this point.
Alabama
Every Las Vegas bookmaker, high-level handicapper and, frankly, responsible college football fan would place the Crimson Tide at No. 1 in a power rankings setting right now. That might still be the case after a loss to Georgia on a neutral field and it would be Alabama's best argument. From a resume standpoint, the Tide would be the weakest, with only one unassailable quality win (at LSU) and a few solid resume points against the likes of Texas A&M, Mississippi State and Auburn. In short, Alabama wouldn't have an unbeaten schedule or a conference title to fall back on, but the Crimson Tide would have a very good loss.
Georgia
The Bulldogs just knocked off Alabama. That is a heck of a data point. Beyond that, Georgia would be the champion of the country's best conference (at least from a consensus standpoint) and Kirby Smart's team would also boast quality wins over Florida (on a neutral) and Kentucky (on the road). With that said, Georgia has the worst loss of the group, with a 20-point drubbing at the hands of an LSU team that Alabama beat by 29 points on the road. That certainly matters, but the question is how much, especially when evaluating that a one-loss SEC champion would seem like a lock in most scenarios.

Michigan
The Big Ten has been weird this season but, in this scenario, Michigan would own victories over Wisconsin, Penn State, Michigan State (on the road) and Ohio State (on the road). Beyond that, the Wolverines would be riding a 13-game winning streak and the program's only loss came by seven points on the road in the home opener. Of course, we have to note that the loss came to another team involved in this discussion but Michigan's resume would be quite impressive in a vacuum, and a one-loss Big Ten champion would be tough to omit.
Notre Dame
The Irish haven't played the toughest schedule and they wouldn't have a conference title to reference. Still, an unbeaten season playing against a power conference slate is impressive and Notre Dame would have wins over Stanford, Virginia Tech (on the road), Syracuse, USC (on the road) and, of course, Michigan in the opener. The committee is purposely evasive when discussing the power of conference titles and that has to be noted. With that out of the way, Notre Dame is 13-0 and has a win over a top five team that is in this discussion. It also helps (even if it shouldn't) that the Notre Dame brand is immense.
Ok, so what happens?
The correct answer, by a comfortable margin, is "I don't know."
On one hand, Alabama is the easy team to leave out, considering the Tide would have a head-to-head loss to Georgia and no conference title to stand on. However, the presence of what most feel is the best team in the country in the mix makes things difficult and, after all, these are human beings in the committee room staring down the notion that Saban's team would be the betting favorite to win it all if they were inserted into the four-team mix.
Then, you have the hiccup with Notre Dame and Michigan. The Wolverines have the better resume in this spot but, of course, they lost to the Irish back in September. Head-to-head is tough to parse under any circumstance, but how does the committee handle a loss in early September (like this one) when compared to a loss in early December (like the one Alabama would suffer)?
In playing the percentages, the scenario outlined here isn't likely, as a number of things have to go right for Georgia, Notre Dame and Michigan. It would produce absolute and utter chaos, though, and the committee has to be secretly rooting against a situation that feels all too plausible right now.