On one hand, WVU entered the season with no real expectations and hasn't played anyone of note. But it's looked good enough in the process, especially on defense, to begin picking up steam in the polls. Generally, it's a mistake to read too much into a win over, say, Texas Tech; but what about when it's a 49-17 romp in Lubbock? The Big 12 is so wide open that the Mountaineers could emerge from the pack as legitimate contenders, or quickly fade back into obscurity as early this weekend against TCU. For the time being, all we can say is there's no game they're obviously destined to lose.
5. TEXAS A&M (6-0). If this list was a straight-up power poll, A&M might have been No. 1: They're the highest ranked team on it in both the AP and Coaches' polls, having already vanquished three other currently ranked foes (Auburn, Arkansas, and Tennessee) as well as UCLA, which was ranked at the time. Win for win, that's a solid a résumé as any team in the country, including the Big Five.
And sure, if they manage to extend that run on Saturday by upsetting Alabama, then the Aggies will be promoted off the "dark horse" list altogether and into the first-class cabin. But we've heard that story before, following impressive starts each of the last three years, and a skin-of-the-teeth win over a Tennessee outfit that was subsequently destroyed by the Crimson Tide doesn't exactly inspire trust that another second-half collapse is off the table. That seems to be the thinking in Vegas, as well, which lists A&M as a 19-point underdog in Tuscaloosa, an incredible point spread for a meeting of top-10 teams. Add November dates with Ole Miss and LSU, and even for a solid, vastly improved team the margin for error is extremely thin.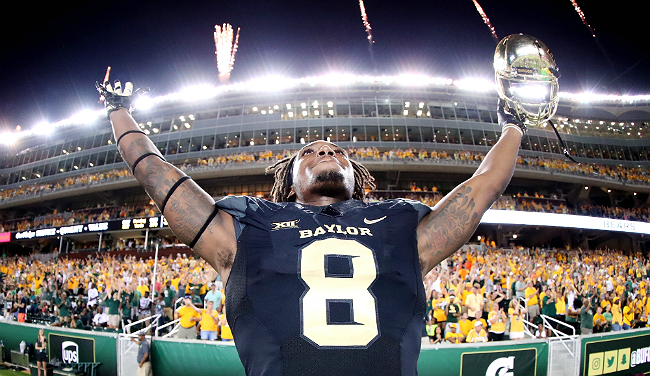 4. BAYLOR (6-0). The Bears have flown under the radar so far, for several reasons. One, they've fattened up the record against a typically soft early schedule. Two, the offense hasn't matched the furious statistical pace it set over the past few years. And three, frankly, a lot of national pundits are squeamish about focusing on Baylor's on-field success in the wake of such a sordid offseason. (The scandal that led to Art Briles' ouster in May remains ongoing at the university level, by the way, and his former assistants keep generating headlines that paint them as oblivious and unrepentant. Briles' own attempt to explain himself in an ESPN interview didn't fare much better.) Ignoring the upheaval altogether feels wrong; the idea of stumbling into an "overcoming adversity" narrative feels even worse.
However: In the absence of a true Big 12 overlord, the reality is that Baylor remains a leading candidate to claim the conference title, and outside of a Nov. 12 trip to Oklahoma the Bears could be favored in every game. (Again, depending on who you ask: Bill Connelly's S&P+ ratings are much more optimistic about Baylor's chances over the second half than FPI.) Right now, the meat of the Big 12 schedule looks as forgiving as it ever has, or is likely to again anytime soon. Baylor hasn't been quite as prolific, but any suggestion that its championship window has been slammed shut amid turmoil is wishful thinking.
3. BOISE STATE (7-0). The logic here is pretty straightforward: With Thursday night's wild, 28-27 win over BYU — a game that featured, gloriously, a fake punt attempt by BYU on 4th-and-19 from its own end zone — Boise passed its last significant hurdle en route to a likely 12-0 regular season. (Its next five games, against Wyoming, San Jose State, Hawaii, UNLV, and Air Force, look like formalities.) And wherever you happen to fall on the rigors of the Broncos' schedule — their best win this year is over Washington State — the fact is that if they do post a perfect record, the giant-killing rep they've built and burnished over the past decade ought to be enough to put them on the short list to fill an unexpected vacancy in the top four.
In that case, would that actually make Boise one of the top four teams in the country? Not really; there's a lot to like about this group, most notably sophomore quarterback Brett Rypien, but at this stage it's still a rung or two below the 2009-11 squads under Chris Petersen that repeatedly earned their place at the table. Still, give the playoff committee a choice of an undefeated Boise State against an equally flawed major-conference team with multiple losses, and there's no way of knowing how that question will be resolved.
2. OKLAHOMA (4-2). OU was effectively bounced from the national conversation in September thanks to double-digit defeats against Houston and Ohio State, and in most years that would have been the end of the story. The way this season has unfolded, though, it's conceivable that an opening could eventually reveal itself for a two-loss conference champion with certain credentials. If so, then Oklahoma — a name-brand program with a Heisman-caliber quarterback and the best shot at running the table against the Big 12's round-robin schedule — is obviously the most likely to possess them come December.