College football's opening weekend is on deck and "experts" everywhere are trying to figure out everything there is to know about how the 2018 season will unfold. At least two teams, Alabama and Clemson, are widely expected to reach the College Football Playoff at the end of the line and, despite the general absurdity of that in a sport involving more than 100 teams, it is easy to see why the top programs would have that baseline.
Others — headlined by Ohio State, Georgia, Wisconsin and Oklahoma — land on virtually any top-10 list ahead of the season and that allows for each program to become a trendy College Football Playoff selection. In this space, though, we'll glance off the radar to some extent, fully excluding the top 10 teams in the country (at least according to the initial AP Poll) in an attempt to unearth "sleepers" to reach the sport's final four.
It should be noted that Group of 5 teams could become involved but, unfortunately for fans of those programs, the deck is stacked wildly against them and that doesn't allow us to fire on a smaller conference program in this exercise. Also, the word "sleeper" doesn't usually apply to some of these (very) large brands but, considering their starting point, it would be at least a mild surprise if any of the five teams below crashed the party.
Here are five teams that have the talent, schedule and opportunity to do so, however, and they arrive in alphabetical order.

Michigan
There have been moments of promise during the Jim Harbaugh era but the make-or-break moments haven't gone in Michigan's favor since his arrival. If you're looking for a reason not to back the Wolverines as a CFP contender, it arrives in the form of a brutal schedule and that is almost part of the calculus in keeping Michigan outside the top 10 to begin the campaign.
Michigan has three legitimately perilous road trips (Notre Dame, Michigan State, Ohio State) on the agenda and the home schedule isn't much easier with both Wisconsin and Penn State coming to Ann Arbor. From a talent standpoint, it is easy to get excited about this squad, though, with a top-flight defense (led by freak defensive end Rashan Gary) and the arrival of former five-star quarterback Shea Patterson as a transfer from Ole Miss.
Honestly, it wouldn't be surprise if Michigan's true talent level and performance mirrored a legitimate title contender but the stars have to align in order to get them to the Big Ten title game with a playoff berth on the line. Fortunately, this is a roster that could make that happen. We'll know just about everything we need to about Michigan after Saturday night when they meet…
Notre Dame
It is an alphabetical coincidence that Notre Dame and Michigan are back-to-back on this list. Amusingly, the two teams face off on Labor Day weekend in the opener and that could decide quite a bit. For the Wolverines, there will be plenty of opportunities to impress during Big Ten play but, on the Notre Dame side, this could be the toughest game on the entire schedule.
That might seem silly considering the Irish's propensity for difficult schedules but some projection systems make Notre Dame a betting favorite in all 12 games and the schedule is kind. There are potential potholes, including Stanford, Florida State and a season-ending road trip to USC, but Notre Dame is very talented and they often receive the benefit of the doubt when it comes to name recognition.
The opener will tell us a lot but Notre Dame is quite capable of a deep run.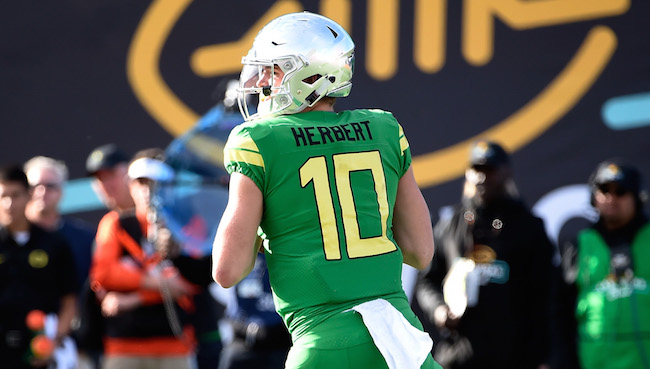 Oregon
This is perhaps the riskiest selection on the list, if only because Oregon's upside revolves directly around one player. Quarterback Justin Herbert has first-round upside in an NFL Draft sense but he hasn't been able to stay healthy since arriving in Eugene. When he played during the 2017 season, the Ducks had the look (and the metrics) of a top-15 team in the country. When he didn't, there was a steep drop-off.
In addition to Herbert, Oregon does have a rather favorable schedule and there is a scenario in which they are underdogs (in a Vegas sense) only once during the season. Having Washington in the same division is tough but the Huskies come to Eugene and, aside from that, only a road trip to Utah looms as a legitimately difficult match-up on paper. There are questions with a first-year head coach in Mario Cristobal but Herbert, combined with playmakers, is enough to provide optimism.
TCU
In typical fashion, this is a TCU defense that could be nasty and should be the best in the Big 12. Of course, the "best defense in the Big 12" hasn't always been high praise in the recent past considering the conference's penchant for offense, but the Horned Frogs have a ton of talent returning that could buoy them to big-time success.
It has to be noted that Oklahoma is the heavy favorite to win the Big 12 for a reason and the Sooners have the best roster. They are ineligible for this list, though, and TCU happens to host Oklahoma this season. There is a (very) difficult non-conference game against Ohio State but, even with a potential loss to the Buckeyes, the Horned Frogs would have a chance at the CFP if they were to run the table in conference play.
Having a quarterback is important and there is a question mark there at the moment, but TCU is set up for a nice run.
USC
Speaking of quarterback question marks, we find Clay Helton and the USC Trojans. In less than stunning fashion, there is real talent on the edges for this program and the offense shouldn't be a significant obstacle provided the team receives competent play under center.
That, of course, is a big "if" but USC's awful run defense from the 2017 season can go nowhere but up and there is intriguing talent remaining. With that said, the biggest reason for the Trojans' inclusion here is the schedule and the division.
In short, the Pac-12 South is not very good and USC happens to miss both Washington and Oregon on this season's schedule. That is very helpful when it comes to making the conference title game and, if they can arrive in Santa Clara with one loss or fewer, the opportunity is obvious.
If you believe some of the metrics, USC won't be more than a touchdown underdog in any game this season and, if we're being honest, the toughest regular season game on the schedule might be Notre Dame in the finale. That's not a bad place to start when trying to find future value in picking College Football Playoff sleepers.