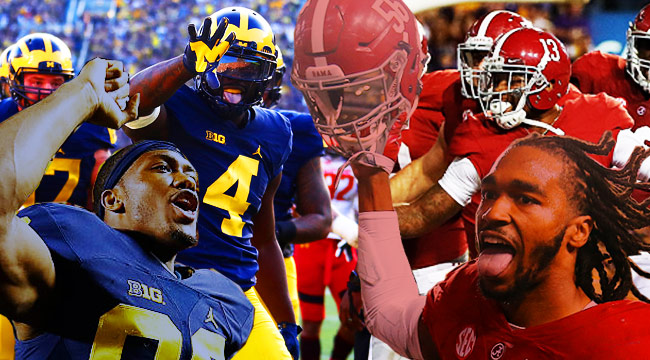 Election day, folks! Before you get started reading, go vote! Seriously!
[waits patiently]
[checks twitter]
[looks at watch]
Ok, all set? Great. Now, it's no real hot take to say that this election has been one of the most vitriolic in history, certainly of this young century. You may be reading this in your office next to someone you hate with every bit of your being because of who they voted for, knowing that if you open your mouth you won't be able to contain yourself. The next thing you know, you're in HR and the office admin is packing up your desk.
So we here at the Power Rankings decided to give you something else to argue about! You ready?
ALABAMA AIN'T THAT GOOD!
Ok, yeah, they're still pretty good. But an LSU team with no quarterback and an interim coach gave them the best test of the year so far in last weekend's marquee game, losing only 10-0 to the Crimson Tide. With that in mind, we've gone ahead and put the Wolverines of Michigan up at the number one spot this week. So save your job, your sanity, and your friends, and go ahead and discuss these Power Rankings, and how terribly inaccurate they are. Feel free to throw a few personal insults about me in there too, if you'd like. If it keeps this country together through this most tumultuous of days, it's worth it.
As for the rest of the rankings? Well, not a lot changed. That'll happen when eight of the previous week's top-10 win their games, most of them in a dominating fashion. Joining us this week for the first time is Washington State, and the USC Trojans have also snuck back in. We said so long to West Virginia and good riddance to Baylor.
The second edition of the College Football Playoff rankings come out tonight as well, though there's only about four people in the country that will be watching the selection show this week and Jim Harbaugh isn't letting any of them leave until they can explain why Michigan still isn't number one. Fear not, Jim, you're number one in our book this week, these are the POWER RANKINGS!
(Opening Credits)
1. Michigan (9-0)
Last week: 2
Last game: Beat Maryland, 59-3
Next up: Saturday at Iowa
We weren't joking, Harbaugh's boys are really number one! RELAX JIM, YOU GOT THIS!
For the rest of you bottom feeding coaches on this list, I hope you've learned a good lesson here: there's nothing like outright yellin' and screamin' to spur your team on to victory against a conference doormat. Who knows, without that yelling, Michigan might have let Maryland score a touchdown!
Also, just because there are a million of these, let's get it front and center and out of the way: here's Michigan's mannequin challenge, since that's a thing now:
2. Alabama (9-0)
Last week: 1
Last game: Beat LSU, 10-0
Next up: Saturday vs. Mississippi State
Obviously, score alone does not a good team make. And when you really look at the stats, you'll realize how great Alabama played. I mean, just look at this drive chart!
Honestly though, in what was essentially a replay of the 2012 BCS National Championship game, which was itself a replay of the 2011 "Game of the Century" between the two schools, it's hard to not be impressed by Alabama's ability to keep Leonard Fournette to 35 yards on 17 carries. But if not for Jalen Hurts' 114 yards rushing and a touchdown on the ground, as a quarterback, this one might have ended differently for the Crimson Tide.
LSU lost, but they may have found a blueprint to beat the Tide that someone else can follow to the end. They are human!
3. Clemson (9-0)
Last week: 4
Last game: Beat Syracuse, 54-0
Next up: Saturday vs. Pitt
About the only thing to note from this game was that DeShaun Watson left the game with an injury, though he's fine.
It was pretty cool that they had a wrestling match as halftime entertainment though:

4. Ohio State (8-1)
Last week: 5
Last game: Beat Nebraska, 62-3
Next up: Saturday at Maryland
Notice anything, Alabama? Everyone else in the top-5 absolutely dominated, and they were rewarded. (Well, except for Washington, sorry Huskies.)
This, unfortunately, was a bigger sign of undeserving praise on Nebraska after their hot start. Yes, we knew they hadn't played anyone until Wisconsin, but man, we didn't think they were this far down on the Big Ten totem pole.
5. Washington (9-0)
Last week: 3
Last game: Beat Cal, 66-27
Next up: Saturday vs. USC
This game was full of near-misses. No, not the final score, which was really never in doubt, but there was Huskies' wide receiver John Ross making fools of the Cal defense:
And before the game, there was Cal and NFL legend Marshawn Lynch recreating his famed medical cart drive to celebrate a bobblehead day in his honor:
USC looms this weekend for Washington, and this is a very, very different USC team from earlier in the year, so keep an eye on that for a possible upset watch.
6. Louisville (8-1)
Last week: 6
Last game: Beat Boston College, 52-7
Next up: Saturday vs. Wake Forest
Hmm, let's see, let's see… Lamar Jackson put up seven touchdowns? Four in the air and three on the ground? Eh, I've seen that one before, call me when he does something new.

7. Auburn (7-2)
Last week: 8
Last game: Beat Vanderbilt, 23-16
Next up: Saturday at Georgia
If there's one thing we can't stand here at the Power Rankings, it's people artificially pushing up SEC teams just because they can go a few games in a row in a tough conference without blowing a game. Like Texas A&M in the 4-spot of the first College Football Playoff rankings, what was that all abo-
[whispering]
I mean, look at Auburn, sitting in the Top-10! Is there an Iron Bowl upset of 'Bama in their future on their way to a surprise appearance in the SEC Championship?!
Also, because Vanderbilt will probably never make it to these rankings, here's a highlight of theirs from the game, because oh my God you have got to see this field goal block:
8. Wisconsin (7-2)
Last week: 7
Last game: Beat Northwestern, 21-7
Next up: Saturday vs. Illinois
Northwestern attempted to psyche out the Badgers before kickoff with these sweet graphite uniforms, probably to remind all the Wisconsin players how much better the Wildcats did on their ACT's. (You know, because on standardized tests you have to use a #2 penci–you know what, nevermind.)
Unfortunately, Wisconsin used the rest of the game to remind Northwestern how much bigger, stronger, and all-around better at football they were, and at the end of the day, that's what really mattered.
9. Penn State (7-2)
Last week: 12
Last game: Beat Iowa, 41-14
Next up: Saturday at Indiana
Welcome to the top-10, Penn State! We're happy to see you've finally figured out that the easiest way to get here is to give Saquon Barkley the ball all the time.
(It can also help to be able to predict with startling accuracy your opponents' next plays.)
10. Oklahoma (7-2)
Last week: 13
Last game: Beat Iowa State, 34-24
Next up: Saturday vs. Baylor
Way to hedge your bet, kid. "I'll do this incredibly college-like thing, but only if my terrible 1-8 football team is somehow ahead of a perennial national championship contender at halftime."
True short story: there was a kid in my Italian 1 class in college who streaked the field in one of those Burger King masks from the ad during a game my junior year. We all went nuts, it was hilarious.*
*I mean, sure, he DID get arrested, but man, what a story!
11. Colorado (7-2)
Last week: 18
Last game: Beat UCLA, 20-10
Next up: Saturday at Arizona
As you saw last week, we're happy for the Buff's getting past .500 and having their first winning season in almost a decade. But maybe trying to set the record for number of penalties in a game isn't the best way to celebrate?
12. Western Michigan (9-0)
Last week: 15
Last game: Beat Ball State, 52-20
Next up: Tuesday at Kent State
In case you missed it last week, Tuesday Night Lights are back! Western Michigan kept on rowin' the boat with a win against Ball State, and you can catch them again tonight! Do your civic duty and vote, and then find out why everyone's talking up coach P.J. Fleck.
13. Virginia Tech (7-2)
Last week: 19
Last game: Beat Duke, 24-21
Next up: Saturday vs. Georgia Tech
This was closer than Hokie fans would probably have liked, but VT hung on and stays in the driver's seat for the ACC Coastal.
14. South Florida (7-2)
Last week: 14
Last game: Beat Navy, 52-45
Next up: Saturday at Memphis
The bye week means you stay right here at 14, Bulls.
15. Nebraska (7-2)
Last week: 10
Last game: Lost to Ohio State, 62-3
Next up: Saturday vs. Minnesota
We went over this debacle a bit up top under Ohio State, but the scariest thing in this game was actually a hit on Nebraska quarterback Tommy Armstrong Jr., who was briefly knocked unconscious and carted off the field with very little movement. After a cautionary trip to the hospital, however, Armstrong returned to support his teammates in a very, very reassuring scene.
16. Utah (7-2)
Last week: 16
Last game: Lost to Washington, 31-24
Next up: Thursday at Arizona State
I have very little to say about the Utes, seeing as how they were on a bye this week, but you could do a lot, lot worse if you're watching TV this Thursday night than their game against the Sun Devils.
17. Oklahoma State (7-2)
Last week: 20
Last game: Beat Kansas State, 43-37
Next up: Saturday vs. Texas Tech
Awww, come on guys, you're making us feel all sportsmanlike.
18. Florida (6-2)
Last week: 9
Last game: Lost to Arkansas, 31-10
Next up: Saturday vs. South Carolina
To be fair, sometimes we like pushing certain SEC teams up into the top-10 just to see how far they fall when they inevitably choke.
Let's just all agree nobody comes out of this looking good.
19. North Carolina (7-2)
Last week: 21
Last game: Beat Georgia Tech, 48-20
Next up: Thursday at Duke
All you can do is beat the teams in front of you, so they say, and North Carolina is continuing to do that hoping Virginia Tech stumbles.
20. Texas A&M (7-2)
Last week: 11
Last game: Lost to Mississippi State, 35-28
Next up: Saturday vs. Ole Miss
With so many other top teams handling their games easily, let's all thank the Aggies for giving us the weekend's lone excitement after the College Football Playoff committee seeded them No. 4 in the initial rankings.
They enjoyed that for all of four days before stumbling all over that ranking in Starkville.
21. LSU (5-3)
Last week: 17
Last game: Lost to Alabama, 10-0
Next up: Saturday at Arkansas
SO CLOSE, LSU!
22. Florida State (6-3)
Last week: 24
Last game: Beat NC State, 24-20
Next up: Friday vs. Boston College
NC State decided to take their chances with loading up the box, and it almost worked! Dalvin Cook was held to only 65 yards and one score, and for most of the game, it looked like Florida State quarterback Deondre Francois wasn't going to hit enough throws to win — until an 83-yard game-winning drive in the fourth quarter.

23. Washington State (7-2)
Last week: Unranked
Last game: Beat Arizona, 69-7
Next up: Saturday vs. Cal
Welcome to the Power Rankings, Washington State! We figured it's best that people get to know you before the Apple Cup this year, seeing as how we might all actually want to watch it for once. For instance, Wazzu has a guy named Luke Falk at quarterback. He is very, very good:
He is also very polite:
24. USC (6-3)
Last week: Unranked
Last game: Beat Oregon, 45-20
Next up: Saturday at Washington
That's five in a row for the Trojans, they're finally gelling. Honestly the weirdest thing about this game was seeing a USC-Oregon game on the TV guide and knowing that it didn't matter nationally at all.
25. Houston (7-2)
Last week: 25
Last game: Beat UCF, 31-24
Next up: Saturday vs. Tulane
With Houston on a bye, read this by the Houston Chronicle's Joseph Duarte on Tom Herman and other popular head coaches' battle against the coaching carousel rumor mill. It's a great reminder that behind all the private plane tracking and website speculation, there are a hundred college kids who committed to play for the coach they have currently and coaches need to keep their best interests in mind.
Next Five: West Virginia, Boise State, Arkansas, Baylor and the end of election season.
Stay on guard, everyone. Just because Chaos decided to skip town this past weekend doesn't mean we're guaranteed the same four undefeated conference leaders we have now for the rest of the season. And even if we could, would you want a Playoff that left out Ohio State or Louisville?
Keep an eye on the College Football Playoff in-between election returns, if you want to see who replaces Texas A&M this week, but frankly it's hard to see anyone but the top four undefeated in there. And finally, go vote! The choice is yours, make sure you use it.
(End Credits)