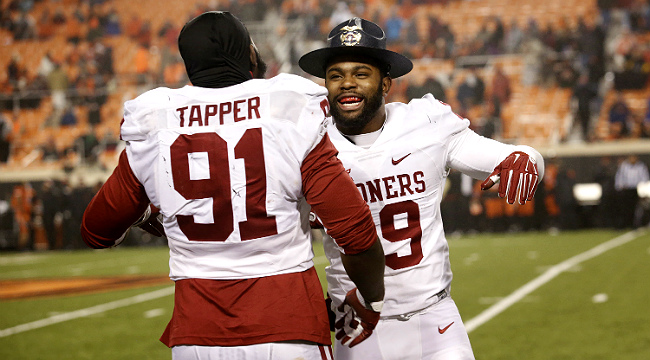 We've essentially reached the Playoff before the Playoff portion of the program. And there are still lots of questions to be answered and lots of chances for teams to make one more push, but this is as simple as it's going to get. Oklahoma is probably in after thumping Oklahoma State on Saturday. Notre Dame is out. Clemson, Alabama and Michigan State/Iowa are in with a win.
After that, it gets a little tricky. The committee could still consider Stanford if the Cardinal win the Pac-12 title and one of Clemson or Alabama loses. North Carolina has one loss (albeit a bad one to South Carolina, but it was the first week of the season) and would have that win over Clemson, as well as the ACC championship (which we know the committee places a premium on). And Ohio State is still hanging around, although it's hard to envision them getting in, especially if Michigan State loses to Iowa. The Hawkeyes would be in, and Michigan State will have one more loss, but will have played one more game and has that out of conference win over Oregon, not to mention the head to head win over Ohio State.
That's why we watch and we don't just assume, though. Chaos is everywhere around us, and it's our job to pay attention to it, argue about it, and go from there. These are the last regular season power rankings, and in a way, I'm sad. (Okay, I'm not that sad.)
So, let's yell at me for old time's sake, please?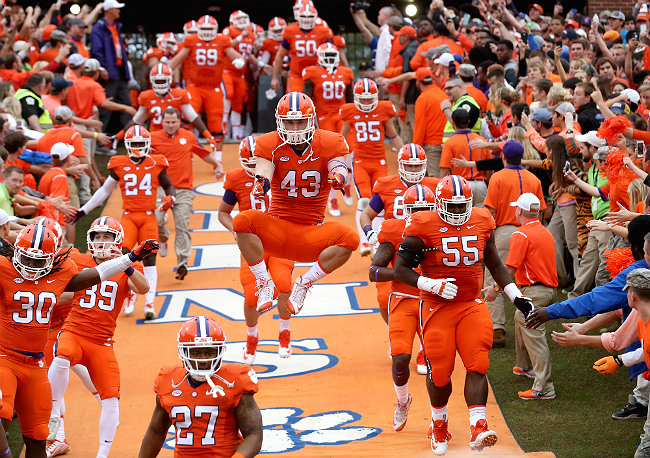 1. Clemson (12-0)
Last week: 1
Last game: Beat South Carolina, 37-32
Next up: Saturday vs. North Carolina (ACC Championship in Charlotte)
Things are simple for Clemson. It's a sellout against an up-tempo team. The Tigers need a terrific effort out of Deshaun Watson and the defense to keep the pressure on North Carolina to score and keep scoring. There's potential here for a really special season, but Clemson can't afford to slip up or they'd fall out of the Playoff.
2. Alabama (11-1)
Last week: 2
Last game: Beat Auburn, 29-13
Next up: Saturday vs. Florida (SEC Championship in Atlanta)
The same rings true for Alabama, which pummeled Auburn into submission in the fourth quarter using a strategy that is about my favorite thing in all of college football. Bama has a lead, and everyone knows Bama is going to use that big offensive line and the battering ram that is Derrick Henry to march down the field. The Tide is begging you to stop them. And you just can't do it. You are too beat up, too tired, too worn down, and the look in players' eyes just isn't fair. Henry gets five yards, eight yards, five yards, 10 yards, and then he's in the end zone. It's beautiful.
3. Oklahoma (11-1)
Last week: 6
Last game: Beat Oklahoma State, 58-23
Next up: Waiting on Bowl Placement
As style points go, the Sooners gave the Committee all they needed and more against Oklahoma State in Stillwater on Saturday. Oklahoma has road wins against Tennessee, Kansas State, Baylor and Oklahoma State, and that Texas loss is way off in the distance. This is a Playoff team. And Baker Mayfield should be in New York.
4. Michigan State (11-1)
Last week: 4
Last game: Beat Penn State, 55-16
Next up: Saturday vs. Iowa (Big Ten Championship in Indianapolis)
The Spartans left no doubt about whether they belonged in the Big Ten title game with their thrashing of Penn State on Saturday. Plus they got center Jack Allen a Piesman Moment with his touchdown run.
5. Iowa (12-0)
Last week: 5
Last game: Beat Nebraska, 28-20
Next up: Saturday vs. Michigan State (Big Ten Championship in Indianapolis)
Iowa finished its undefeated regular season, the first time that ever happened for Kirk Ferentz. But the Hawkeyes are still a win away from even more potential greatness. Beat Michigan State and they're in. Lose? And they're still in a good bowl, but it's like finishing a tenth of a second away from gold at the Olympics. It's really not the same.
6. UNC (11-1)
Last week: 9
Last game: Beat N.C. State, 45-34
Next up: Saturday vs. Clemson (ACC Championship in Charlotte)
For some reason, people have taken to saying UNC doesn't belong in the Playoff if the Tar Heels beat Clemson. The fun thing is a lot of those people are Ohio State fans. The Tar Heels lost an early week game, beat the opponents on their schedule and can get a very good quality win (and a conference title) to finish 12-1 on Saturday if they beat Clemson. They score a lot of points, too. If it sounds familiar, it should, seeing as it's the exact same thing Ohio State did last season to get into the Playoff. If you haven't been watching North Carolina, that's more of a you problem. This team belongs in the conversation.
7. Ohio State (11-1)
Last week: 10
Last game: Beat Michigan, 42-13
Next up: Waiting on Bowl Placement
The Buckeyes are likely on the outside looking in, even after beating the snot out of Michigan in Ann Arbor on Saturday. They need super duper anarchy, which is always possible. But the trump card is that they won't have a conference championship, and their best win is Michigan. Their second best win is, umm, please hold, Northern Illinois? Maybe? Penn State? They're still the defending champs, but that's like wearing your high school letter jacket on campus when you get to college. It really doesn't matter anymore.
8. Florida State (10-2)
Last week: 14
Last game: Beat Florida, 27-2
Next up: Waiting on Bowl Placement
The Seminoles have double-digit wins in a rebuilding year where their offensive line false started approximately 18x a game and they had no quarterback. They're a play away from being 11-1 and a handful of plays away from being 12-0. If only every team could rebuild like that.
9. TCU (10-2)
Last week: 16
Last game: Beat Baylor, 28-21 (2OT)
Next up: Waiting on Bowl Placement
I am proud of TCU for gutting out a win over Baylor in the cold rain. Despite all the injuries, the Horned Frogs still had a really good year. Sure, there's some "woulda coulda" stuff going on here, but that takes away from what the team was able to do as an entire body of work. They earned that win on Friday, and they'll have another good bowl to show for it.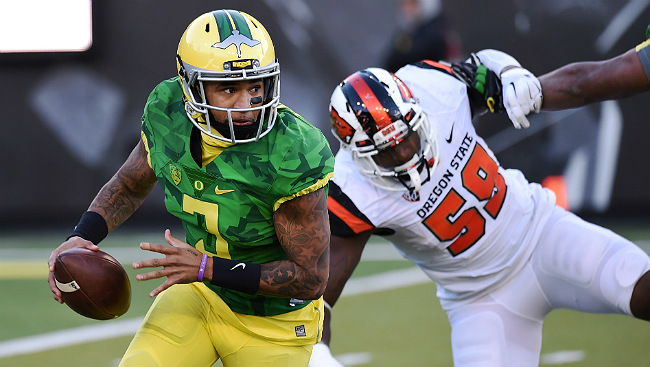 10. Oregon (9-3)
Last week: 15
Last game: Beat Oregon State, 52-42
Next up: Waiting on Bowl Placement
If only Vernon Adams had stayed healthy the whole year. This is a dangerous football team that only got better as the year went on. Sure, Scott Frost is on his way to UCF, but the Ducks are back, and everything can go back to normal now.
11. Baylor (9-2)
Last week: 7
Last game: Lost to TCU, 28-21 (2OT)
Next up: Saturday vs. Texas
The Bears can still get to 10 wins by beating Texas. It's a consolation prize, and not exactly a good one after how close Baylor was to making the Playoff a couple weeks ago. But it's something.
12. Stanford (10-2)
Last week: 17
Last game: Beat Notre Dame, 38-36
Next up: Saturday vs. USC (Pac-12 Championship in Santa Clara)
The Cardinal needed every second to beat Notre Dame in one of the most entertaining games of the 2015 regular season. They'll need all kinds of help to be in the Playoff or even to be considered, but by taking care of business in the Pac-12 title game, they'll at least be in the discussion. Regardless, the way Stanford bounced back after the first week loss to Northwestern was really something.
13. Northwestern (10-2)
Last week: 18
Last game: Beat Illinois, 24-14
Next up: Waiting on Bowl Placement
Being that I'm all about giving props in this week's Power Rankings, plenty needs to be reserved for the Wildcats, who won 10 games for the first time since the 2012 Gator Bowl-winning team. If they manage to win their bowl game, that'd be 11 wins. Northwestern has never done that.
14. Notre Dame (10-2)
Last week: 3
Last game: Lost to Stanford, 38-36
Next up: Waiting on Bowl Placement
The Fighting Irish came up just short, and you'll be hearing all kinds of talk about whether or not they should remain Independent. Ignore it. They're not joining a conference any time soon, and you don't have to take my word for it.
Via Brian Hamilton of Sports Illustrated:
"I know there have been some people who have speculated that this is creating pressure on us to give up independence," the Notre Dame athletic director told Sports Illustrated as he stood on the sideline before Saturday's game. "Nothing could be farther from the truth. We are as comfortable with the benefits for the university of independence as we have ever been."
Notre Dame was as injured as any team in the country and was a play away from likely making the Playoff. The Irish are fine.
15. Houston (11-1)
Last week: 19
Last game: Beat Navy, 52-31
Next up: Saturday vs. Temple (AAC Championship)
The Cougars had a heck of a win after falling flat against UConn the week before and rightfully earned their place in the American title game. But the real win is that it seems like Tom Herman is sticking around (at least for now). This is huge for Houston.
16. Ole Miss (9-3)
Last week: 21
Last game: Beat Mississippi State, 38-17
Next up: Waiting on Bowl Placement
The Rebs got that win over Mississippi State and won the Egg Bowl, and they finish the year ever so close to winning the West. It was that one point in the Arkansas game, in overtime, when the Razorbacks went for two after completing that 4th and 25. Otherwise, we'd be having a lot more craziness heading into this week and arguing about whether or not an 11-1 Bama team deserved to get in despite not winning their division or playing for a conference title. The Tide would've been in the exact same position Ohio State is in. Okay, now I'm a little upset that didn't actually happen.
17. Oklahoma State (10-2)
Last week: 11
Last game: Lost Oklahoma, 58-23
Next up: Waiting on Bowl Placement
The grind of the season was just too much for Oklahoma State, and they ran into the buzzsaw that is Oklahoma in the second half of the year. Nothing to be ashamed of. The Pokes remain one of the nation's most underrated programs in college football and will be right up there in the Big 12 for a long time.
18. Temple (10-2)
Last week: 24
Last game: Beat UConn, 27-3
Next up: Saturday at Houston (AAC Championship)
The Owls clinched their side of the ACC and travel to Houston to finish what they started after they beat Penn State to open the year. It's already been a huge season for Temple, but the Owls would like a little more hardware to go with it. You're not hearing as much talk about Matt Rhule rumored to any of the openings, and that's a shame. He's a great coach, although Temple would like things to stay quiet so they can keep him around for another season (or more).
19. Navy (9-2)
Last week: 12
Last game: Lost to Houston, 52-31
Next up: Dec. 12 vs. Army
The Midshipmen just couldn't keep up with Houston's offensive attack. They'll get a little bit of time to rest up and focus on one of the best rivalries in all of college football. One of these days, I'm going to make it to Army-Navy. I tell myself this every single year. I guess I should start a Kickstarter now.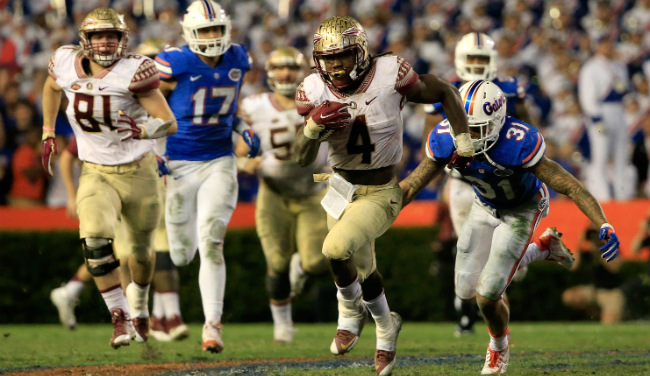 20. Florida (10-2)
Last week: 8
Last game: Lost to Florida State, 27-2
Next up: Saturday vs. Alabama (SEC Championship in Atlanta)
You could see this loss coming like that asteroid in Armageddon. There was no Bruce Willis to help out this time around, so the extinction event happened. It's almost sadder that Florida scored those two points. They're just sitting there all alone like a guy who just got dumped on a park bench. At least that safety should make it look like it's there to feed the pigeons or something.
21. Michigan (9-3)
Last week: 13
Last game: Lost to Ohio State, 42-13
Next up: Waiting on Bowl Placement
The Wolverines had everything going the way they wanted until they got that roughing the kicker penalty. Then things all fell apart. It's not to say it would be different had that not happened, but that just emphasizes how much one play matters. Although Michigan should have already known that after the Michigan State game.
22. Utah (9-3)
Last week: 25
Last game: Beat Colorado, 20-14
Next up: Waiting on Bowl Placement
The Utes avoided further disaster by holding off Colorado. They still finished the second half of the season 3-3 after starting 6-0. A win in a bowl game would kind of wipe that away at least.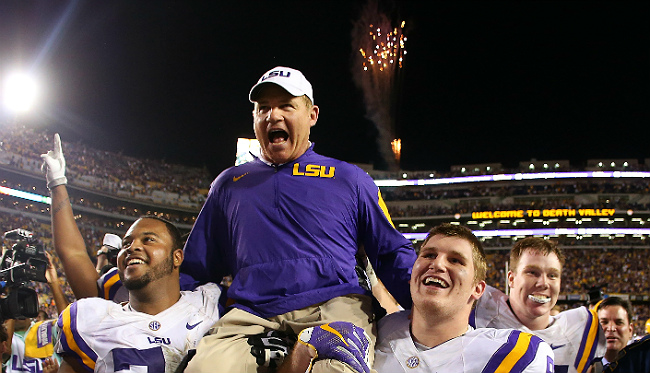 23. LSU (8-3)
Last week: NR
Last game: Beat Texas A&M, 19-7
Next up: Waiting on Bowl Placement
You should really read all of Brett Dykes' tribute to Les Miles after LSU's win over Texas A&M. But here's one passage that especially sticks out:
This whole thing felt a lot to me like a relationship, a long relationship, where one party began to think that maybe the grass might be greener on the other side, but then after taking some time to confront the realities of life without the other person, high-tailed it back into the arms of the person they were considering casting aside and moving on from.
Too often in college football, we think about making the first move and not what happens afterward. Things don't automatically get better just because you want them to, and because you're willing to make a change. Sometimes things actually get worse. And it's possible they won't get better for a long time. There's already so much time and energy invested that it's a consideration you have to make. LSU could have done things differently, but nothing is irreconcilable. Not yet, anyway. Let's see what happens next. At least they won't be playing the what if? game now, having fired Les and being left in a position to wonder if they made a mistake.
24. Western Kentucky (10-2)
Last week: NR
Last game: Beat Marshall, 49-28
Next up: Saturday vs. Southern Miss (C-USA Championship)
The Hilltoppers are so fun to watch. Please do yourself a favor and actually tune into the game against Southern Miss on Saturday.
25. USC (8-4)
Last week: NR
Last game: Beat UCLA, 40-21
Next up: Saturday vs. Stanford (Pac-12 Championship in Santa Clara)
Sure, why not? Someone has to be No. 25.
Next Five: Wisconsin, Georgia, Toledo, Memphis, An Evening Out With Longtime Friends You Haven't Seen In Awhile