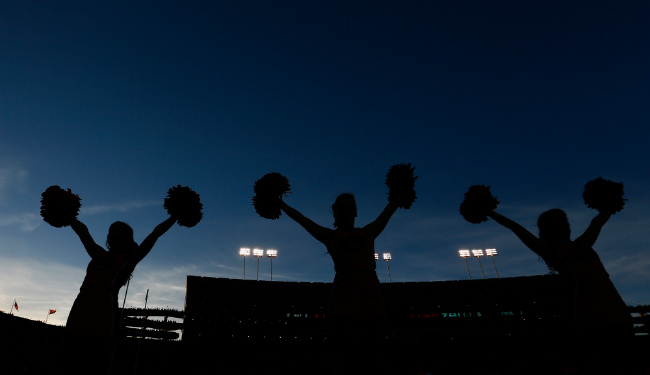 Do you feel any different now that the College Football Playoff committee has released its first official rankings of the season? It seems real now, right? The season is winding down. It was easy to play pretend and act like we had the whole world ahead of us in terms of college football even through those midseason awards, but we have rankings now. The Playoff (and bowl season) are only a few weeks away.
That's not to say we have to be sad. We have so much football left. I just want everyone to treasure it, and enjoy these Saturdays – because when we're sitting in the middle of June long after spring practice is over wishing for more college football, we'll wonder why we didn't pay more attention to Illinois-Purdue. (Okay, maybe not.)
So, let's all watch football together. We'll be happy we did. And my life is better when you are happy. Here's this week's viewing guide. (Times are in Eastern.)
The Early Slate
FRONT AND CENTER
Noon: Duke at UNC (-7.5) (ESPN2)
This is pretty much a semifinal for the ACC Coastal Division, in a matter of speaking. Duke's loss to Miami aside, the Blue Devils can still win out and make it to Charlotte. And UNC already has the win over Pitt to give the Tar Heels a slight edge, depending on who wins that game between the Panthers and Blue Devils next weekend. So, if you like great defenses against good offenses in a rivalry game, go ahead, and don't be shy.
Noon:  Notre Dame (-8.5) at Pittsburgh (ABC)
And speaking of Pitt, the Panthers have a huge opportunity at home to knock off a top-ten foe following that disappointing Thursday night loss to North Carolina. It won't be easy – Notre Dame got a heck of a scare by Temple in Philadelphia last week and will want to complete that Pennsylvania road sweep.
SECOND SCREEN SPECIAL
Noon:  Penn State at Northwestern (-2.5) (ABC)
Hey, you could do worse. Plus it should be a fast game with some really solid defensive play.
Dog Day Afternoon
FRONT AND CENTER
3:30 p.m.: Florida State at Clemson (-10.5) (ABC)
If you want to know a little about how much roles have reversed since the last time the Seminoles were in town, look no further than that 10.5-point line. Clemson is one of the most complete teams in college football, and Florida State is trying to overcome some youth and inexperience, as well as an inconsistent offense that has struggled to find playmakers outside of Dalvin Cook. The 'Noles want this one, badly, and can still play their way into the ACC Championship game, but they'll have to go through the Tigers. And Death Valley should be all kinds of turned up.
3:30 p.m.: TCU (-4.5) at Oklahoma State (FOX)
And across the way in the Big 12 is a game that's just as big for Playoff implications, as two unbeatens square off in what should be a big ol' grudge match. Oklahoma State has remained undefeated despite being in a bunch of games it very easily could have (and maybe should have) lost this season, and TCU continues to get better after an early-season bevy of injuries. The winner of this one moves that much further to winning out and earning a spot in the Top 4, as the Big 12 is strongly resembling that ladder of opponents you have to climb in Mortal Kombat.
SECOND SCREEN SPECIAL
3:30 p.m.: Cincinnati vs. Houston (-8) (ESPN2)
If you like points (and of course you do), this is the game you won't want to miss. Cincinnati's Gunner Kiel is coming off a perfect 15-of-15 game in which he threw for five touchdowns and more than 300 yards. And Houston, of course, is still undefeated under Tom Herman with that explosive offense that averages 45.9 points per game. Keep an eye on this one, even with the other big games going on. It's going to be fun.
*If you have a third screen, your "Third Screen Special" is Arkansas vs. Ole Miss. Something seems fishy about this one.*
Under The Lights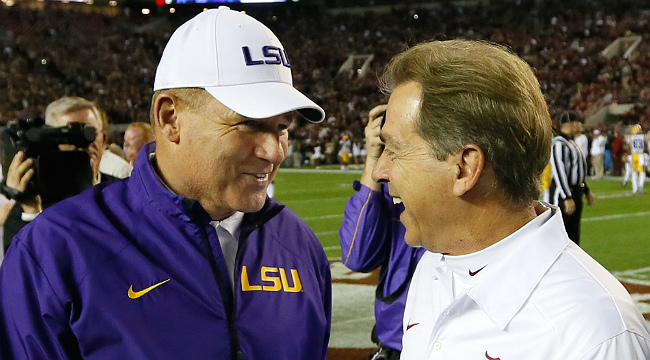 FRONT AND CENTER
8 p.m.: LSU vs. Alabama (-7) (CBS)
Henry vs. Fournette. Saban vs. Miles. A potential Playoff berth at play (or at the very least, a loss would knock Alabama out of the title picture). This is by far the biggest game of Week 10, and it's only fitting it's being played under the lights in T-Town on CBS. Plus the forecast is calling for rain, so I guess this gives new meaning to the phrase "being won in the trenches."
7 p.m.: Navy vs. Memphis (-7.5) (ESPN2)
Another huge game in the Group of Five picture, Navy has one loss (just to Notre Dame) and is going into Memphis to try and spoil the Tigers' undefeated season. It's a joy to watch Navy quarterback Keenan Reynolds each and every week, and watching the Midshipmen try and stop that gifted Memphis offensive attack will be enjoyable, as well. If you have a last button, you might want to wear it out a bit flipping between LSU-Bama and this one.
SECOND SCREEN SPECIAL
7:30 p.m.: Utah vs. Washington (-2) (FOX)
Vegas senses something is up with Utah, and Washington is favored here. The Utes still can win the Pac-12 South if they win out, but a loss to Washington certainly wouldn't help matters even a little bit. Utah is going to have to rely on what got this team to 6-0 in the first place (before that USC loss): good special teams play, forcing turnovers, and running the ball well.
The Late Show
FRONT AND CENTER
10:30 p.m.: California vs. Oregon (-4) (ESPN2)
You also have Arizona-USC if this one gets out of hand early. But this seems like the more fun match-up. Jared Goff can still get it done, and Vernon Adams played hero last weekend for the Ducks. Let's see if we can't breeze past that over/under of 75 and push for 100.